Behind the Design: Our Embroidered Linen Napkins
29 May 2023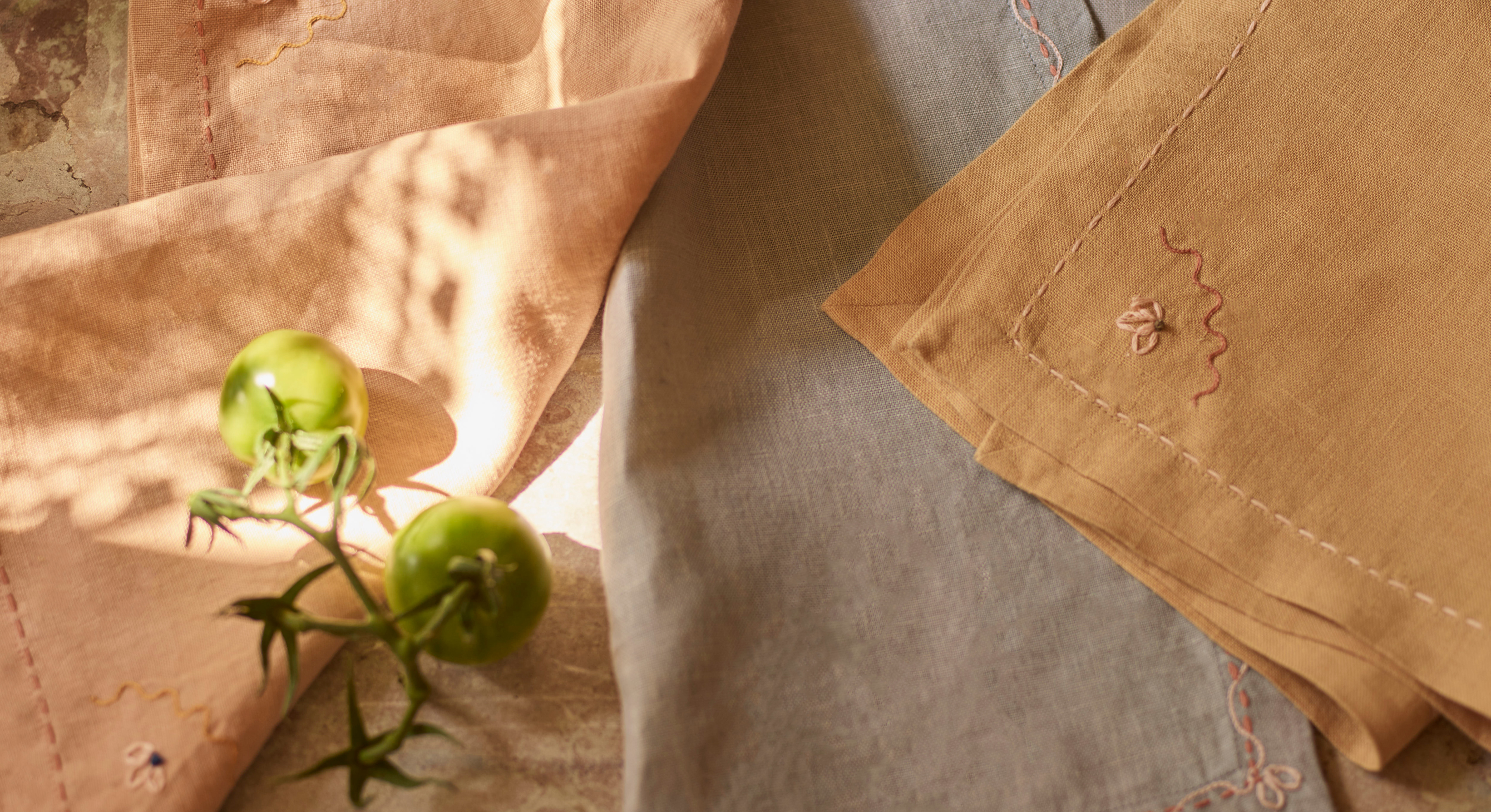 Crafted with unwavering attention to detail, our Embroidered Linen Napkins are the latest addition to our textile collection and a gentle reminder that even the simplest of meals can be made special with just the smallest thoughtful touches. We are beyond proud to share that these were designed in-house by the lovely Lily from our Product Team. A true celebration of nature's delicate beauty, Lily's artistic vision shines through in the subtle embroidered motifs, reminiscent of the wonders found in the great outdoors. Join us as we delve into the inspiration behind the design and the story behind every stitch.

Tell us a little about how your creative journey began?

I have always loved art and used to spend hours drawing and painting when I was little. I discovered textiles in my last year of school and completely fell in love with it. This ultimately led me to Leeds, where I studied Surface Pattern Design and spent the next three years in the screen-printing room! I followed R&W on social media and when I saw they were looking for someone to join the Product Team I jumped at the chance. To get to design beautiful pieces and be part of such a lovely team has been a joy. It's been a genuine pleasure to revisit my love for textiles for this collection.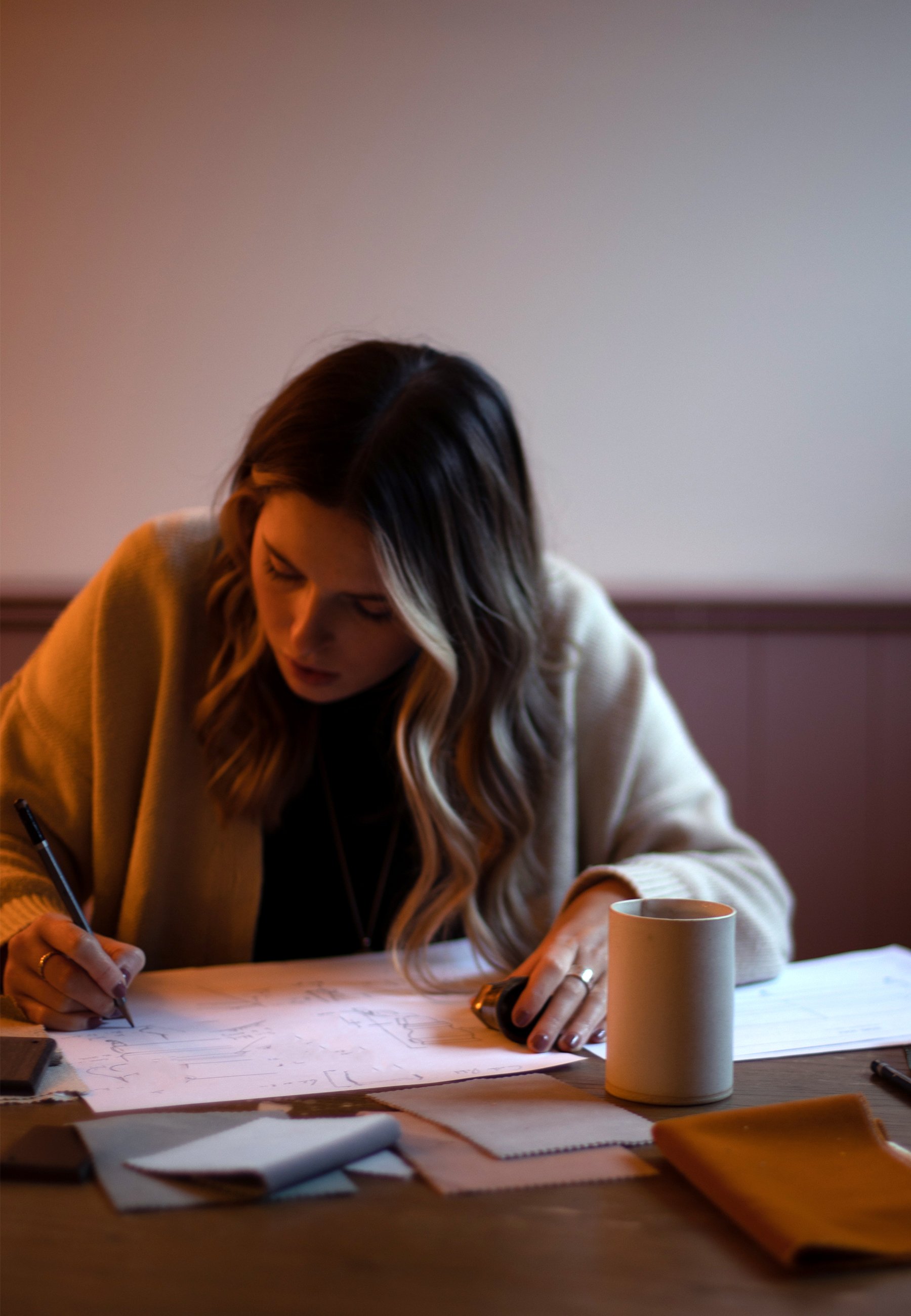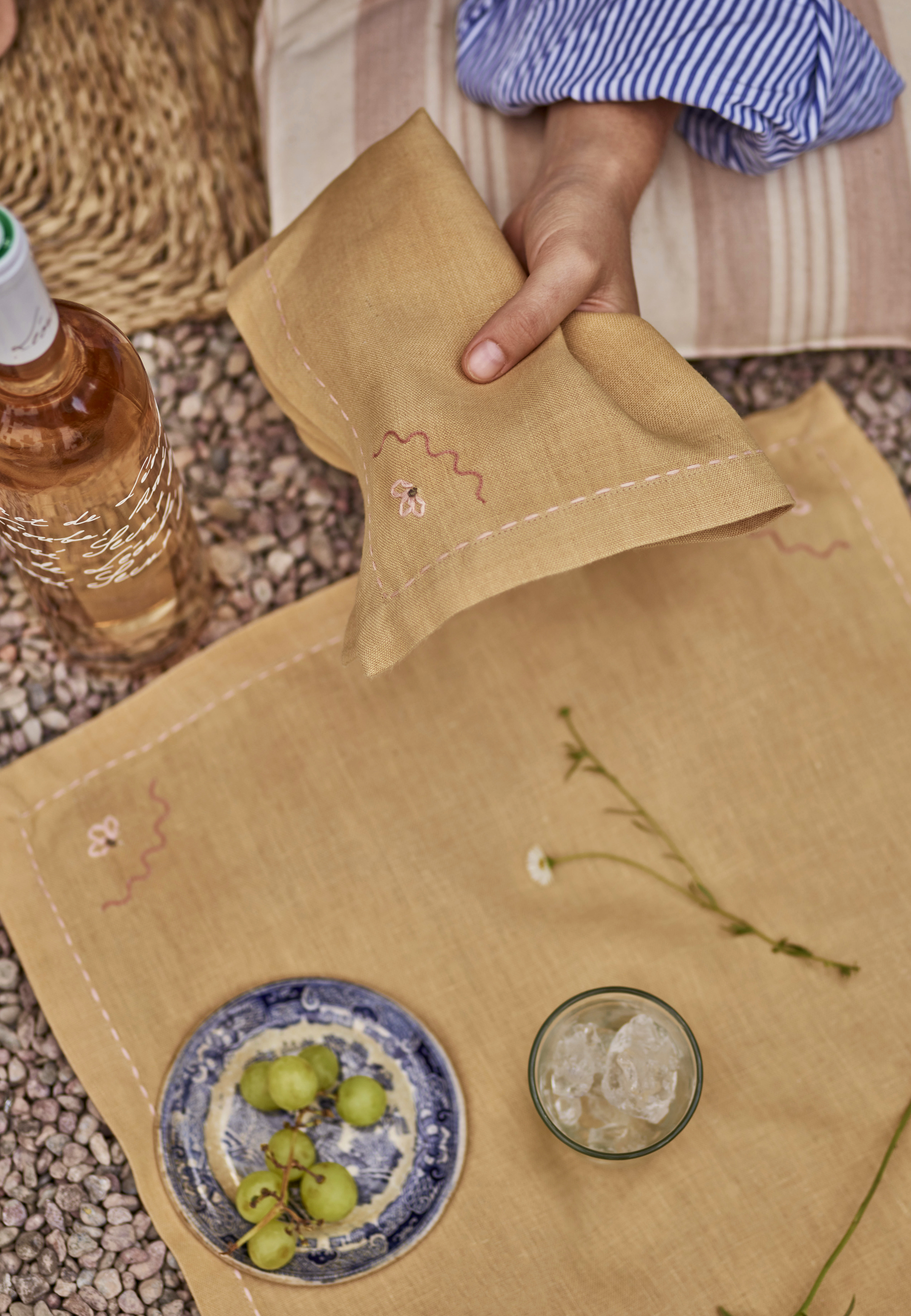 What was the inspiration behind the design?
Our founder Lucy always brings along the loveliest vintage embroidered textiles to our photoshoots and they've definitely served as inspiration for these pieces. We knew we wanted to bring something playful to the textiles category. I looked at simple botanical illustrations initially and played with these to create delicate patterns that felt like a fun update on the more heritage needle work that we loved. 
Where and how are they made?
These pieces are made from 100% linen using the best quality flax grown in Europe. The making happens in Northern India and every step of the process, from the dying of the fabric, through to the stitching of the embroidery, is carried out by our inspiring artisan makers.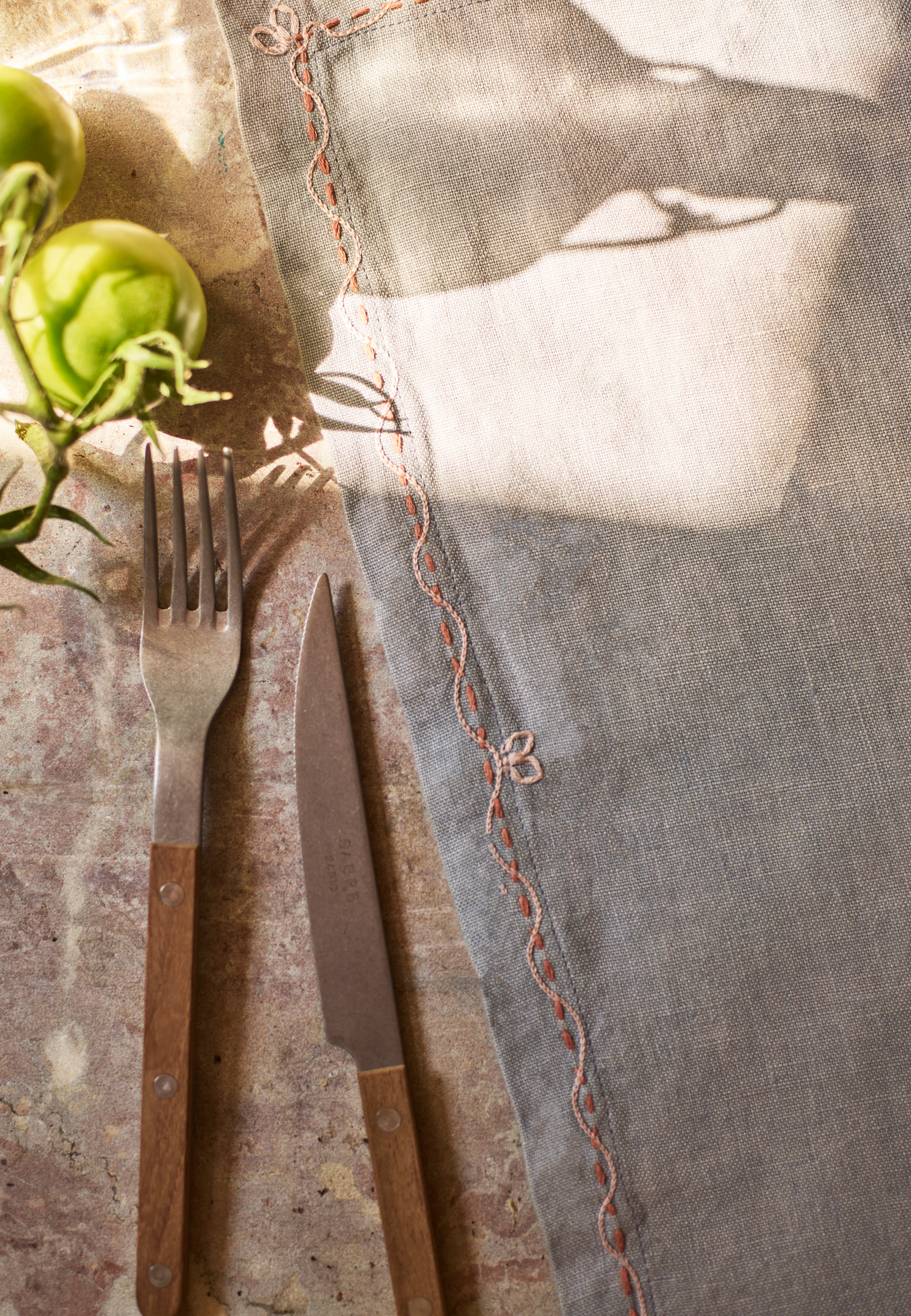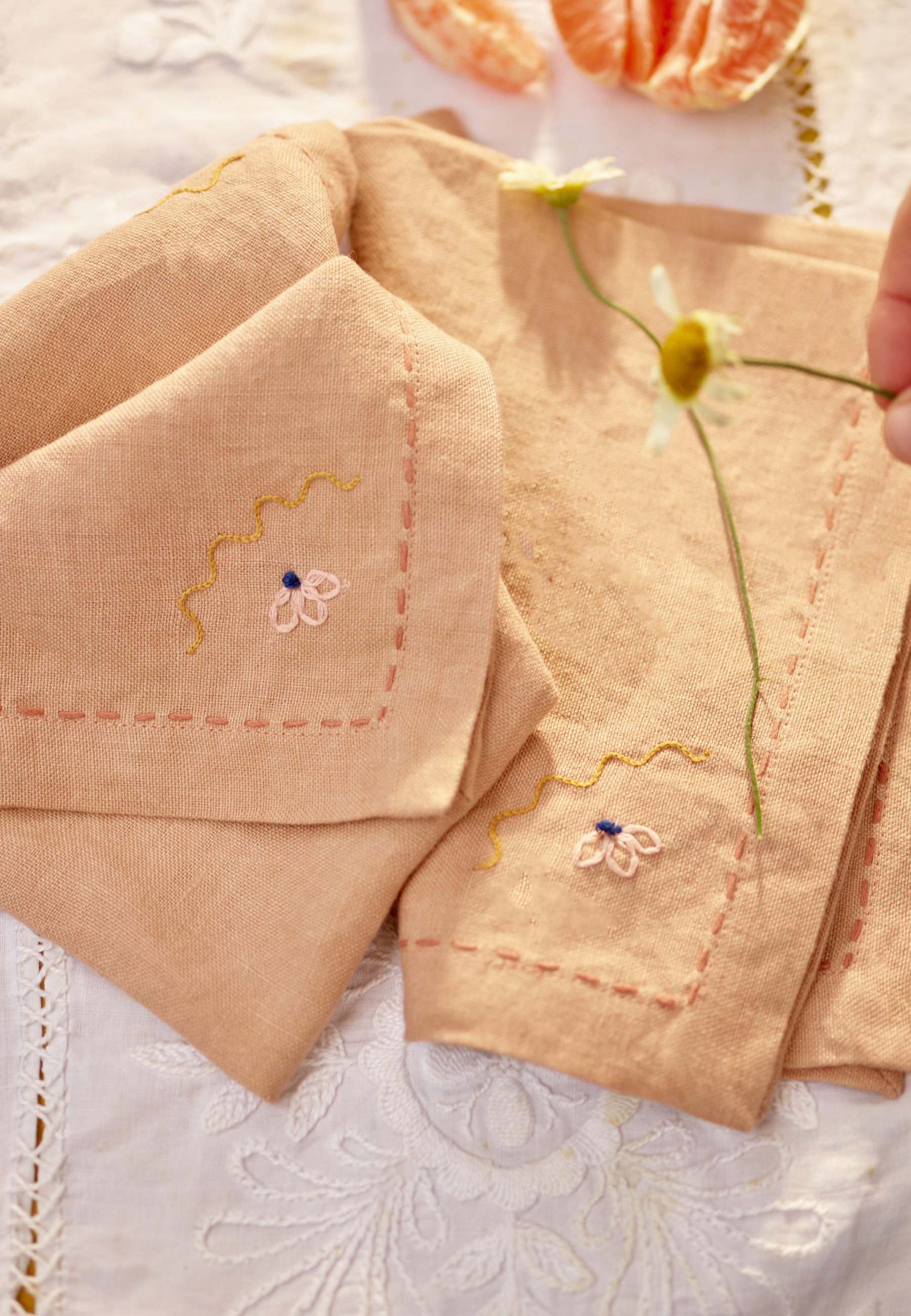 Do you have any advice on caring for them?
As they are made from completely natural fibres, I would always suggest that they be handwashed using a gentle detergent and (ideally) left to air dry to protect the embroidered detail. With each gentle wash, the linen should soften over time adding to the lovely handmade feel of the product over time.
Why do you love designing textiles?
I have always loved colour and pattern and enjoy designing soft furnishings especially, for their ability to add warmth and personality to a home. Textiles have allowed me to introduce a playfulness to our product collection in a way that still feels true to Rowen & Wren's understated and timeless design values.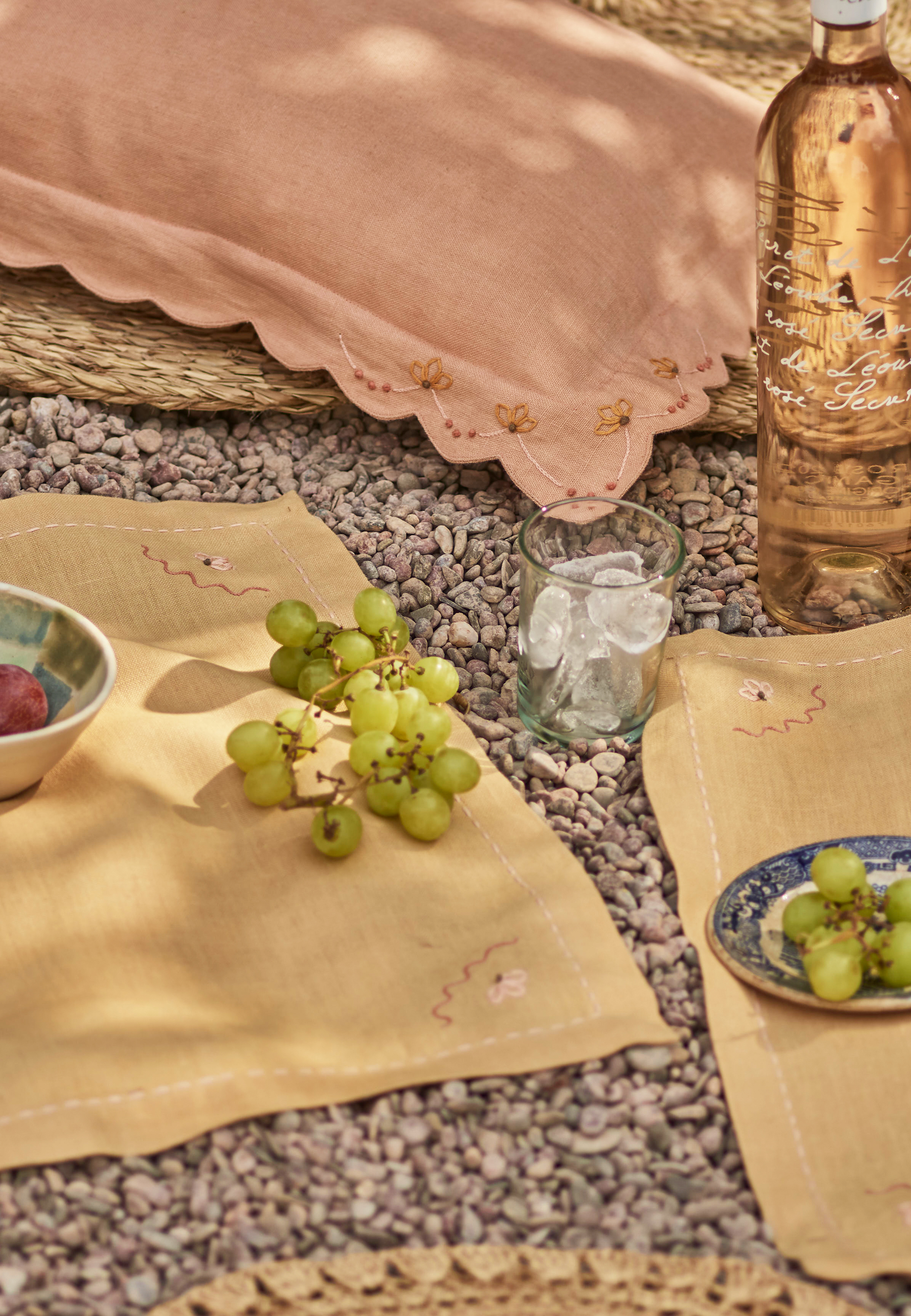 What's your approach when styling your table?
Textiles are a great way to elevate a room and my table would be no different. I tend to think that with tablescapes, the more eclectic the better, so I'd start with a mixture of new and vintage crockery and glassware, then finish the scene with lovely linens and beautiful blooms to soften and tie it all together.
The Embroidered Linen Napkins are available to shop here, or should you want to peruse our entire Spring/Summer 2023 collection, you can do that here.