Meet The Artist: Unity Coombes
07 Dec 2022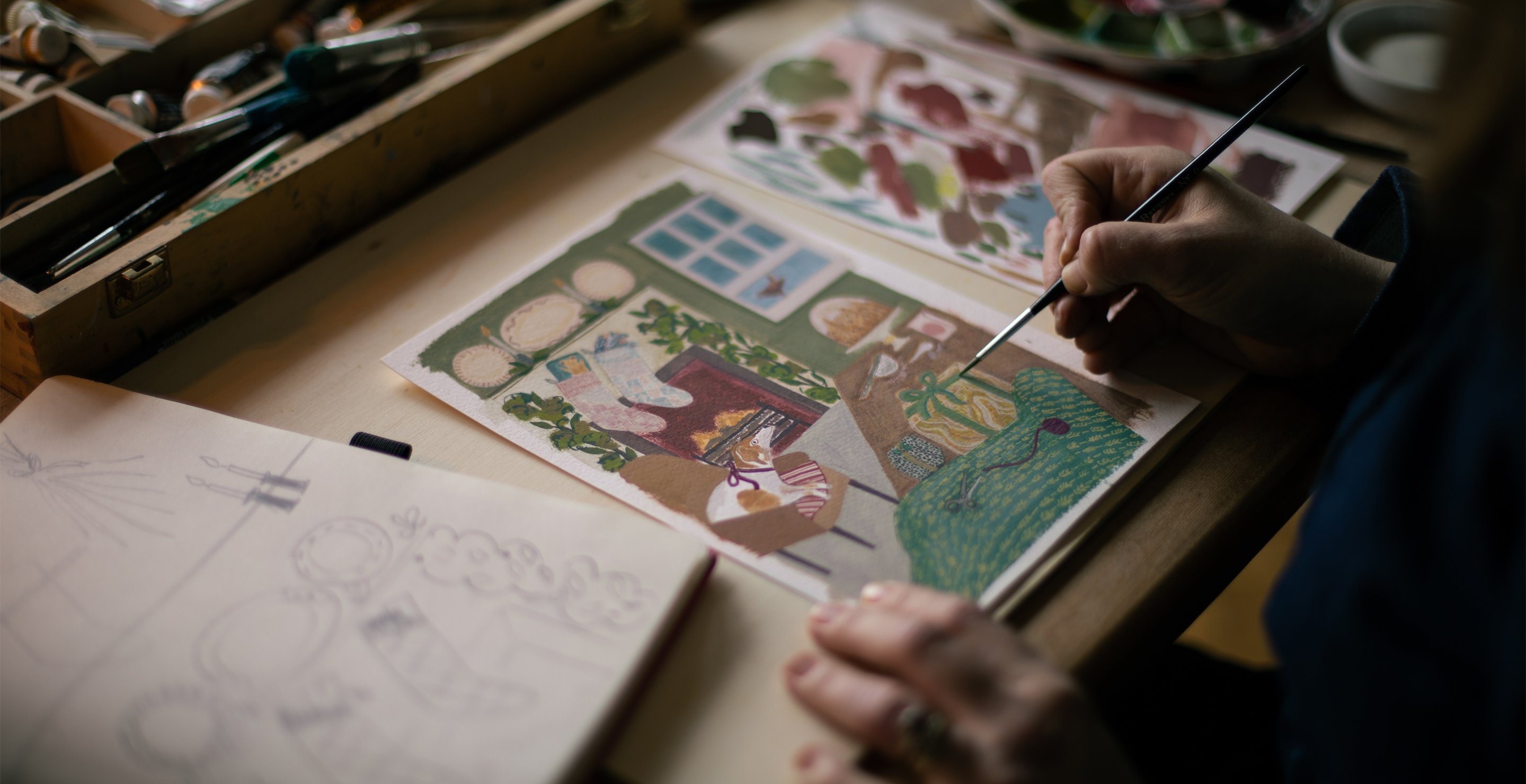 Born into a family of artists, it's no wonder Unity Coombes followed suit. A keen painter with a particular soft spot for animals, her work caught our attention for many reasons. One, her subjects are undeniably endearing – personality-filled pets and snippets of nature to name a few – but it was also her rich use of colour that we loved so much. So very much that we asked her to whisk us away into a winter scene for our Christmas postcard – and whisk us away she did. Here's a little on what inspires her and how she created the postcard you'll be seeing with your Rowen & Wren purchases to come.

Tell us how you started your wonderful illustration business? Was it an idea you always had or has there been a bit of a journey to get there?

I grew up in a creative household – both of my parents are artists and creating has been a way that I have communicated from a young age. I studied Fine Art at Falmouth School of Art with a particular focus on printmaking. It was through making prints that I truly learnt to draw and from there I started to make drawings and paintings. I continued to make work after leaving Art School but it wasn't until 2016 that I started to sell my work.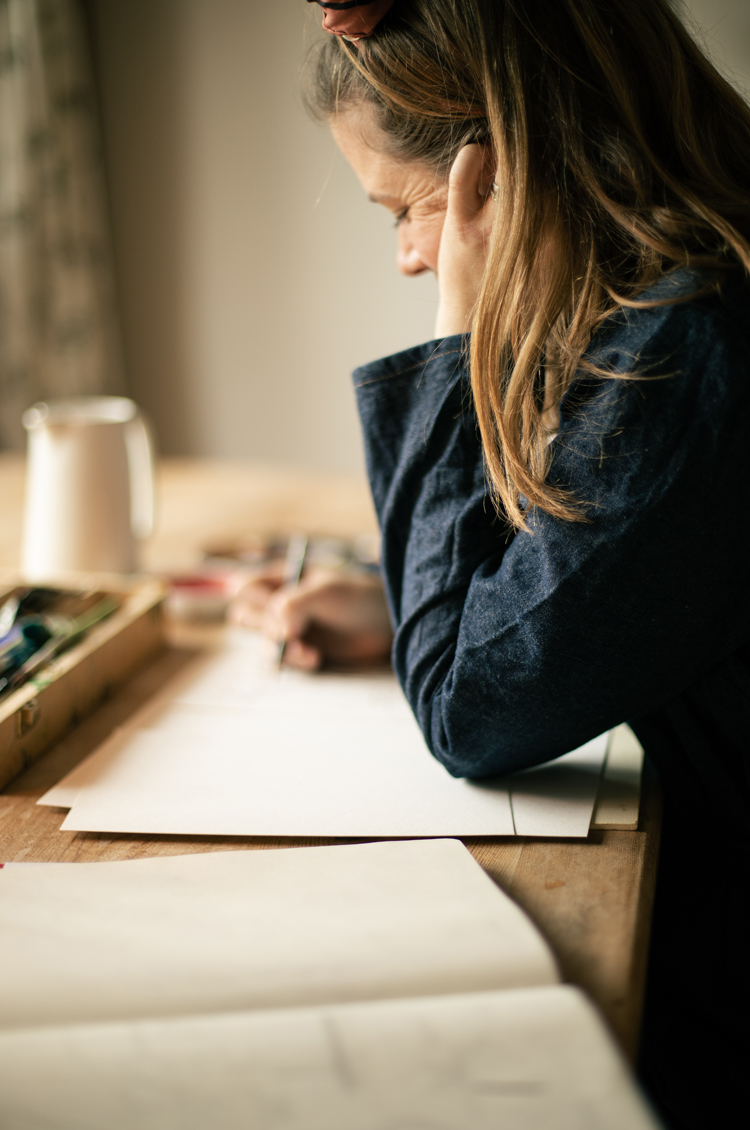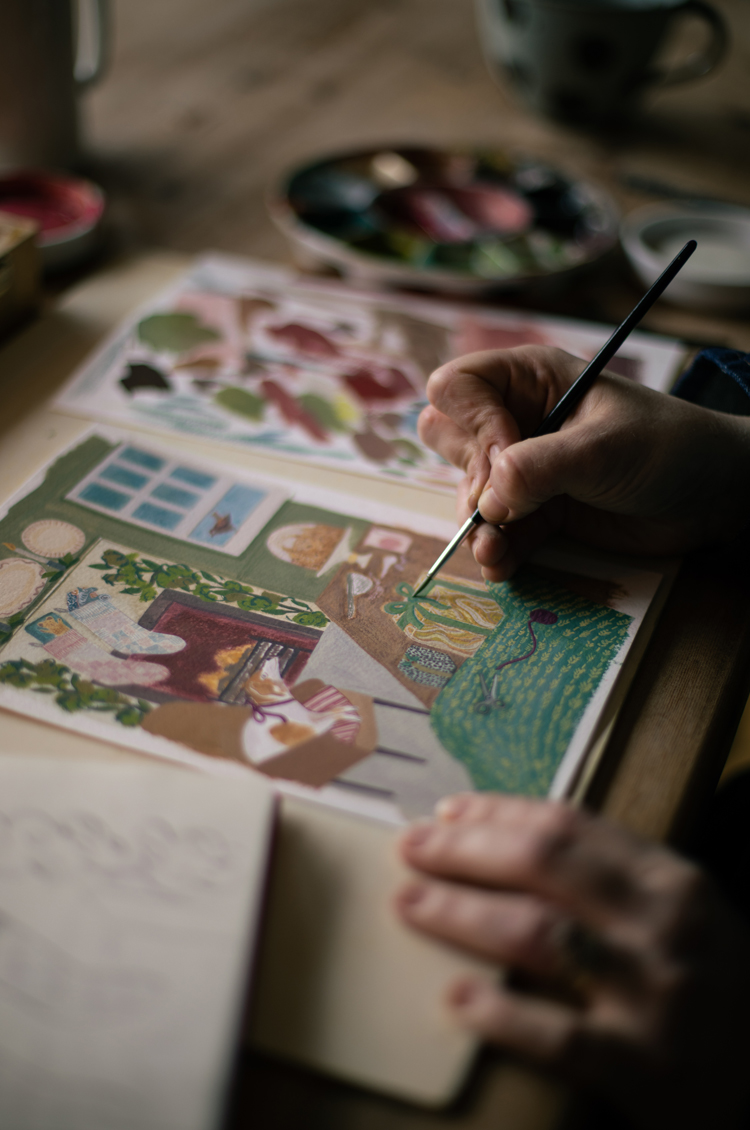 How would you describe your style as an artist?
I paint the things that I love – ceramics, textiles, beautiful creatures – and I work with a rich colour palette. My work draws on the tradition of still life painting but with a characterful and sometimes amusing edge. I love to include animals in my work and their expressions and the way in which they 'interact' in the paintings is something that I enjoy creating.
You've previously worked in the museum world – how did that influence your style?
I worked at the Ashmolean museum in Oxford for 10 years and it had a huge influence on my work. I learnt a great deal in my time there and I have always included ceramics and textiles in my work but my connection to the things that I paint became stronger and my eye became keener. I worked in the stores and got to see pieces from the collections rarely seen by anyone. I was constantly inspired and educated.
How has your style evolved over time?
I'd say that part of the 'style' of my work is my use of gouache paints – opaque watercolour paints traditionally used by designers and illustrators. While I also paint in oil and acrylics, the gouache paint has a particular fluidity and flatness that are key characteristics of my work but I've worked on the same themes and subjects for many years.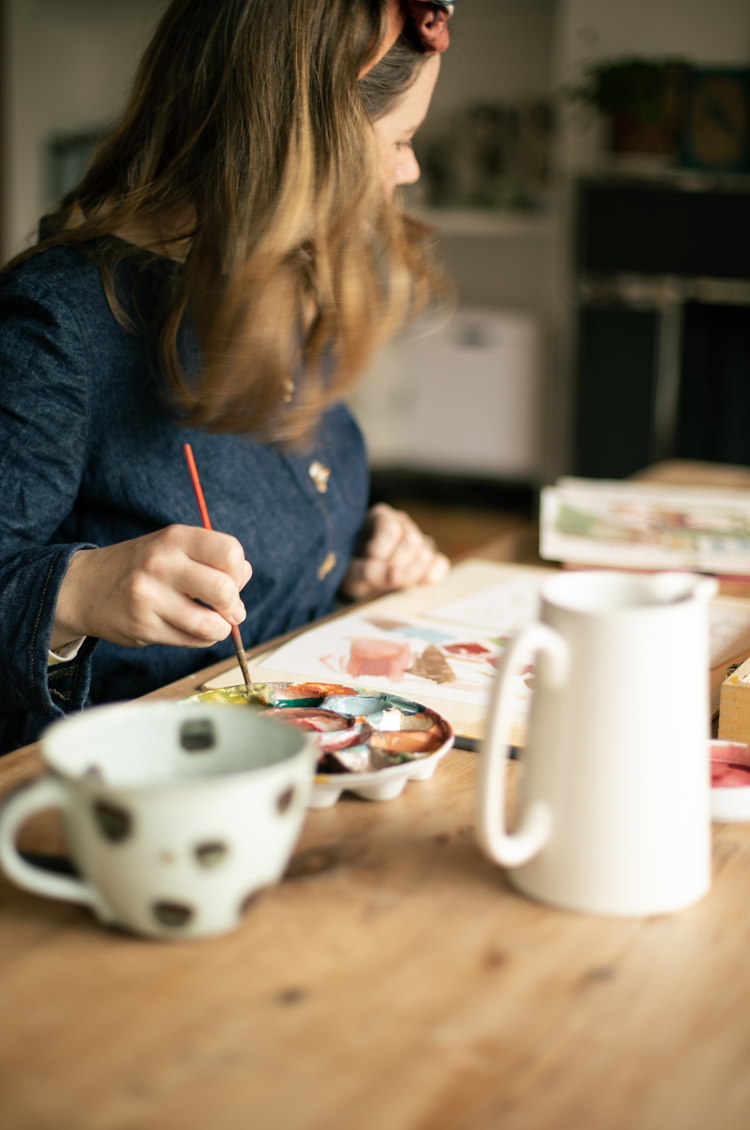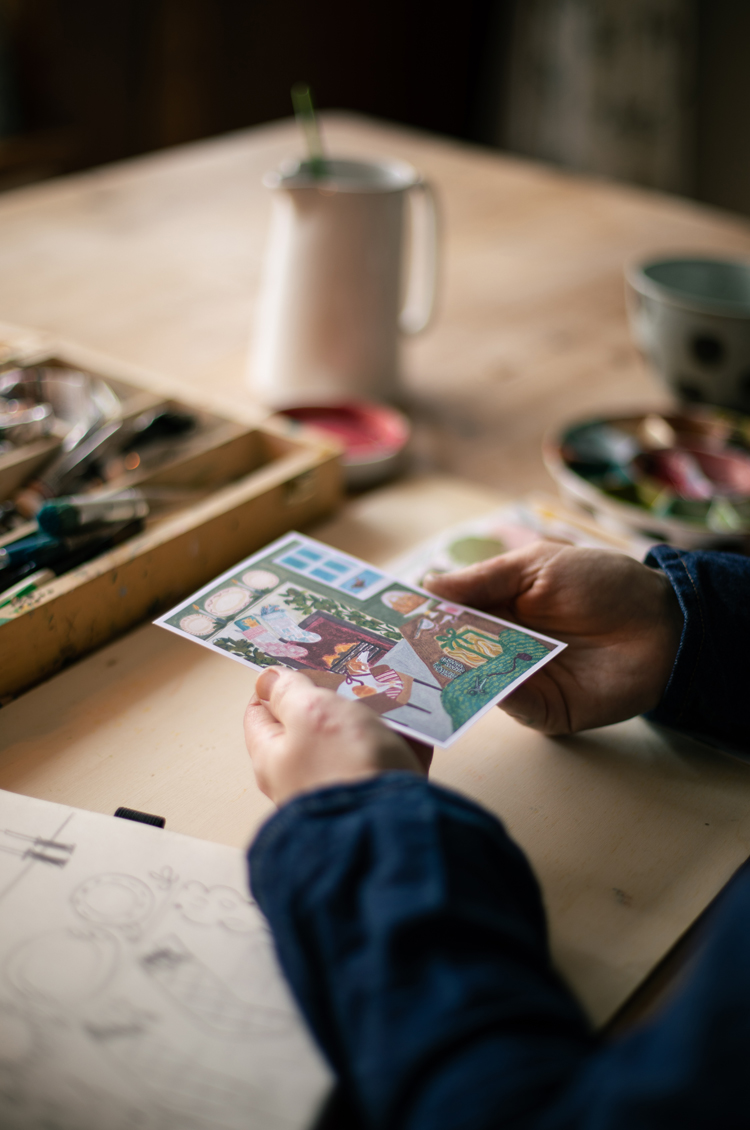 What is a typical day like for you?
I work alongside raising my three year old son. We get up, have breakfast and play, he goes off to preschool for the morning and I light my fire and paint. Since becoming a parent I have perfected working in small pockets of time! Once he is back we spend the afternoon together, perhaps spending a little bit of time in the studio together and once I have persuaded him to go to bed (or its his dad's turn to do bedtime!) I pop back into my studio for a little bit.
Where do you gather inspiration from?
My inspiration comes from beautiful objects, animals, sunny days and often things I see out and about – be it patterns on peoples clothing, pretty flowers, things that I spot in antique shops and so on. I often revisit old sketchbooks, particularly those I used while I worked at the museum.
Tell us a little about the postcard you designed for us and how the idea came together?
I was sent some beautiful images from Rowen & Wren that I started to work through in my sketchbook. I wanted to make a cosy 'night before Christmas' scene and was particularly drawn to the dog in the armchair. I then added the wren at the window and wondered what they might be talking about!
Read more about our work to support British illustrators as part of our
Consciousness
pledge and watch our latest short film of our visit with Unity below.