Flora's Overnight Oats & Winter Broth
06 Jan 2023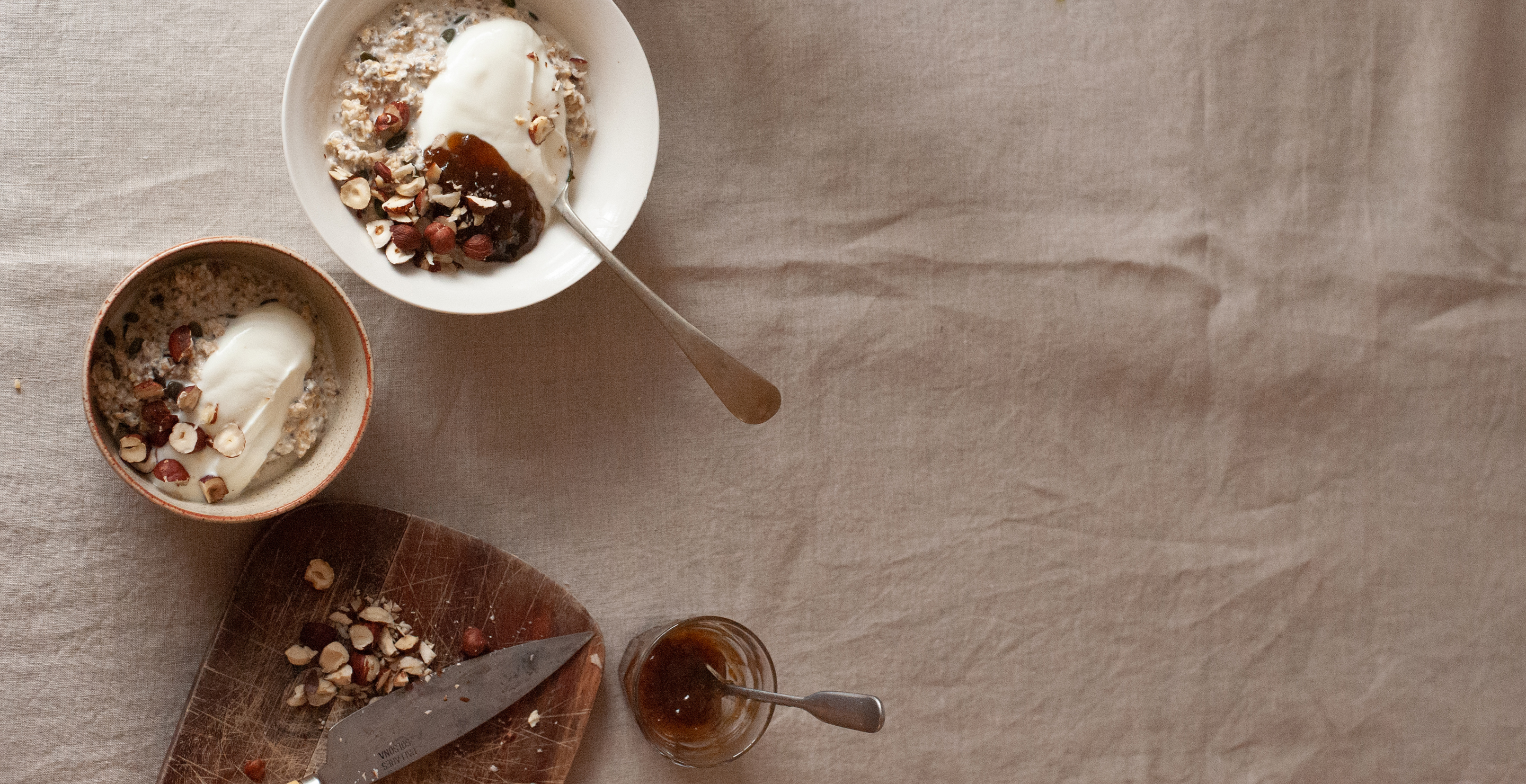 We don't know by what magic she manages it, but Flora seems to know precisely what our bodies need at any given moment. And this month, in the post-feasting come down, she has a hearty overnight oats recipe and the perfect cavolo nero, chickpea and shallot broth to nourish and warm our bones.

Overnight Oats

Serves 4-6
Ingredients

200g oats
2 tbsp chia seeds
2 tbsp pumpkin seeds, or any other seeds you prefer
2 tbsp honey
450g whole milk
Small pinch of salt

Yoghurt, to serve
Jam or poached fruit, to serve
Nuts, seeds or granola for topping
Method

1. The night before you want to eat measure out all of your ingredients in a bowl.
2. Mix well to combine (making sure the chia is evenly distributed) then transfer into an airtight container.
3. Store in the fridge overnight, or for up to 4 days. I like to make a big batch of these to enjoy each morning.
4. When ready to serve simply spoon the oats into your bowl. You can top with a little more milk if you like but I prefer mine with a generous amount of full fat greek yoghurt. In winter, jams and preserves are a tasty addition, as well as some roasted nuts, seeds and maybe even a little granola. Poached fruit would work well here too - perhaps some poached rhubarb or an apple compote on top would also be tasty! The oats are really just the starting point!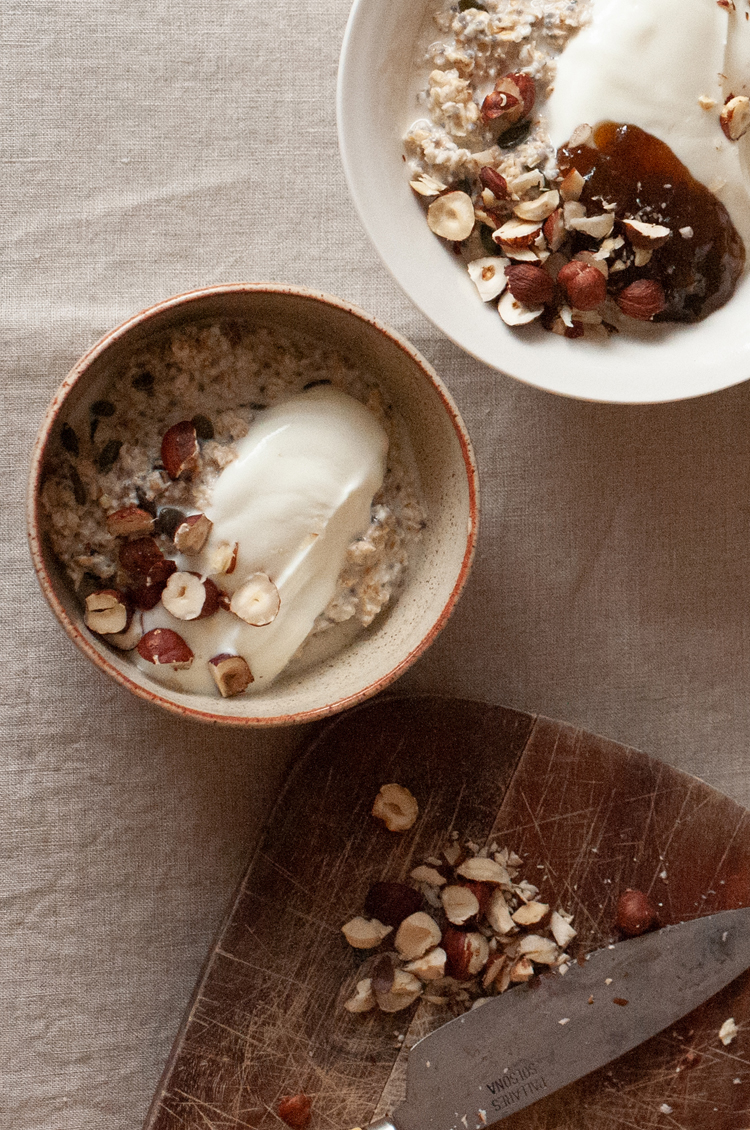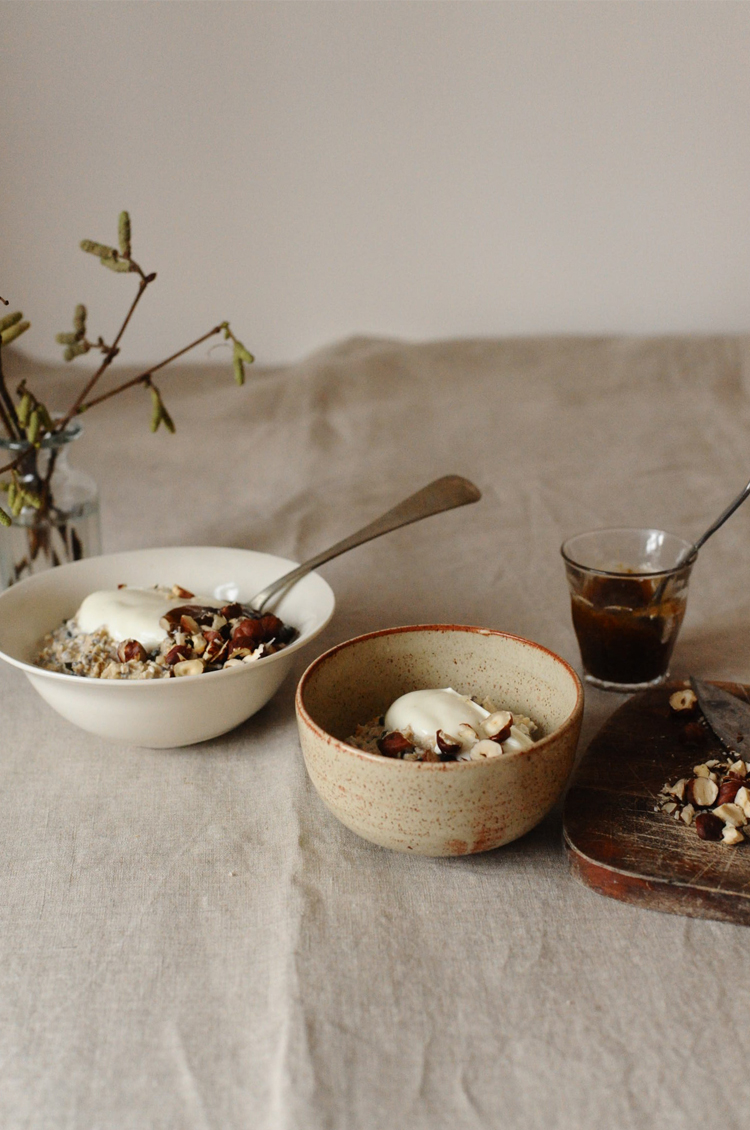 Cavolo Nero, Chickpea and Shallot broth

Serves 4
Ingredients

For the broth:
200g banana shallots
Olive oil
200g cavolo nero
4 cloves garlic
2 bay leaves
1 tsp salt
1/4 tsp cracked black pepper
1 tsp ground coriander
2-4 sprigs rosemary
50g vermouth, or white wine
1 tin of chickpeas, drained
1L chicken or veg stock
75g Parmesan, plus extra for serving
Juice of 1/2 lemon
20g parsley, chopped

For the aioli:
1 egg yolk
1/4 tsp dijon
1/4 tsp caster
1/2 tsp salt
1 small clove of garlic
100g sunflower oil, approx
Lemon juice, to taste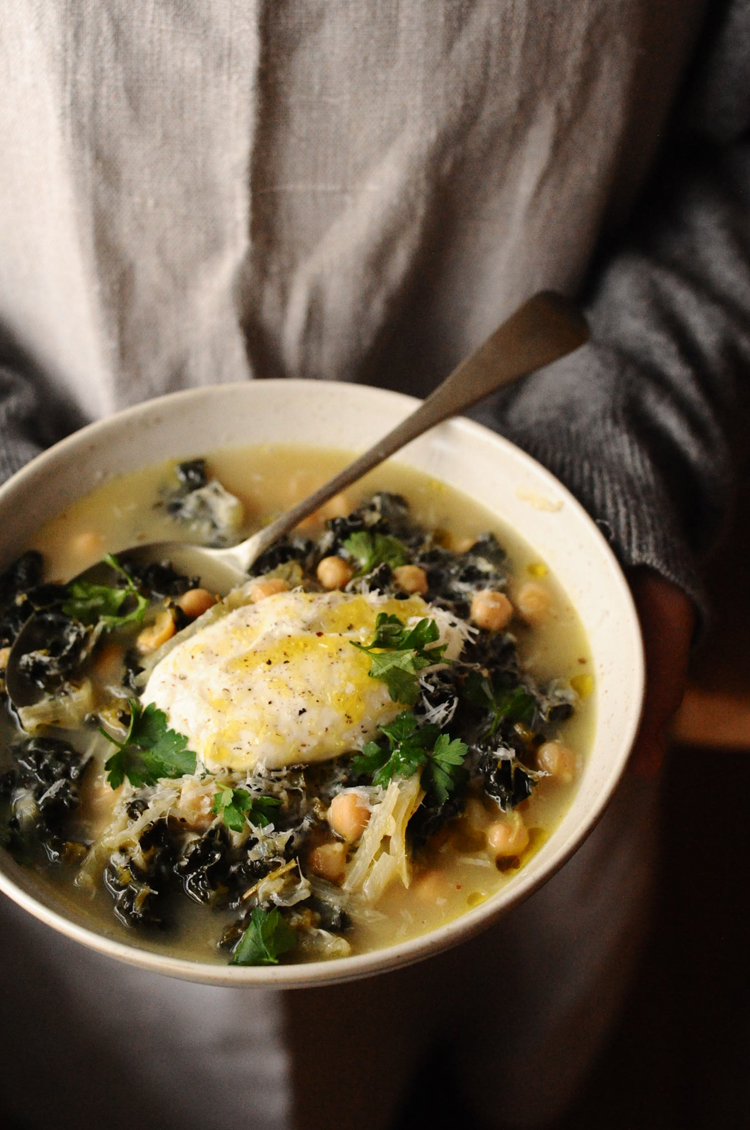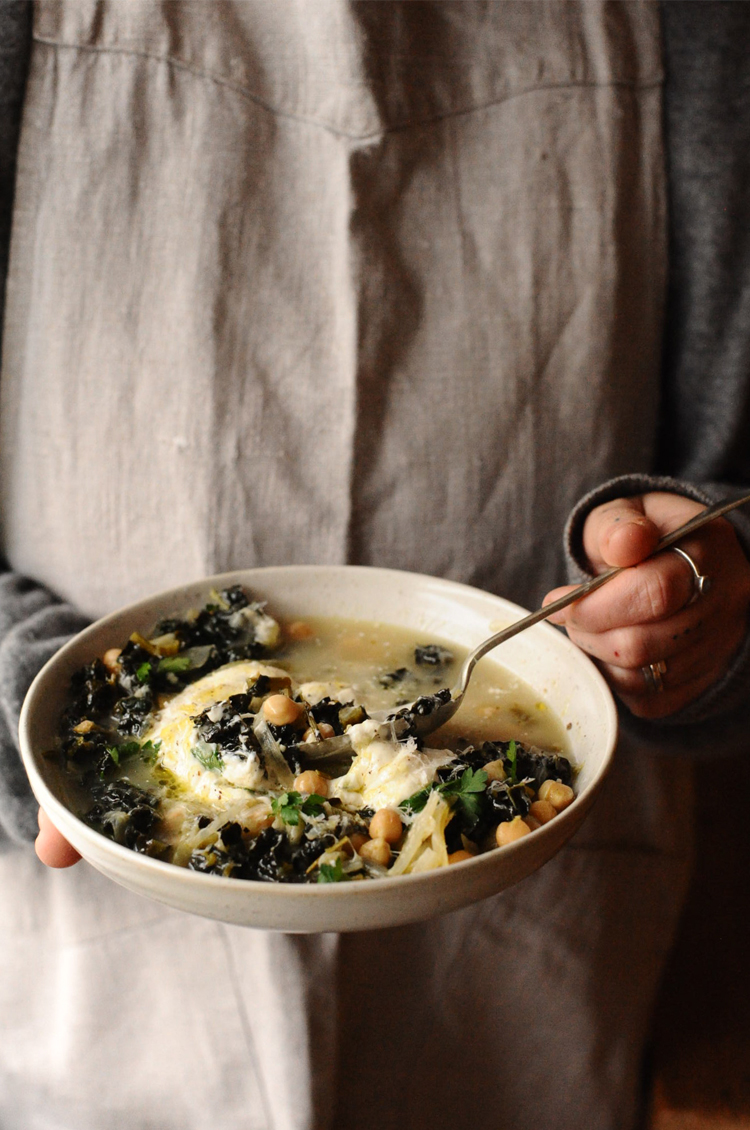 Method

1. Begin with the broth. Finely slice the shallots then add to a large saucepan with a little olive oil. Begin to sweat down gently over a medium-low heat.
2. Cut the stalks out the middle of the cavolo nero, and set the leafy bits aside. Finely slice the stalks.
3. Finely slice the garlic.
4. Once the shallots have softened and are beginning to colour, turn the heat up to a medium then add the stalks and the garlic. Cook for five minutes or until everything is soft and starting to colour a little.
5. Add the bay leaves, salt, rosemary and coriander.
6. Next add the vermouth and allow the alcohol to cook off for 2-3 minutes.
7. Once the mix no longer smells boozy (it should be fragrant smelling) add the chickpeas, then cover with the stock.
8. Simmer for 10 minutes or longer depending on how soft your chickpeas are.
9. Whilst cooking roughly chop your cavolo nero leaves into 2cm strips, and set aside.
10. To make the aioli place the yolk, mustard, caster and salt into a small jug.
11. Mince the garlic and add to the jug.
12. Use a hand blender to blitz the mix then slowly begin to trickle in the oil, whilst still blitzing all the time. Do this slowly so the mixture doesn't split. You can also do this by hand with a whisk but I find a hand blender works best (or the small bowl in a food processor).
13. Continue to add the oil until you have a thick emulsion. Add some lemon juice and then blitz again. Season to taste and add a little more lemon if required. Once the chickpeas are softened add the cavolo nero and stir through. Cook for no longer than a few minutes - or just until the leaves have softened.
14. Turn the heat off.
15. Finely grate the parmesan and finely chop the parsley. Whilst still hot stir in the Parmesan, lemon juice and the chopped parsley and mix well to cobble. The parmesan should melt into the broth.
16. To serve, spoon the broth into bowls, top with some aioli and sprinkle over a little extra parsley. Drizzle with some good quality olive oil, then grate over some more parmesan if you like. I always add an extra crack of black pepper too!
P.S. Flora's latest cookbook, Supper: Recipes Worth Staying in For, is now available to order and we highly suggest that you do!