Flower Power Pairings with our Founder
10 Mar 2022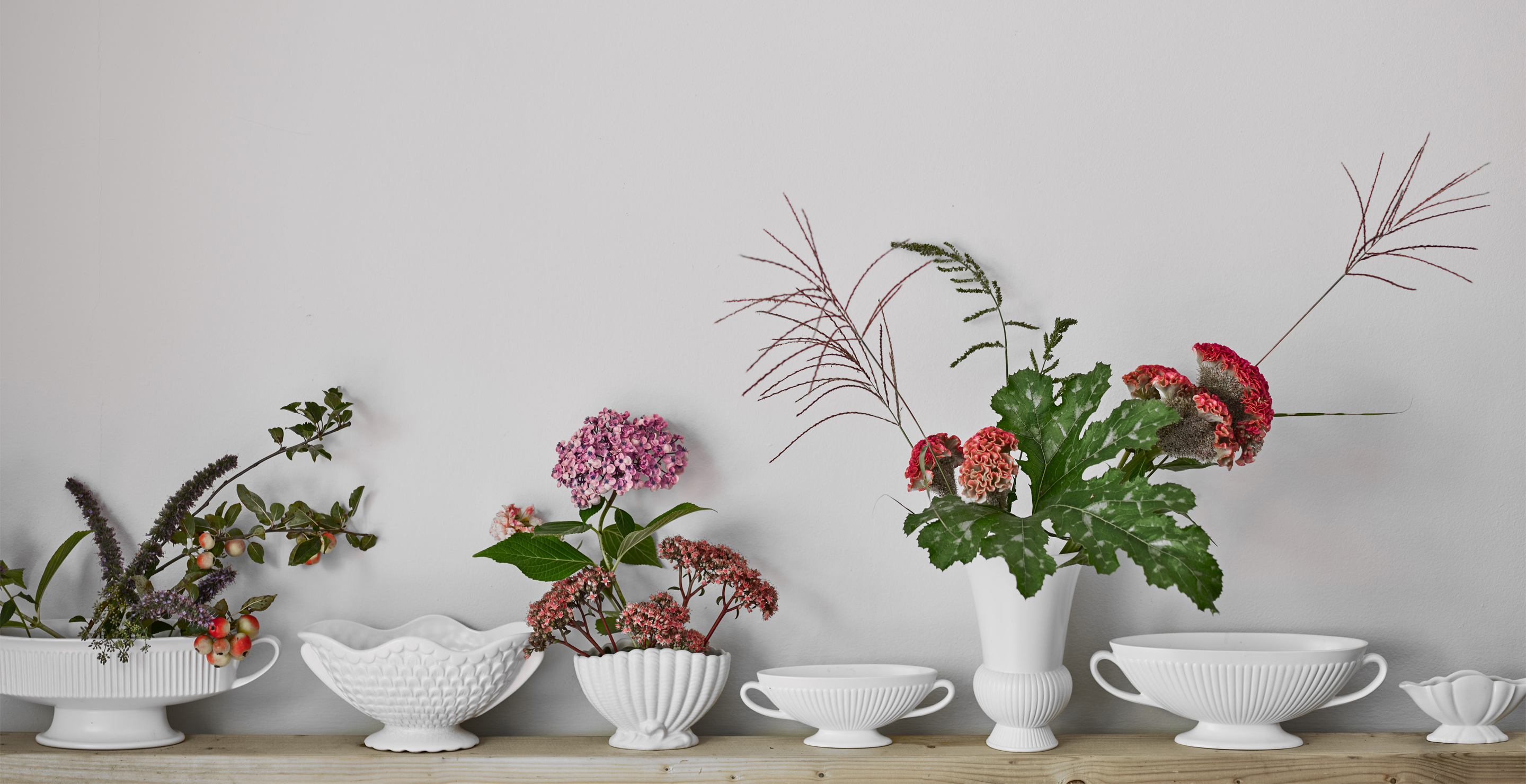 Now that spring is coming into view in all her light, bright, rejuvenating glory, it seems the perfect moment to talk about one of our favourite topics of all – florals. A constant feature in our photography but never more so true than of our new Spring 2022 Collection, enjoy this happy fact – all that you see on our abundant garden table were sewn and grown by our green-fingered founder Lucy. So, for one of our first articles of the season we sat down together to discuss our selection of vessels and vases, and which stems suit them most of all.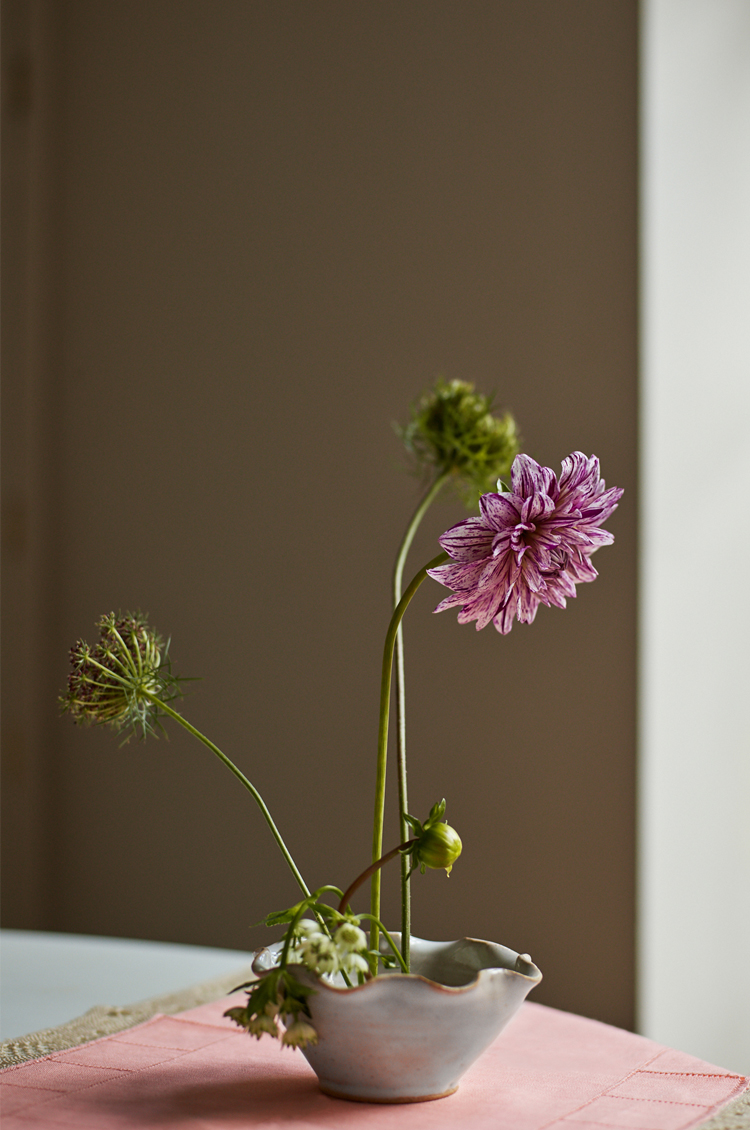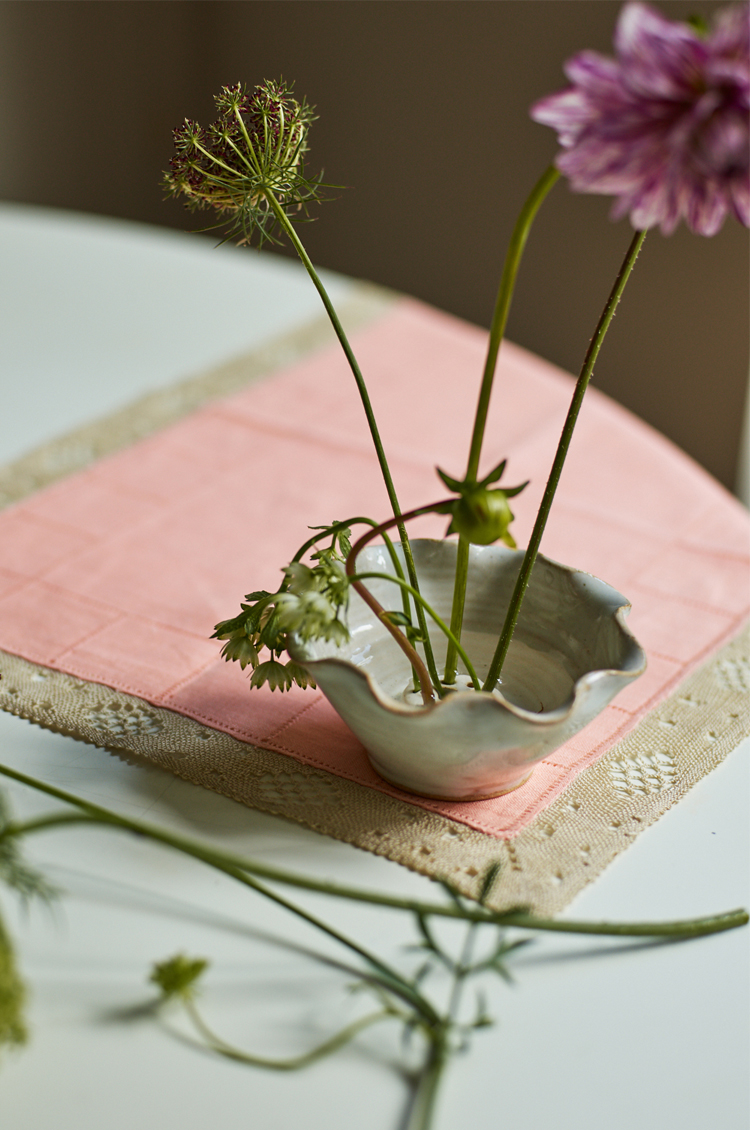 1. Handmade Ceramic Flower Frog
"We styled ours with a charming trio of marbled dahlias. Last year was the first year I grew them and I'm hoping they'll be coming back this spring as I left them in the ground. It's lovely to mix florals with structure (like dahlias) with a looser, lacy sort like Dauchus Carota that you can see to the side of the dahlia. Alternatively, dried hydrangea Annabelle heads if you can get your hands on some are perfect for a flower frog at this time of year."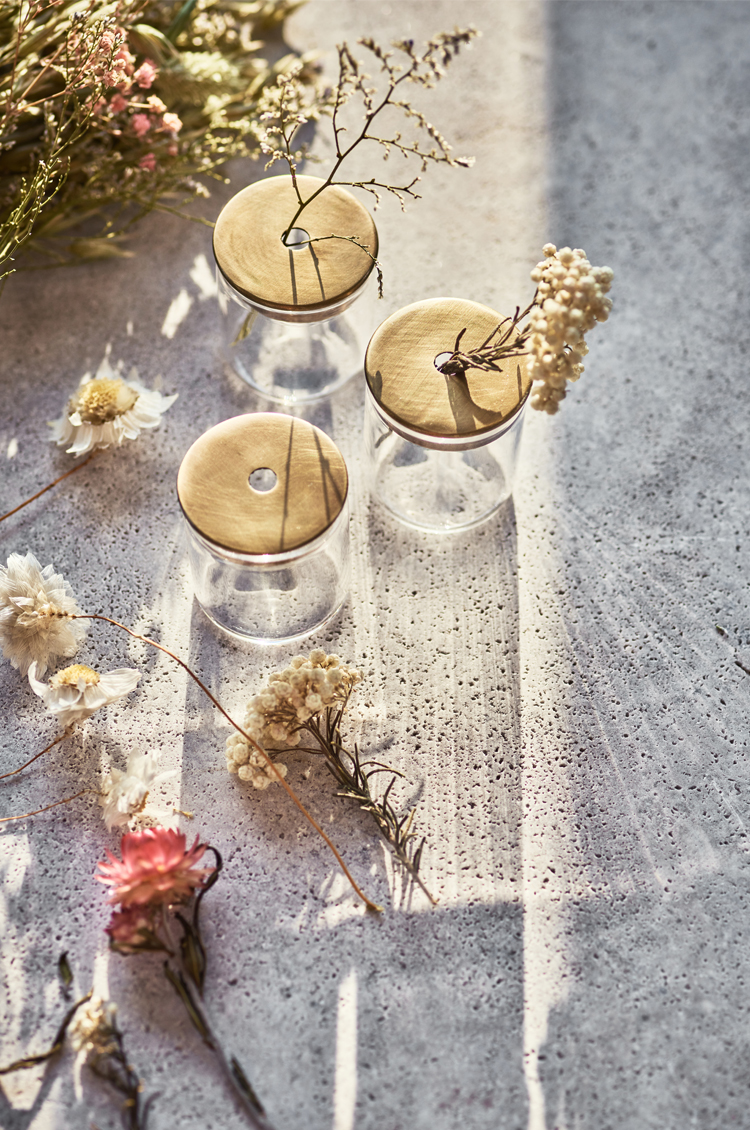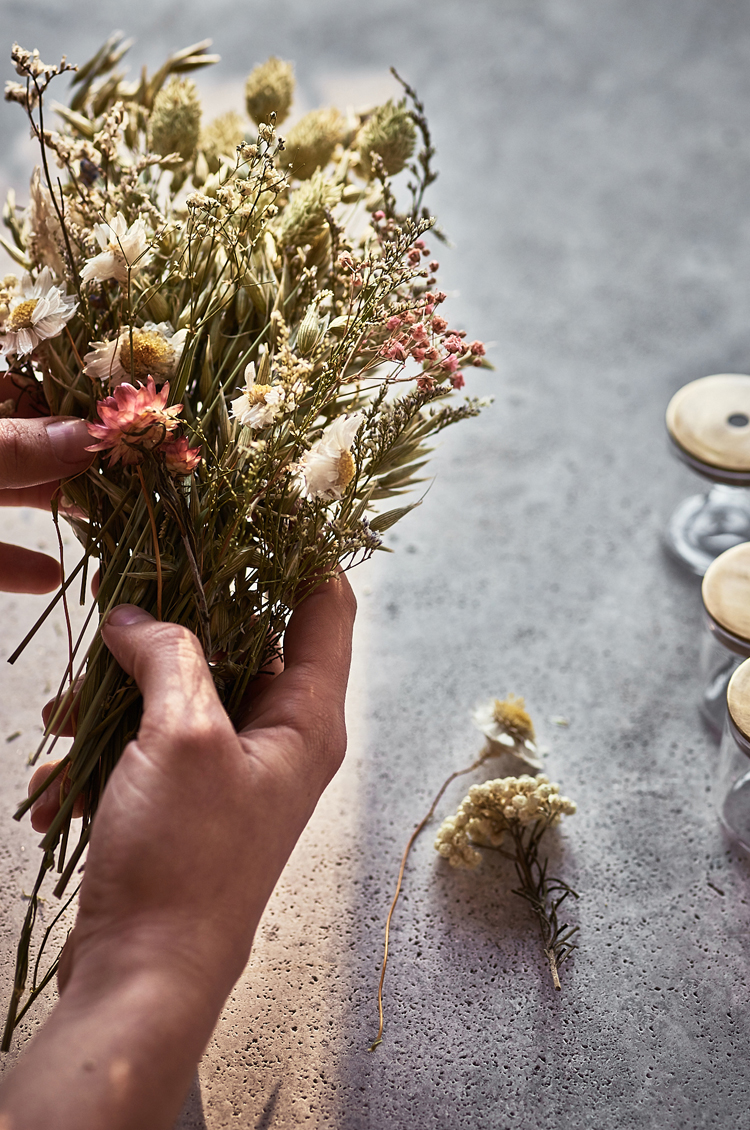 "This is an older shot of ours in which we styled our little brass disc-topped Paisley vases with a posy of dried flowers. They're perfectly really as you'll have a long-lasting arrangement of delicate sprigs for delicate vessels. The pink one is Strawflower which are having a real moment at the minute. I'm actually going to try planting some soon to dry for later in the year. Otherwise, snowdrops would be lovely for early spring or Primulas (I love the gold laced variety) with their dainty, lightweight stems."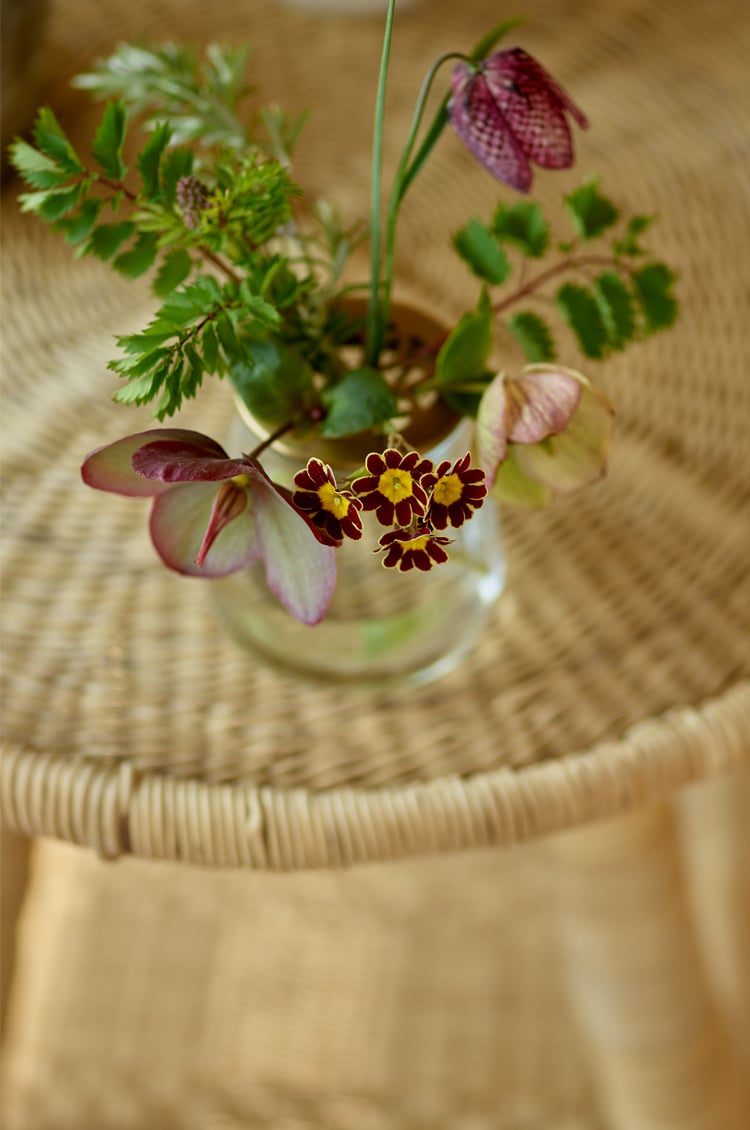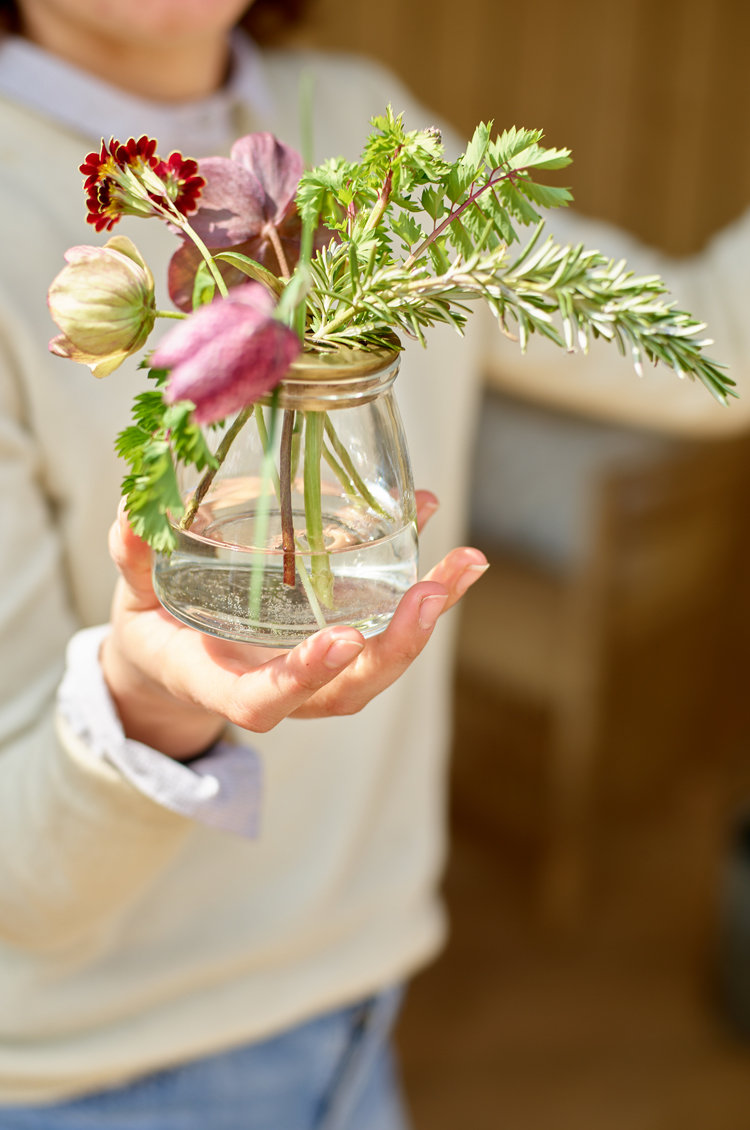 "Lumley has an intricate top which looks pretty but also helps you to create effortless arrangements. For springtime, I'd suggest a mix of Primula, Hellebore and Snakeshead Fritillary with a bit of foliage tucked in such as rosemary with its herbal, woody fragrance. Hellebores are especially enduring as you can seal their stems with boiling water before putting them in cold water. Later, in summer, I like to make the most of the larger Lumley holes by introducing blowsy rose heads alongside rosemary."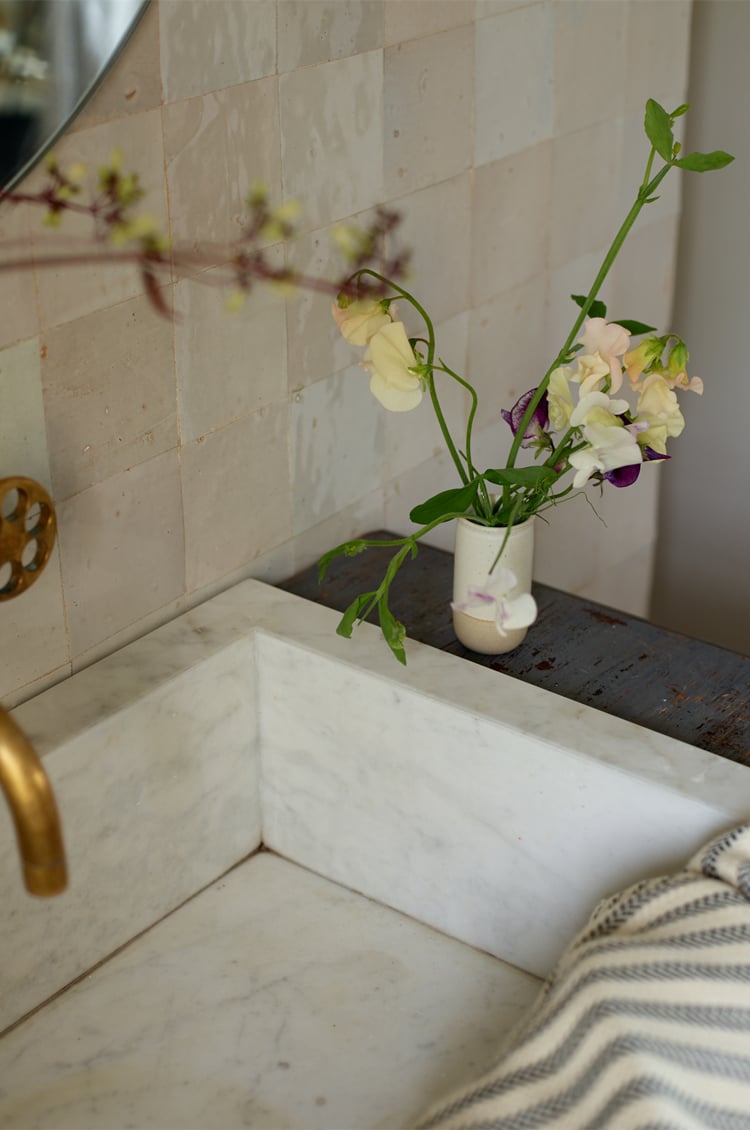 4. Handmade Stoneware Bud Vase
"This is one of our broader vessels so allows for wider stems. We shot ours with Sweet Peas – a lighter weight floral whose unruly foliage is welcome too and makes the display look softer and more organic. This combination is ever so sweet in a bathroom, especially with their lovely scent. Nasturtiums are another option. Think larger petals but nothing too weighty and you won't go far wrong."
For more green-fingered thoughts, follow along with Lucy's gardening notes here.