Meet the Artist: Gemma Koomen
25 Nov 2021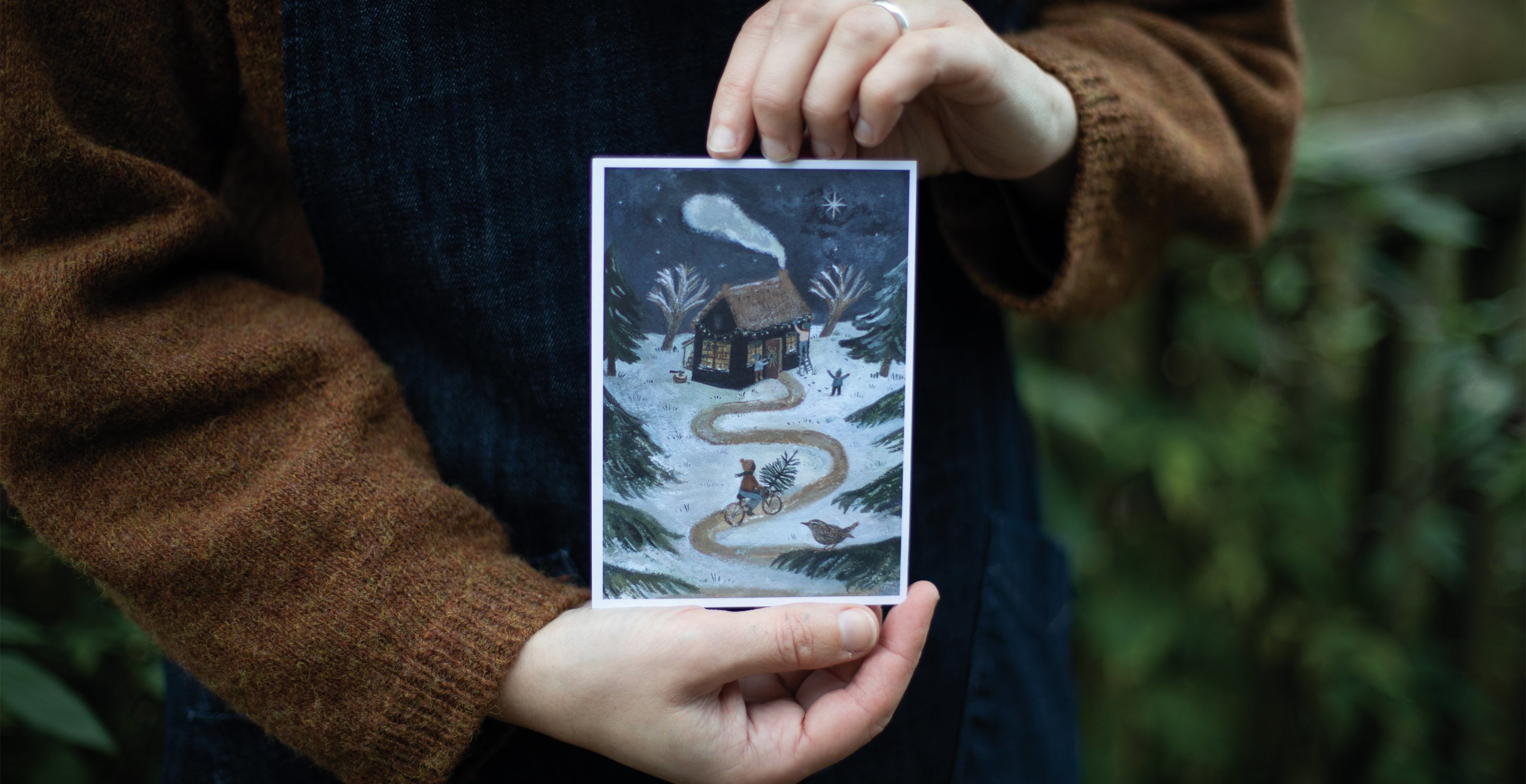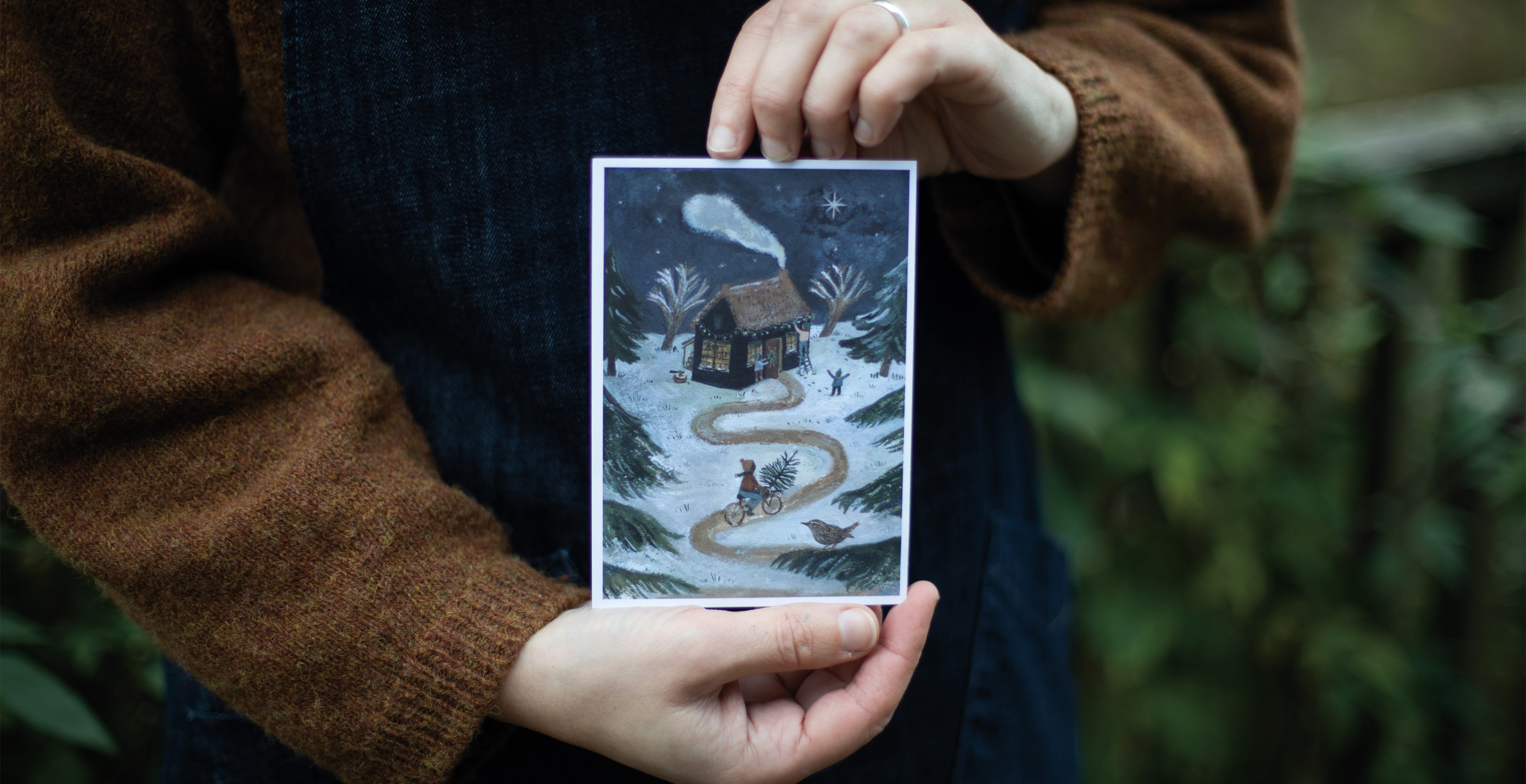 Finding peace in a painting isn't always possible. For one thing, there's often a lot going on – eyes darting around a picture to take it all in. But there's something about Gemma Koomen's work that enables even the busiest of her paintings to elicit calm. A mother of two and an established artist of many years, we went to Gemma in search of a scene fit for our winter postcard, and she didn't disappoint. You might say it's her use of soft lines and calming colour palette, but it's more than that. There's love and attention in every detail as we more than found out during our studio visit this winter…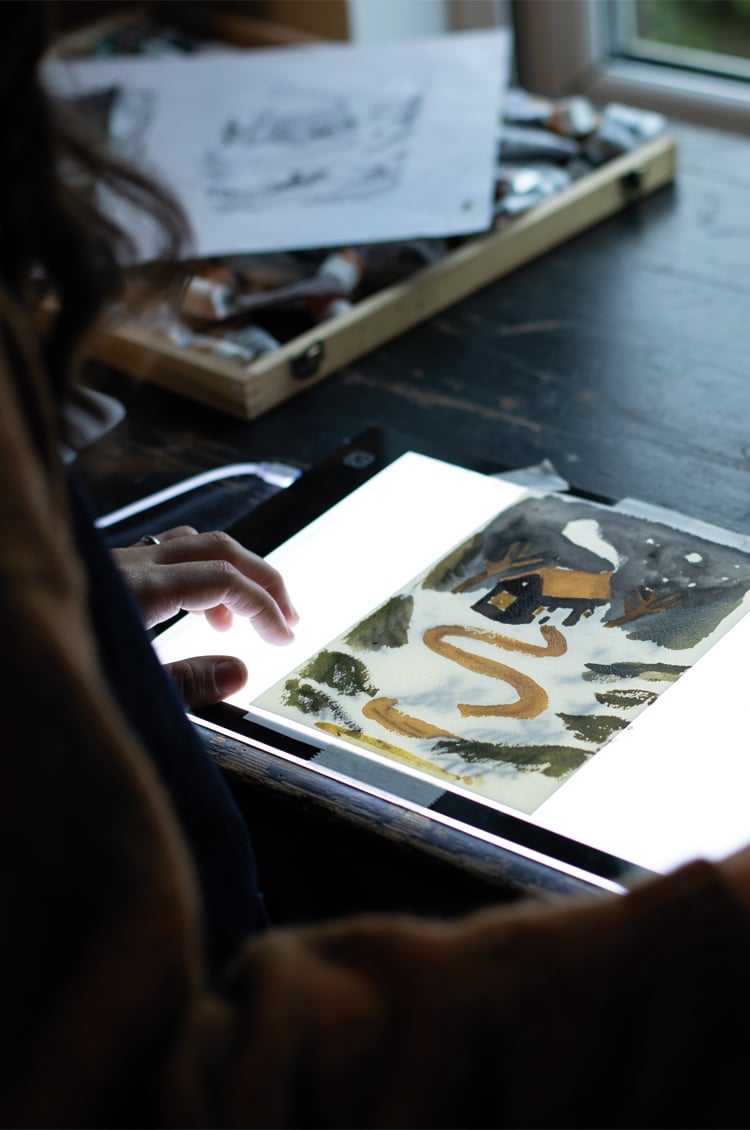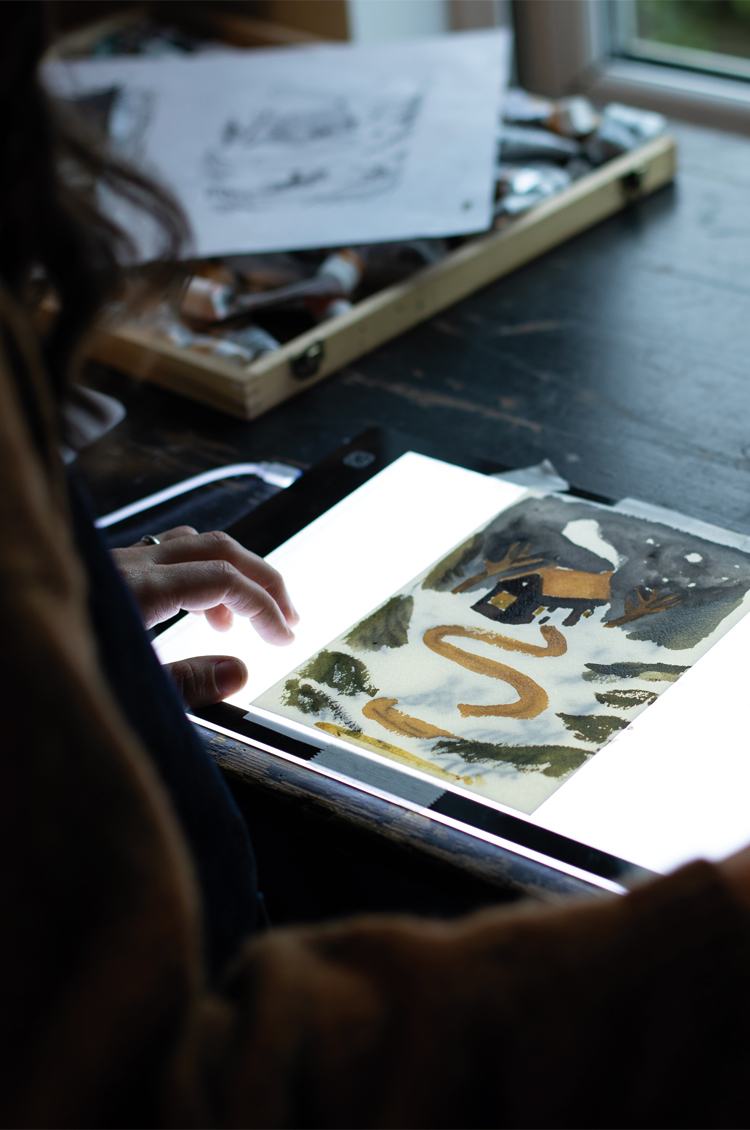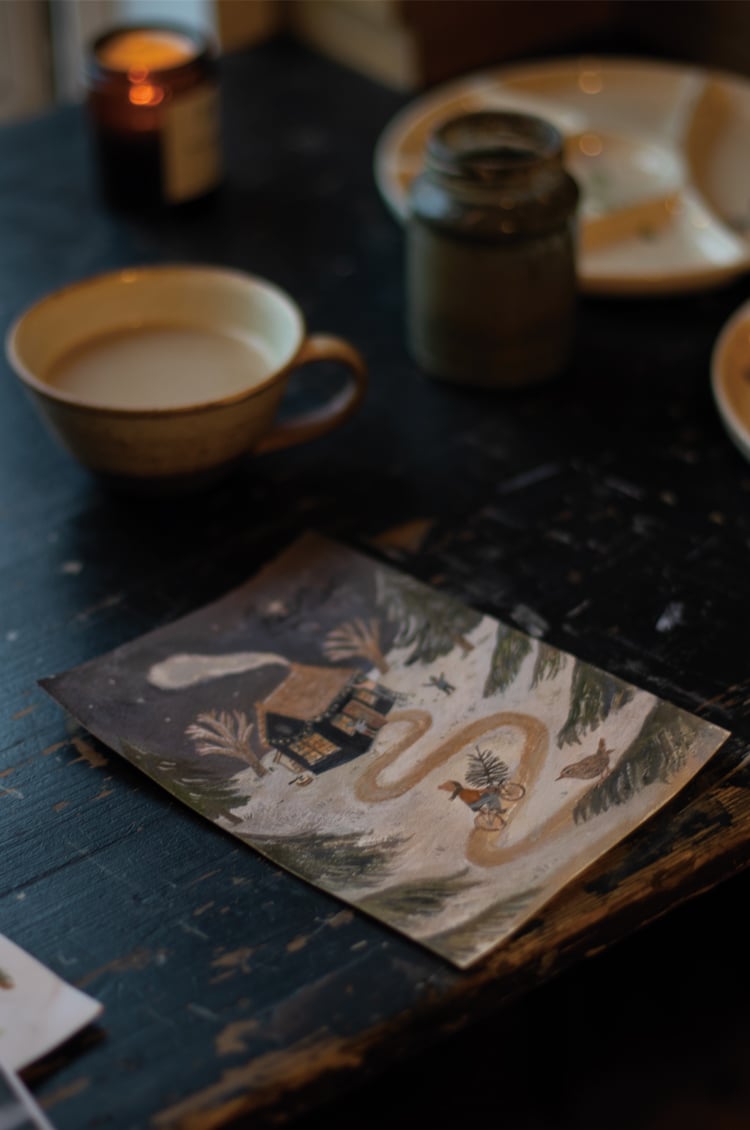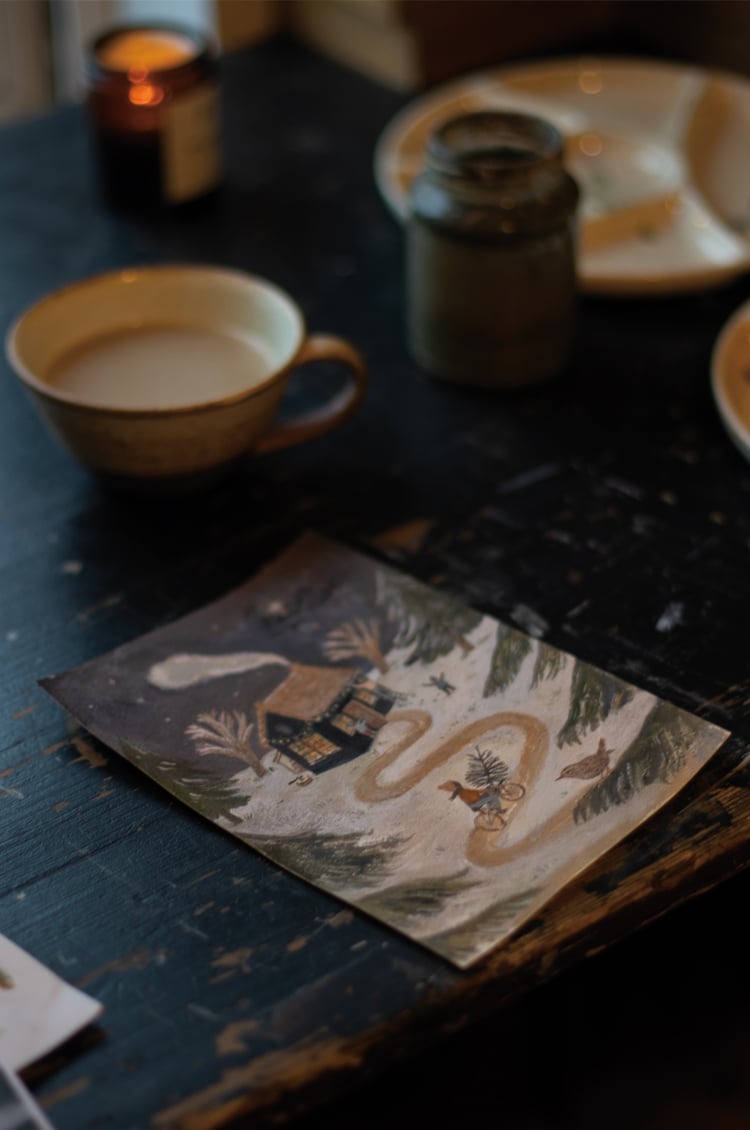 How would you describe yourself as an illustrator?

"I'd say that my work has a soft, earthy, peaceful colour palette – focusing on the simple pleasures of life and connecting with nature. My illustration work has been used in a variety of ways; from my picture book, The Tree Keepers, to a full range of greeting cards, prints and other stationery in my online shop at gemmakoomenshop.com. I also work on various commissions for clients ranging from publishers, magazines and brands."
And what's a typical day in the life of Gemma?

"My days can vary but a typical work day begins with breakfast with the family before I take a coffee with me into my little home studio, light a candle and do some journaling for a short time to clear my mind. I usually do a bit of creative writing and sketching, either in pencil or ink before I spend as much of the afternoon as I can painting, while listening to podcasts or music. Some days I need to take more time for digital work, either scanning or editing illustrations, laying out designs or doing product photography. Somewhere in the gaps I squeeze in emails and respond to messages! I try to take our dog out in the middle of the day for some fresh air and exercise and be available for our girls from late afternoon – making dinner, tidying and (if I'm lucky) a bit of relaxation before jumping into bed with a good book!"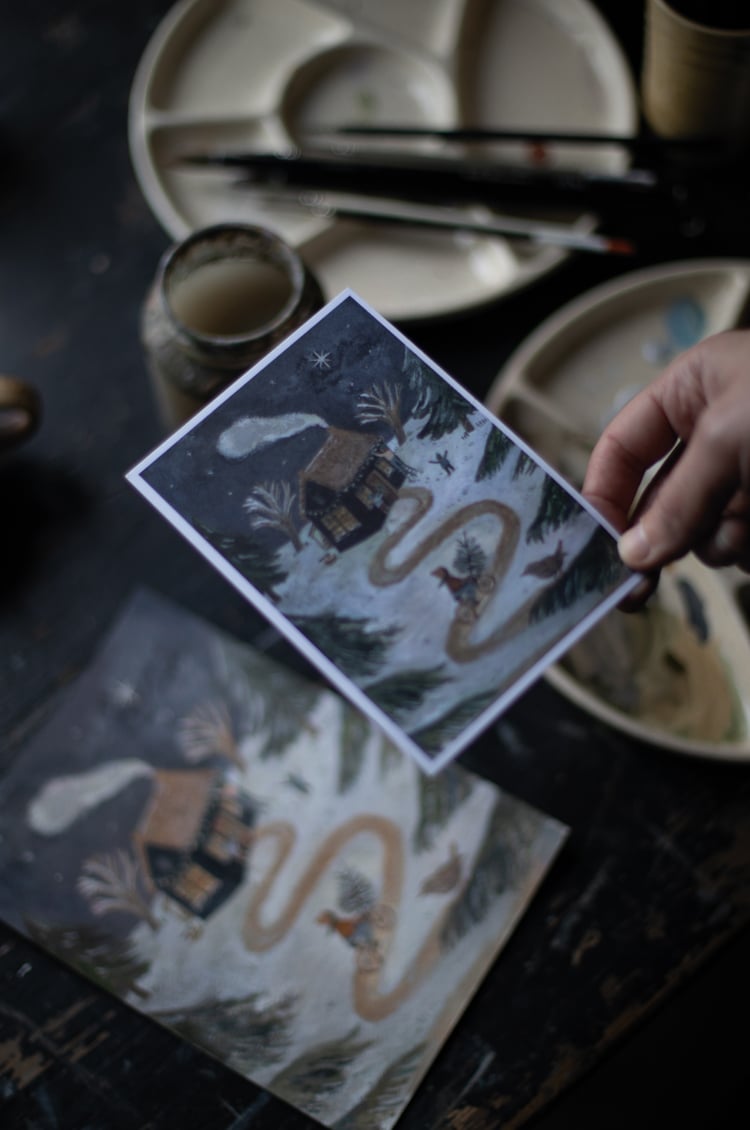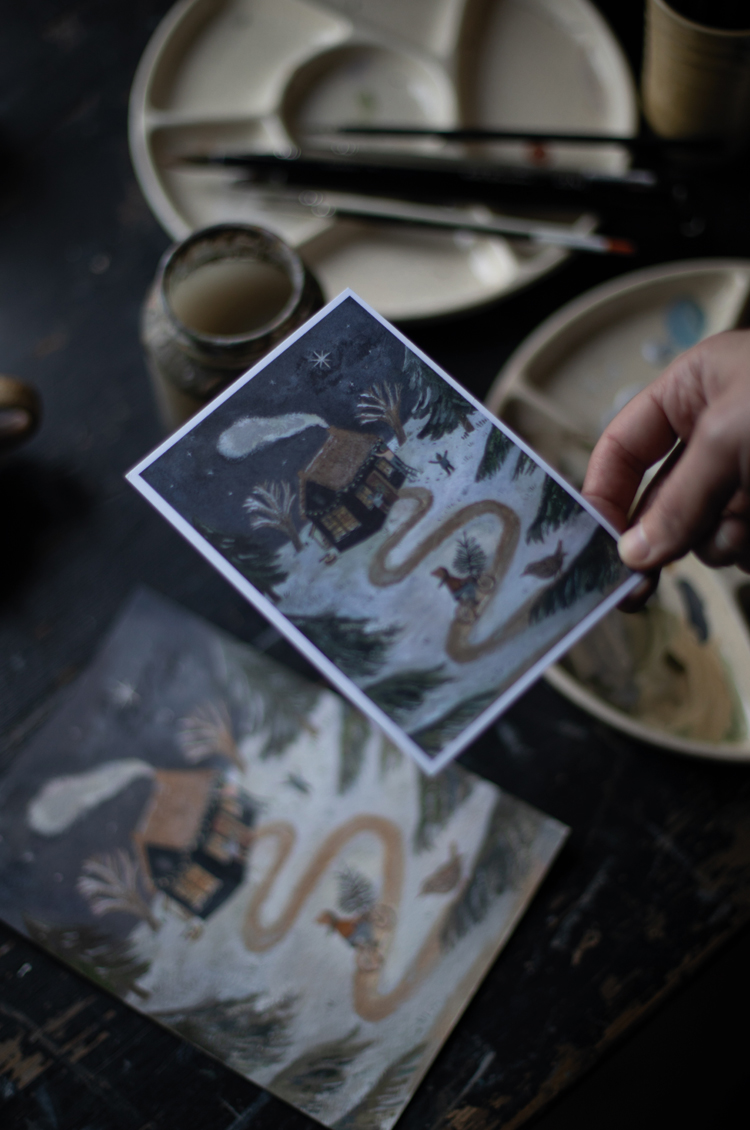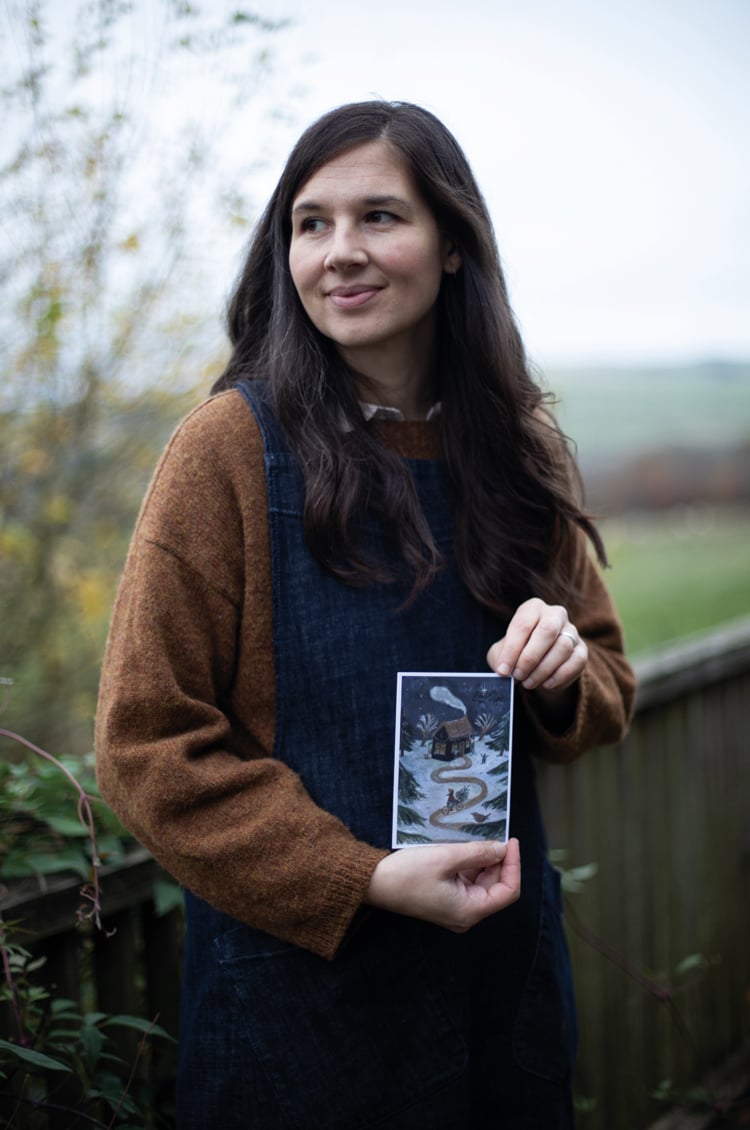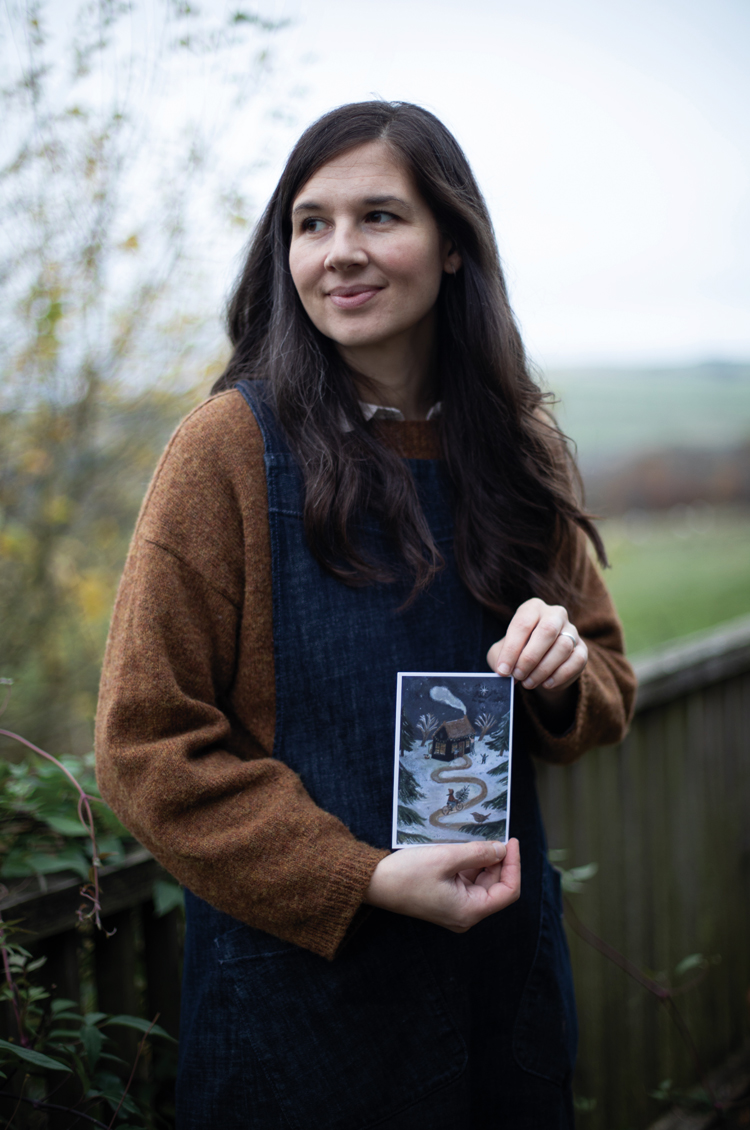 Can you tell us a little about the magical winter scene you illustrated for us and where you found your inspiration?

"The brief included lots of lovely options for telling a winter story to start with. So I came up with various sketches and the one the team were most drawn to was my version of the 'bringing home the tree' story which featured a christmas tree being brought home on a bicycle just as Rowen & Wren did on their Christmas photoshoot. I liked imagining a cosy scene at night with smoke rising from the chimney, the stars twinkling and the family wrapped up warm outside to hang the lights and decorations with the lovely surprise of the Christmas tree arriving up the wintery path. Painting little houses in the landscape with the warm lights inside and wood fire smoke curling up in the dark sky seems to be a motif I'm drawn to a lot. There is something that speaks to me about a peaceful solitude and being safe, warm and protected but still in proximity to nature."
What's your favourite thing to draw and why?


"Apart from tiny houses and tiny people, I love drawing flowers, plants and birds. I really enjoy observing what is around me in nature. There is a mindful quality about paying attention to what is happening in the season and that often inspires me to bring it onto the page."
Where do you find inspiration?


"I find inspiration in time spent outside in nature. I love travelling and going to new places. Often I feel more alert and notice details that I may overlook in regular routines. I'm inspired by my children, the way they interact with nature and each other and the things they bring to my attention. I also find a lot of inspiration in vintage reference books and picture books."
What is your favourite material to work with?


"I keep coming back to my acrylic gouache, it's so versatile and forgiving, meaning that compositions and elements can change in a fluid way. More recently, I have also loved mixing in more liquid watercolour, oil pastel and watercolour pencil into my paintings. My favourite work happens when I feel like I'm playing and enjoying the surprise of the colours and textures I can create."
You can watch our short film of our visit to Gemma, just here.