Meet The Artist: Jo Rance
23 Mar 2023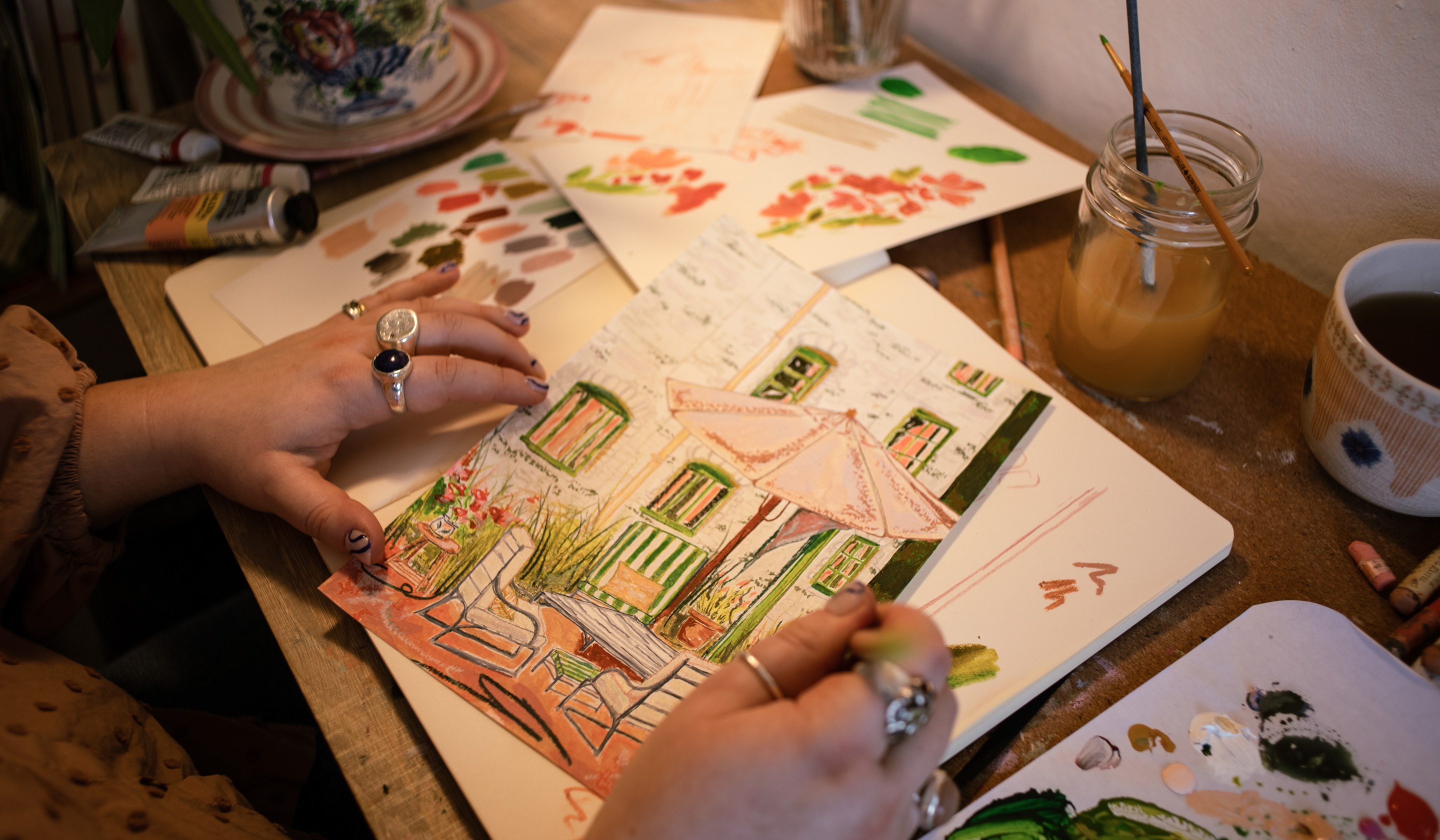 A person's art says a lot about them and in the case of the very lovely Jo Rance, it could never be truer. In Jo's case, a cheerful colour palette matches a cheerful disposition and the playfulness of her imagination shines through her designs. With such playfulness and a love of colour, it was a no-brainer to ask Jo to illustrate the postcard to accompany our Spring 2023 Collection – the season where we, quite literally, start springing back to life required an energy like hers. We caught up to get to know her a little better and find out what inspired her design.
Tell us a little about how your creative journey began?

I was always the child that wanted to draw on napkins at restaurants, made the dining room table a mess with A4 printer paper and felt tips, and wanted every craft kit that was advertised on the telly. Creativity has been at the core of my being since I can remember! I knew it was going to establish itself in my later life as soon as I entered my teenage years and started taking the creative subjects at school, such as art, more seriously.
What inspired you to embark on a textiles degree?

University wasn't an obvious choice for me. When I discovered the different avenues within Textile Design, particularly the fact I could embark on a Woven Textiles degree, it felt like a great choice to flex my creativity whilst also learning such a niche skill that could apply itself to so many other aspects of the creative industries. Spending 4 years learning how to hand weave, dye yarn, conduct trend research and design prints was an incredible way to further my creative practice.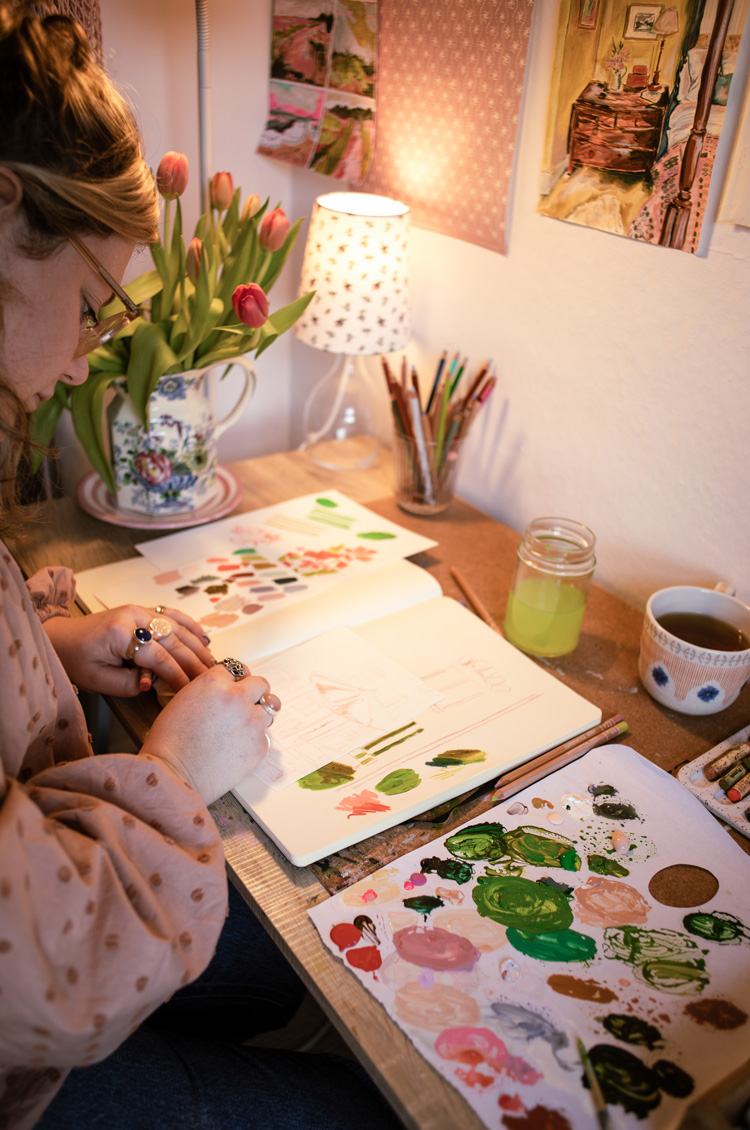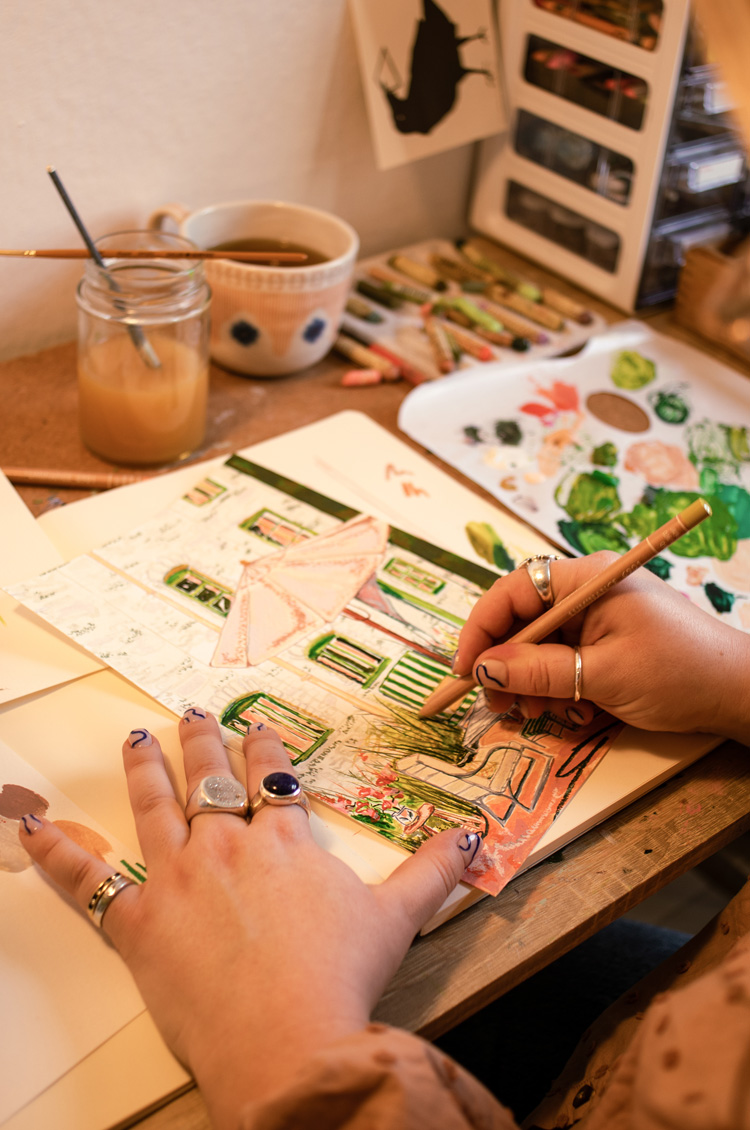 How would you describe your style as an artist?

I'd say I have quite an illustrative style within a lot of my paintings, there's a fluidity in my colour choices and selection of materials and mark making that I think feels quite unexpected and refreshing. My use of negative space brings control and some order to my pieces though, it's something I use a lot to ground my paintings and leave some space for our minds to fill in the gaps. People ask me a lot where I choose my colour palettes from, but it's all intuitive. It's difficult to round up your own style as sometimes it can be clouded with all the stylistic choices that occur in your mind before the final piece is solidified there on the paper. My mind is whirring as we speak, thinking about all the work I've created, am currently creating, and will create in the future!
What is a typical day like for you?

My mornings are always different depending on what's on my list for the day. Today for example it's 9.20am and I'm sitting at my desk answering these questions, but yesterday I was working on a lovely landscape commission at this time. Other days I'll be packaging up print orders and walking to the post office to send them out.

My afternoons are spent in the studio which is in the spare room of my house. It's a little haven of creativity and I feel so lucky to have a room dedicated to my work - even if there are a few cupboards full of extra bedding and random suitcases (we all have *those* cupboards right!?).

Generally my days consist of trying to keep a balance between getting the boring bits of this job done (admin, emails), and the fun parts; getting lost in a painting and not realising a whole afternoon has passed.

On a not-so-typical day I like to take myself out drawing – going on a long walk and spending a few hours at the foot of a tree drawing what I see can feel like such a luxury though, so this is usually something I'd do on a weekend where my partner can join me and I can draw whilst he reads. Of course this is weather dependent too, so something I'll look forward to now we're entering spring and the warmer months ahead.
What is your main source of inspiration?
The great outdoors! I definitely gather my primary inspiration from going out on walks locally or travelling further afield to wild places in the UK and beyond. Gorgeous nature really is everywhere and it doesn't take much to find it. I love doing similar walks throughout the year and seeing the seasons change and how my paintings and drawings change with it – it's magic.

A lot of my other inspiration comes from looking at editorial interior and fashion pieces. Anything that has been styled beautifully and is pleasing to the eye is right up my street. I also love anything slightly eclectic feeling – an antiques market or shop is always a feast for the eyes!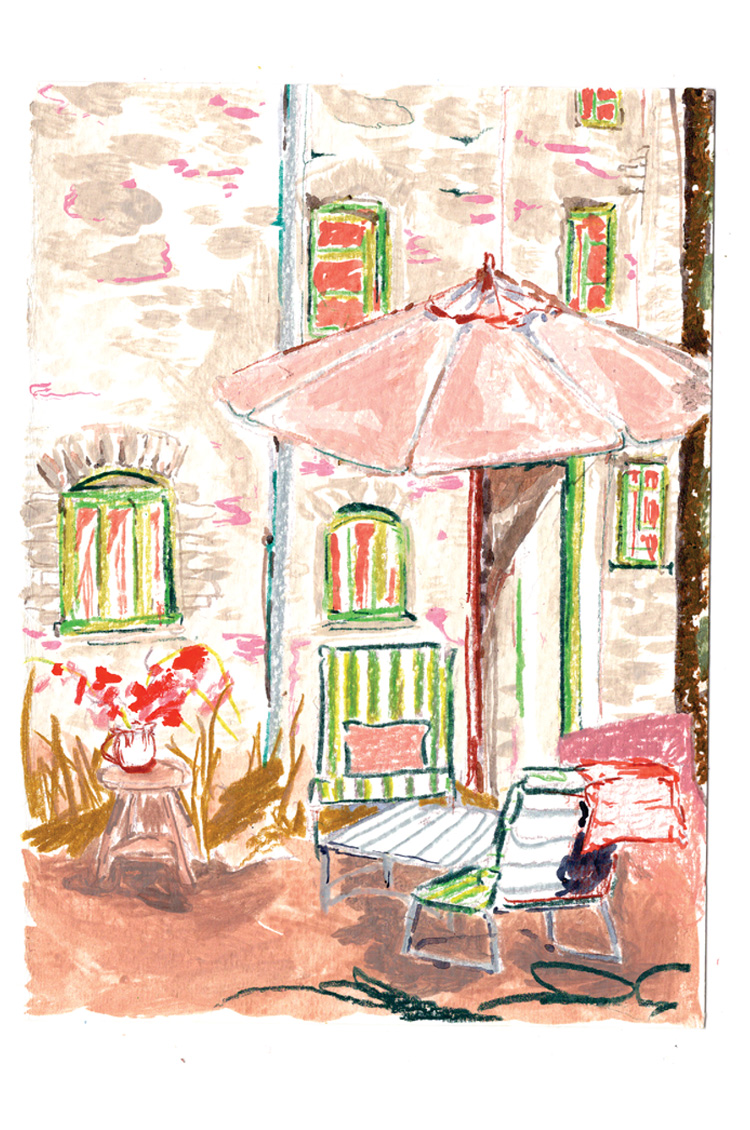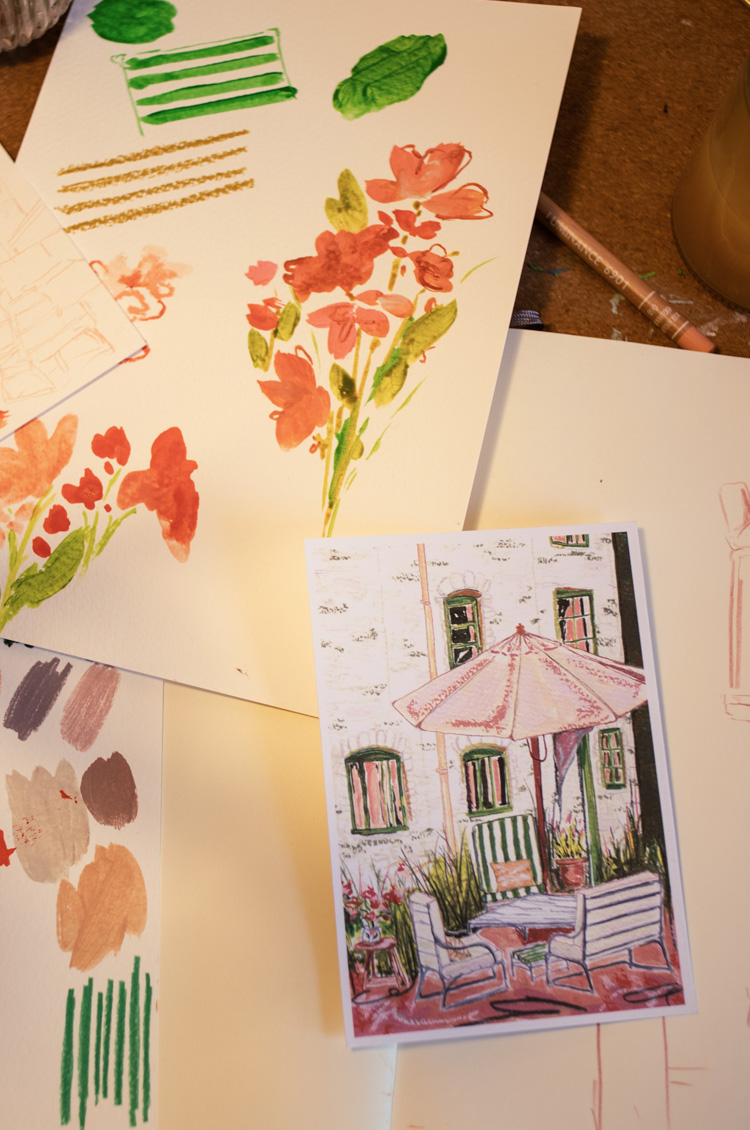 Tell us about the postcard you designed for us and how the idea came together?

It was an absolute dream to work on this postcard artwork for the Spring 2023 Rowen & Wren collection; the whole development of the piece was super organic from start to finish. The postcard I designed depicts a gorgeously warm day outside a house with the most charming green windows that complement the new green and white circus striped cushions of the Sudbury Sunloungers.
Working with imagery from the collection's shoot, I noted key colours and themes to work into the piece and made sure to include some pink and red florals to deliver an uplifting sense of spring. I feel the post card evokes a warmth that can only be associated with the turning of the seasons – brighter and warmer days ahead that make us all feel lighter and brighter!
In terms of materials, I used a variety to achieve different senses of texture and depth within the design. These included both paints and pastels, as well as some coloured pencils.
Read more about our work to support British illustrators as part of our Consciousness pledge and watch our latest short film of our visit with Jo below.