Meet the Maker: Alice Passingham
17 Nov 2023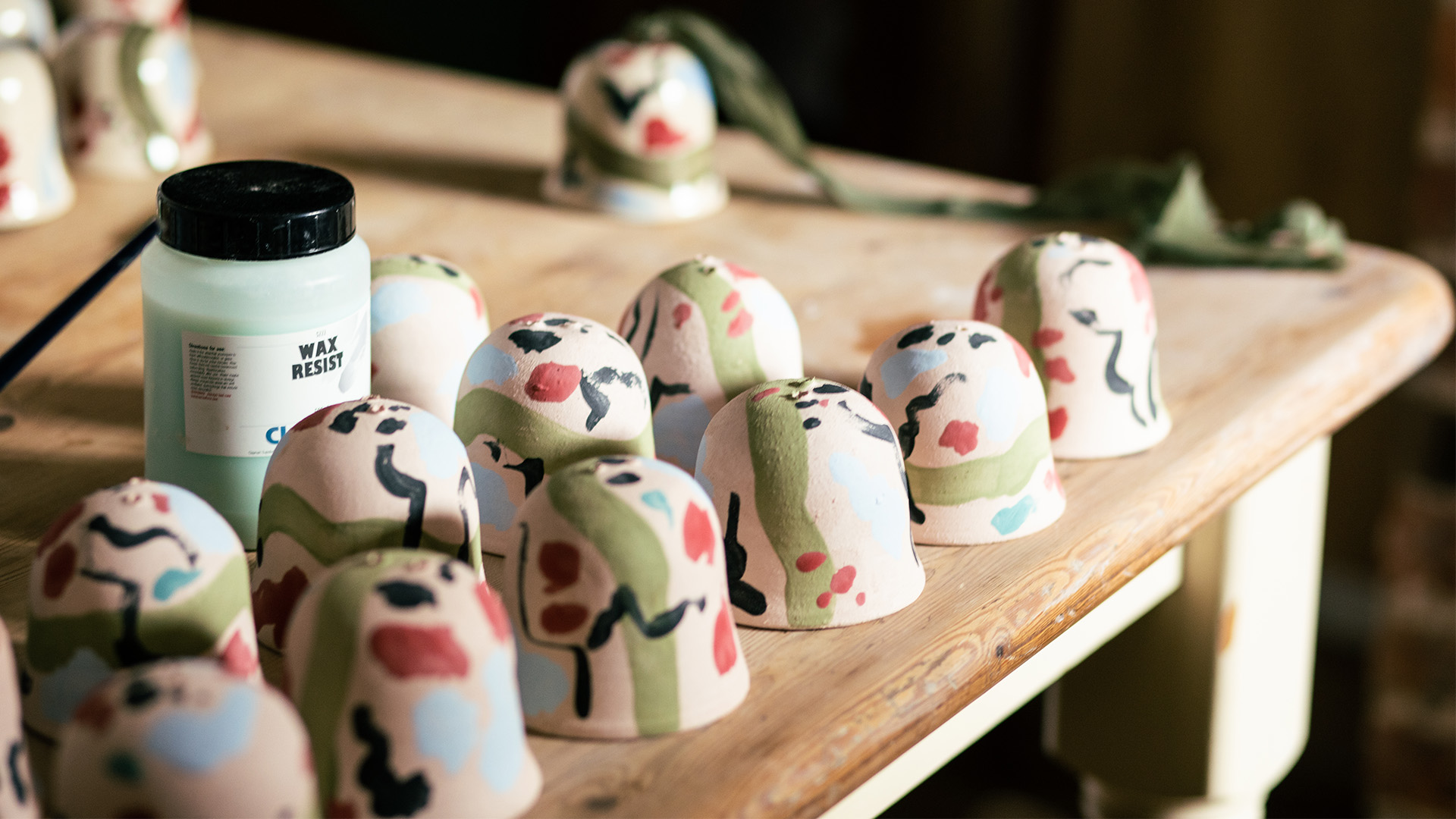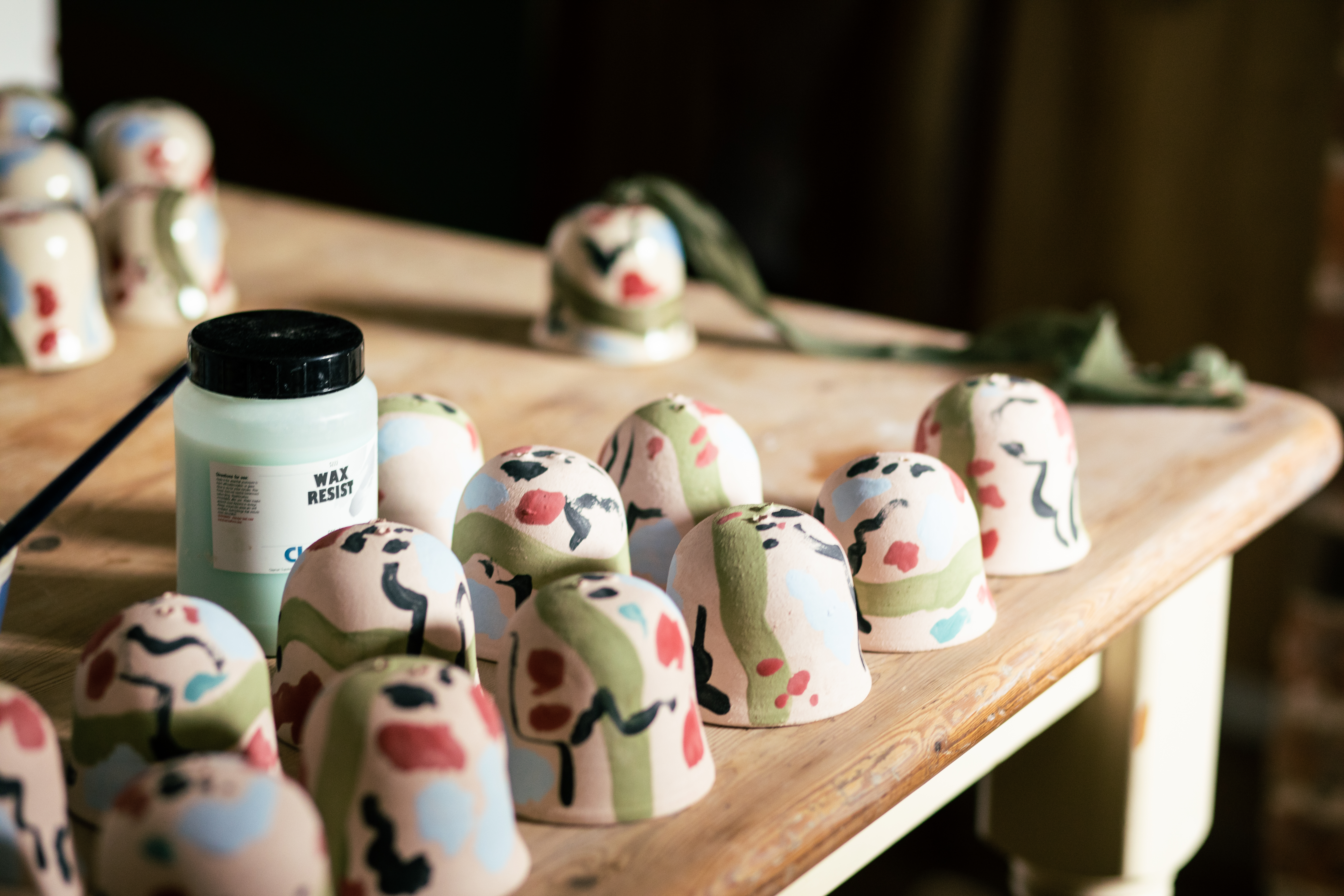 We had the pleasure of catching up with Alice Passingham, the talented ceramicist, and a cherished member of our family of British makers. Alice shares her inspirations, creative process, and the unique challenges and rewards of her work. Join us as we delve into Alice's whimsical and imperfect world of ceramics and explore the story behind her exquisite hand-painted ceramic bell, a delightful addition to our Christmas collection.
Can you tell us more about your journey into the world of ceramics?
It was about 5 years ago that I worked in London and had a boyfriend who lived in West Sussex. We commuted to visit one another, and he introduced me one day to a lady called Val who had a studio in her garden and had been a potter her whole life. I went along one weekend, not really sure what to expect, and thought if anything, I would gain a good hobby. We hit it off immediately, Val and I, as well as the clay! I started taking evening classes in London during the week and saw her every weekend. Then lockdown hit, and I moved in with my boyfriend on his boat and would cycle to see Val every day. I feel so fortunate to have had that level of one-on-one mentoring, a fast-forward pottery course, I guess you could say. A year or so later, I made the decision to move permanently; we now have a little cottage, and I have my own studio at the end of our garden. I still see Val often; she is a wonderful friend, and I am forever grateful to her for introducing me to pottery.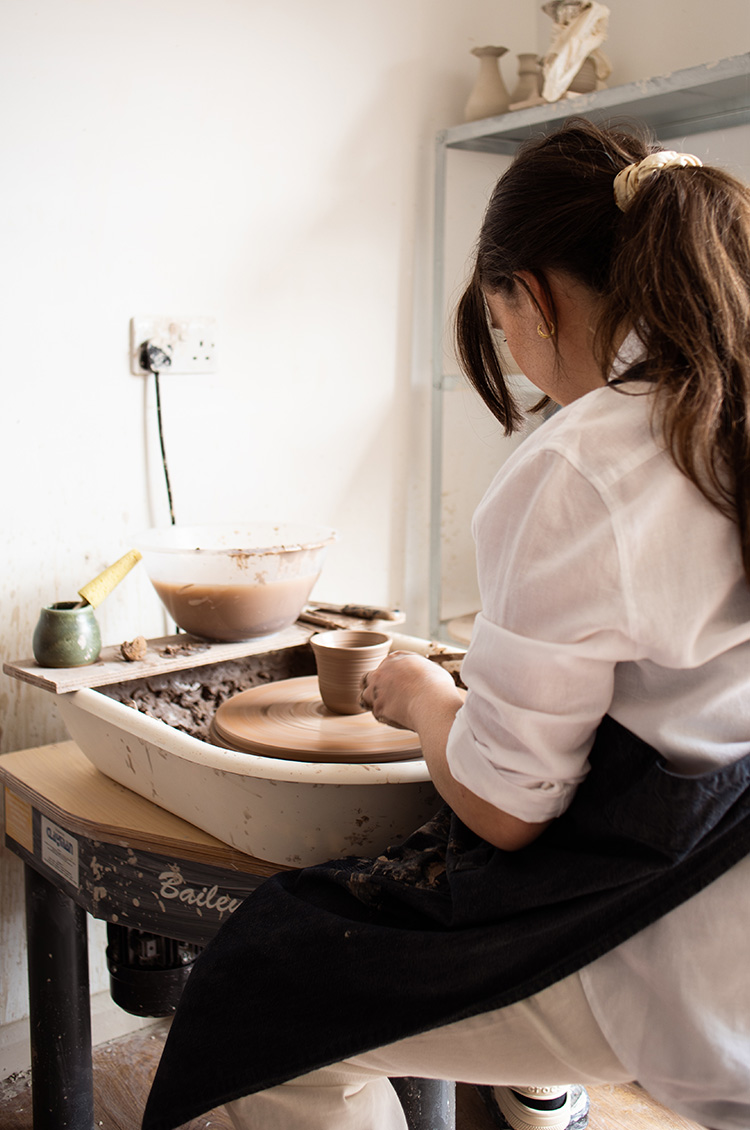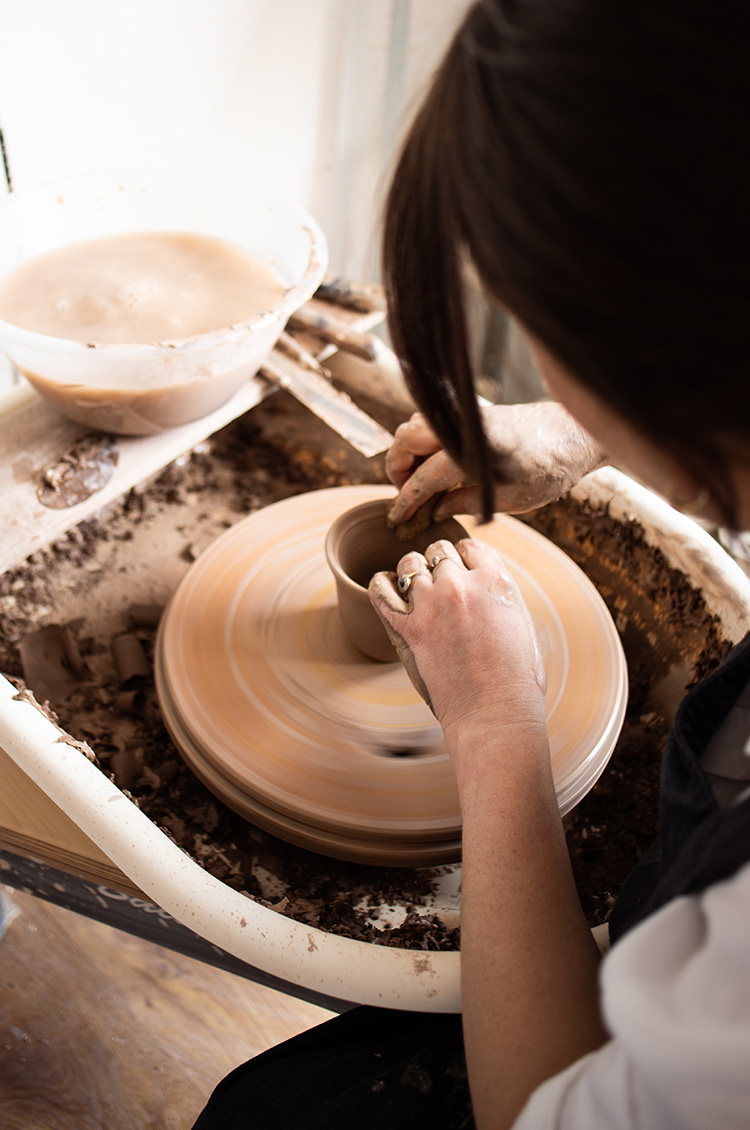 What are the key inspirations behind your ceramics work, particularly the beautiful hand-painted ceramic bell you created for our Christmas collection?
When I first started, I wasn't sure what my identity as a potter was. That changed about 3 years ago when I began making frills on bowls, drawing inspiration from a frilly bowl in Val's shed, which she acquired while working in Ireland. You can see this on the Mae Vase and Ceramic Flower Frog that I've created for previous Rowen & Wren collections. I have always loved white too and appreciate that when you place flowers in something white, it allows them to truly speak for themselves. I've also been inspired by Japanese-style painting, with a mix of artist influences. I adore when things have life in them, marked by decisive, bold, and not overthought strokes.

I appreciate things that are neat but also have a slightly unfinished element - a wobble, an uneven rim, a paint dab that has run a little. The bells were a beautiful project. I love anything that I get to make for Rowen & Wren because the creative process is so fun and collaborative. For the ceramic bells, I worked from mood boards to help refine the shape and fabric samples to use as colour inspiration. I drew some samples, and once a shape had been agreed upon, we made some tests decorations and different-shaped bells. This shape was the final choice.

I like that they aren't overly Christmassy; they have a mix of colours that would suit anyone's tree or home. I have some extras that I am so looking forward to putting on my tree!
Your ceramics are described as "whimsical, imperfect, and feminine." Can you elaborate on what these qualities mean to you and how they manifest in your work?

I like to think my pieces look playful, as if they are asking you to touch and fill them. The imperfection comes through in the sense that I don't count the scallops; I don't try to make everything the same. Sure, I use a ruler, but I mostly throw by eye. I want it to look like it was made by a human and not a machine. I like areas where the glaze is thin, and pools and drips in others. It's like saying, "I was here," or as Val says, "the maker's mark."

Finally, with femininity, I guess the tall, thin, scalloped vases remind me of ballerinas a little. The delicate edges could be seen as petals, and there's a general sense of fragility, which you have with all pottery, but I do like to throw quite thin. Sometimes, though, my work can be quite chunky and not frilly at all. This creates femininity in another way—it hands it over to whoever is creating the flowers inside the vase; the display itself is feminine.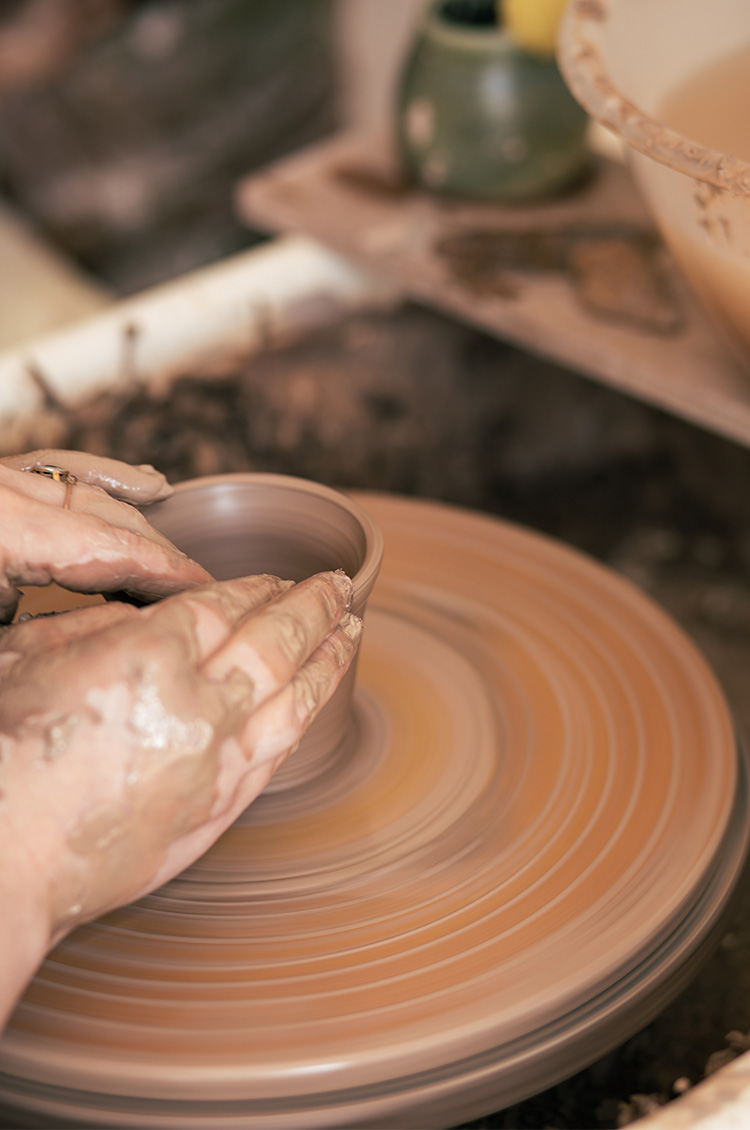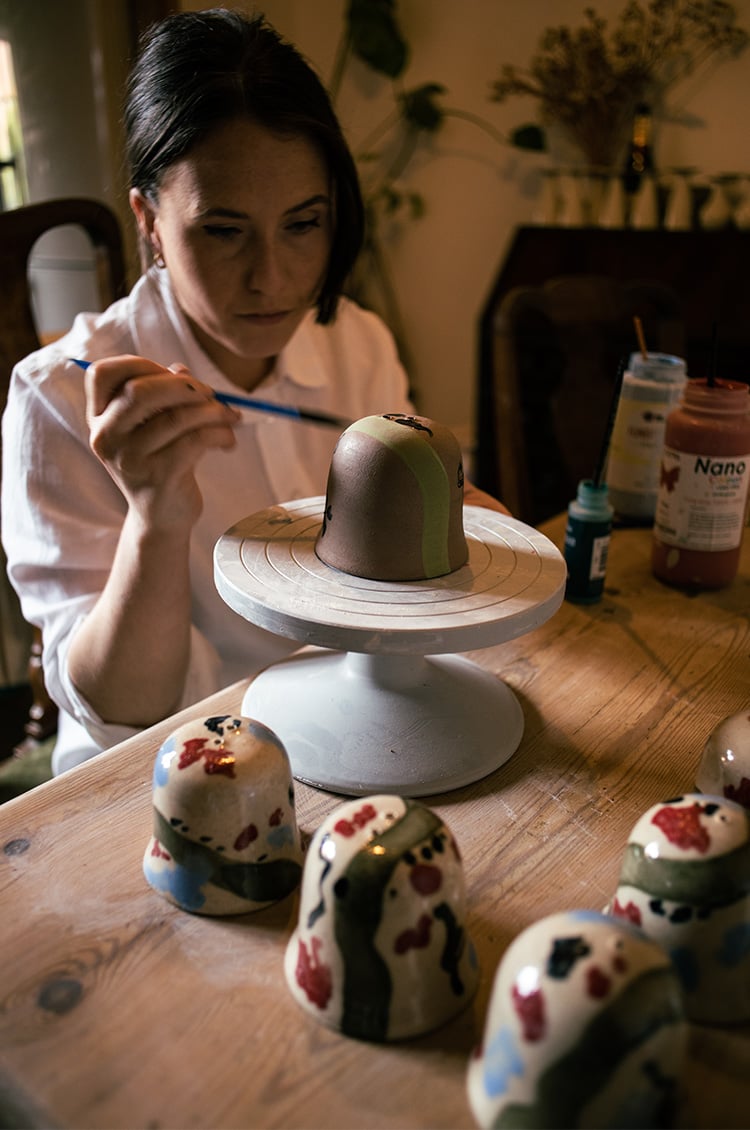 Could you walk us through the creation process of the bell? What are some of the challenges and rewards of working on such intricate, handmade pieces?
The creation process for the ceramic bell begins with weighing out the little balls of clay, and then centring them on the wheel, as with any pot. It is thrown to begin with like a slim bowl with a very tiny base—an upside-down bell. Once it is leather-hard, I cut it off the batt and turn it over. The excess clay is turned off, shaving off the pieces until what was the base becomes the rounded top of the bell, and then adding the little holes for the ribbon.

After this has been set to dry a little so that I can pick it up without denting it, I paint the pattern on with underglazes. Once that has dried, it's ready for its first firing—the bisque. After that, it gets a little wash, and I wax around the base of the bell that would touch the kiln shelf and dip it into a transparent glaze. It then placed back into the kiln for its final firing.

Once the bell has cooled from its final firing, I attach the little bead and ribbon, and voila! The whole process takes about 2-3 weeks with drying time, and each firing is approximately 10-12 hours.
You swapped the city lights for a coastal life, how does living a coastal living influence your creative work and your business as a ceramicist?

That's a tough one. I sometimes envy the potters in London because I feel like it's such a collective, and they can all bounce off one another. There are a lot of big studios where people share, and I really love that. However, in the country, if you work as a self-employed potter, you are mostly alone. That being said, it's so lovely working by the sea, and the calm and quiet of working in your own garden is most certainly a luxury. I feel very connected to nature. I also have my little loyal companion, Olive, a dachshund who lets me know when it's time for a break or a walk.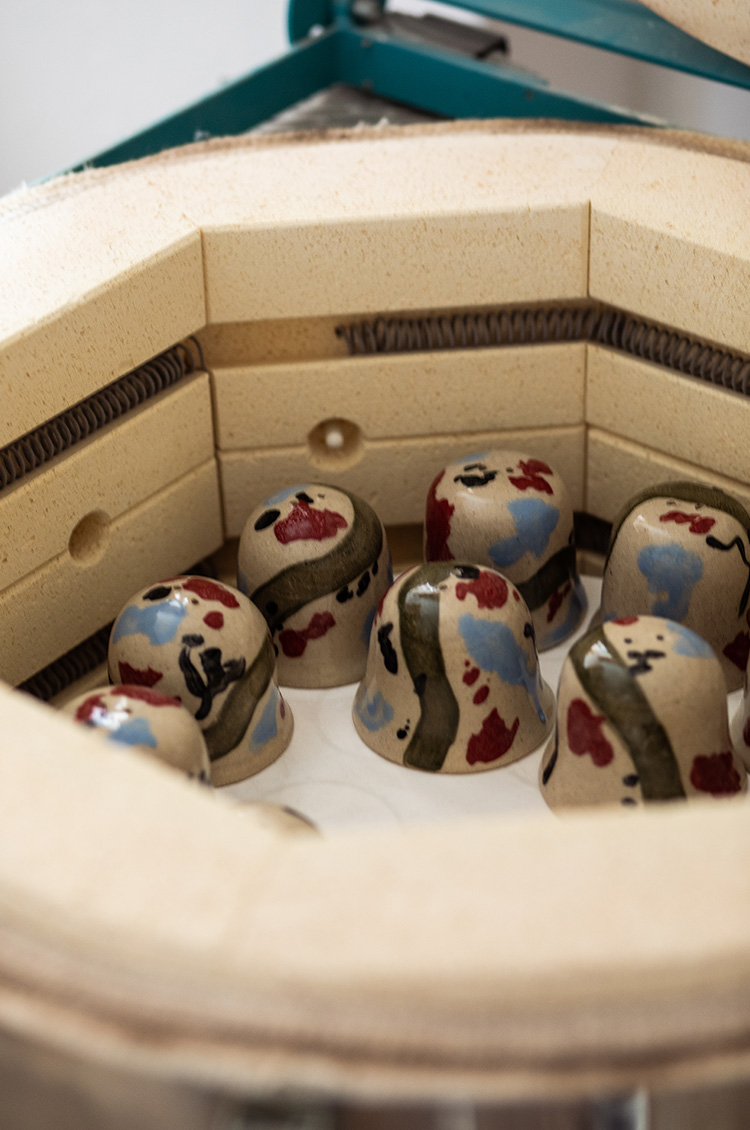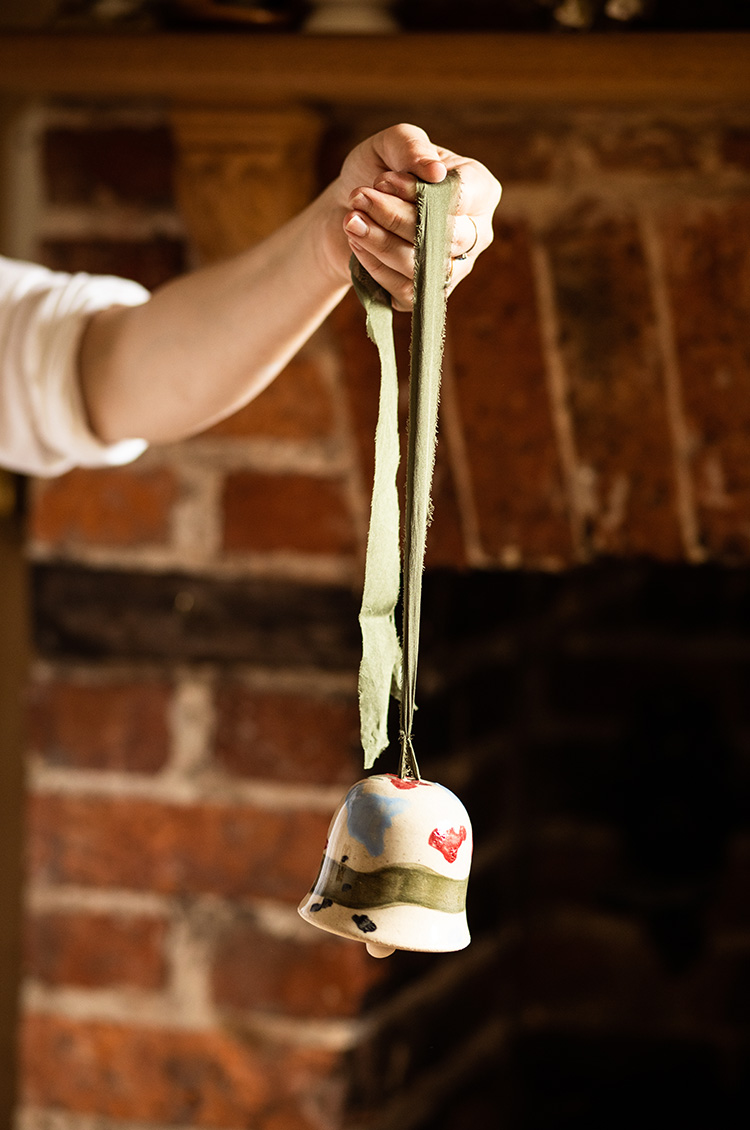 And finally, what are you most looking forward to about the incoming Christmas season? 


Family! Always. I just love everyone getting together, dressing in our best Christmas clothes, eating, and being merry. Decorating our cottage is a huge tradition for me, and I proudly say it's like something out of Little Women. Dried flowers adorn every corner, creating a perpetual Christmas atmosphere. Last year, I had two trees inside adorned with various ceramic ornaments I've made over the years, and this year, I have the
ceramic bell
to add to the festive mix.
I love keeping it natural with paper chains, orange garlands, wreaths made from foraged finds and ribbons. Usually, the family comes to mine, but I think this year we are all going back to our family home. The day will start by waking up together, with stockings for the little ones. The table will be decorated (a favourite of mine) and then, after lunch, a snooze on the sofa with an old film is a must!

Alice's beautiful Hand Painted Ceramic Bell is available to shop here.