Meet the Maker: Geoff Travers
01 Nov 2023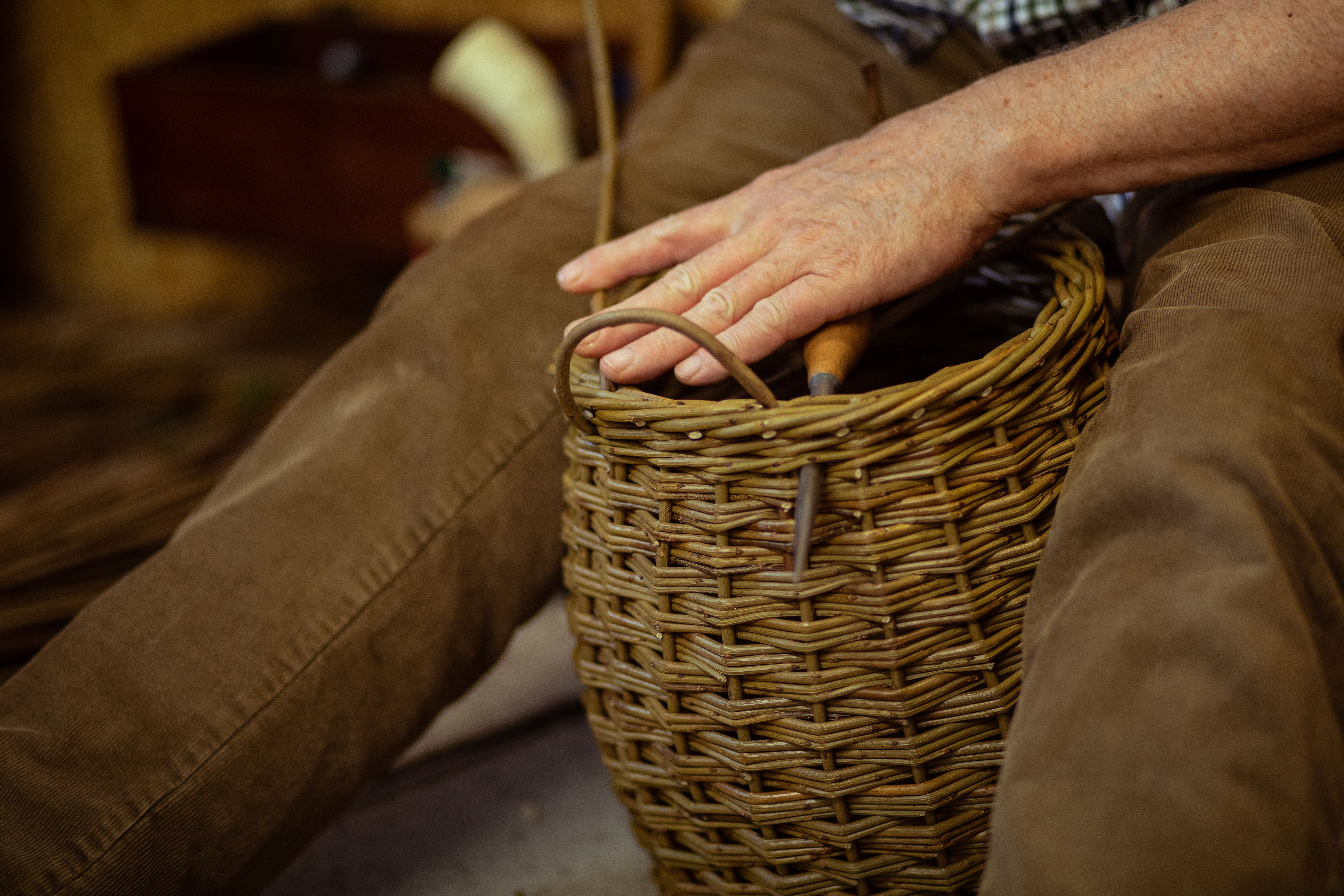 In our ongoing mission to celebrate artisans and craftspeople who are dedicated to preserving heritage crafts, we had the pleasure of sitting down with Geoff Travers, the remarkable basket maker, responsible for the beautifully handwoven willow log and kindling baskets that proudly reside within our latest collection.

Epitomising the spirit of tradition and environmental consciousness, we delve into the fascinating story of a basket maker whose passion for heritage crafts led to a lifetime love affair with basket making.
Can you tell us more about your journey into basket making and what initially sparked your interest in this craft?

I served an apprenticeship as a Maintenance Electrician in Wiltshire after leaving school and continued in the trade for 10 years. After much soul searching I left, and in 1985, I was fortunate to obtain a year's placement with a basket maker on the Somerset Levels - this was a life changing event that replenished my well being and sparked a lifetime love of heritage crafts and basket making.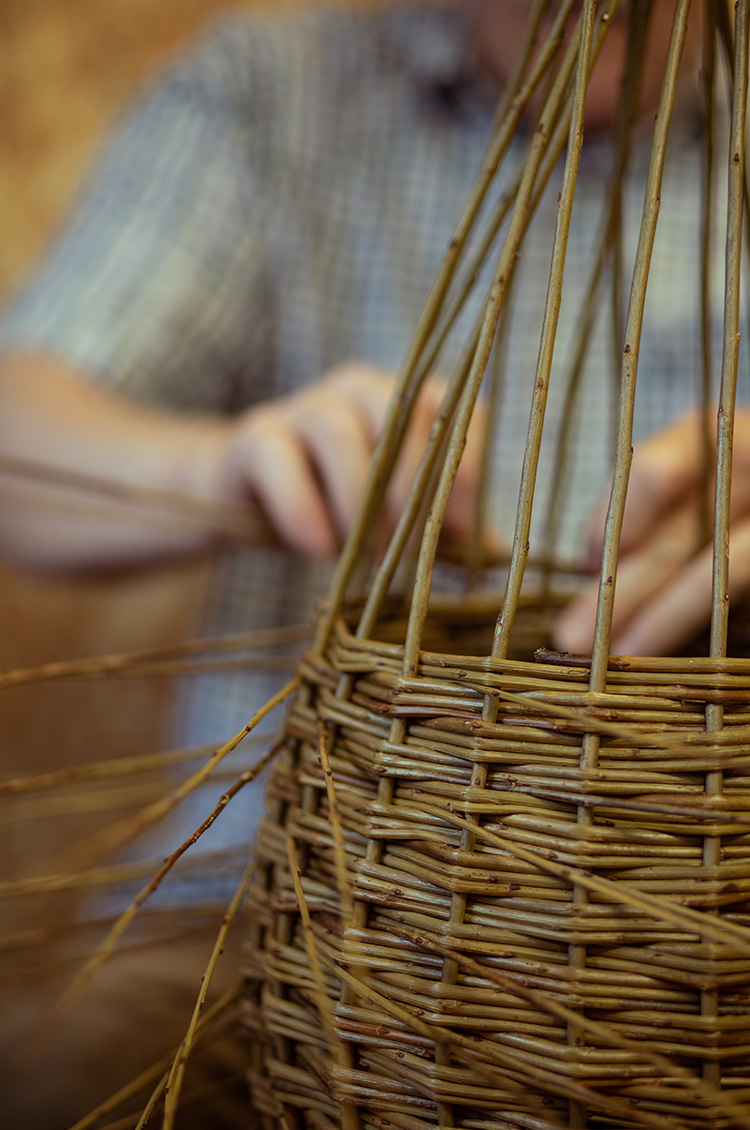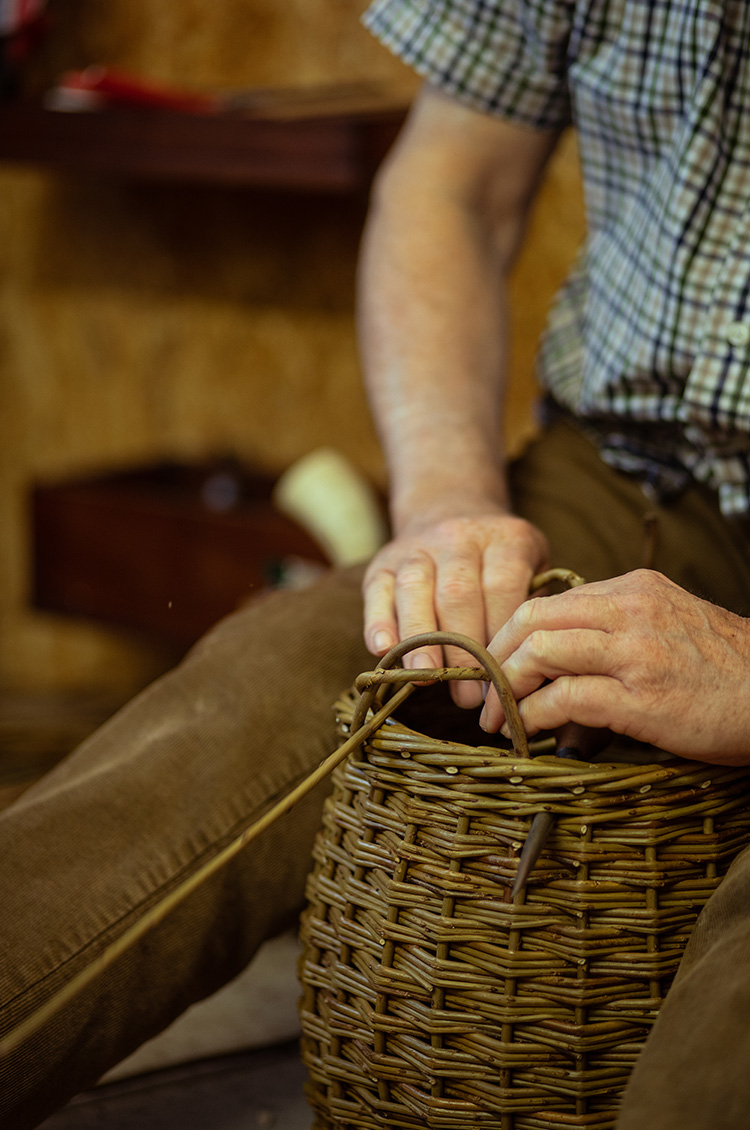 You are clearly passionate about keeping traditional basket making techniques alive. What specific techniques and methods do you employ in your work, and why are they important to you?
I was fortunate to be amongst the basket makers of old, and quickly absorbed as much information as possible - in particular, traditional English basket making methods. I was particularly intrigued with the English underfoot base on oval baskets which take some time to master. After many years of practice, this has become one of my favourite methods and it was this approach that I used on the Oval log basket I designed exclusively for Rowen & Wren.
How do you feel about your role in preserving rural crafts in the modern age, especially in the context of mass-produced, plastic alternatives?

It was, and continues to be my motivation to ensure basketmaking continues to be a replacement for the modern plastic age. When I first became interested in rural crafts it was primarily for my own well being, as time passed and we became more environmentally aware, it has become for the well being of the planet. I believe we can all make a difference by making a few easy changes to our daily lives.
Basketry has been a sustainable craft for hundreds of years, it has provided our ancestors with the means of carrying items, and for many other uses. Willow baskets do not pollute the oceans, they are incredibly long lasting and can be composted at the end of their life. The carbon footprint of creating my willow baskets is minimal; I source the willow from Somerset and weave the material into baskets at my workshop in Southwick, Nr Trowbridge, Wiltshire.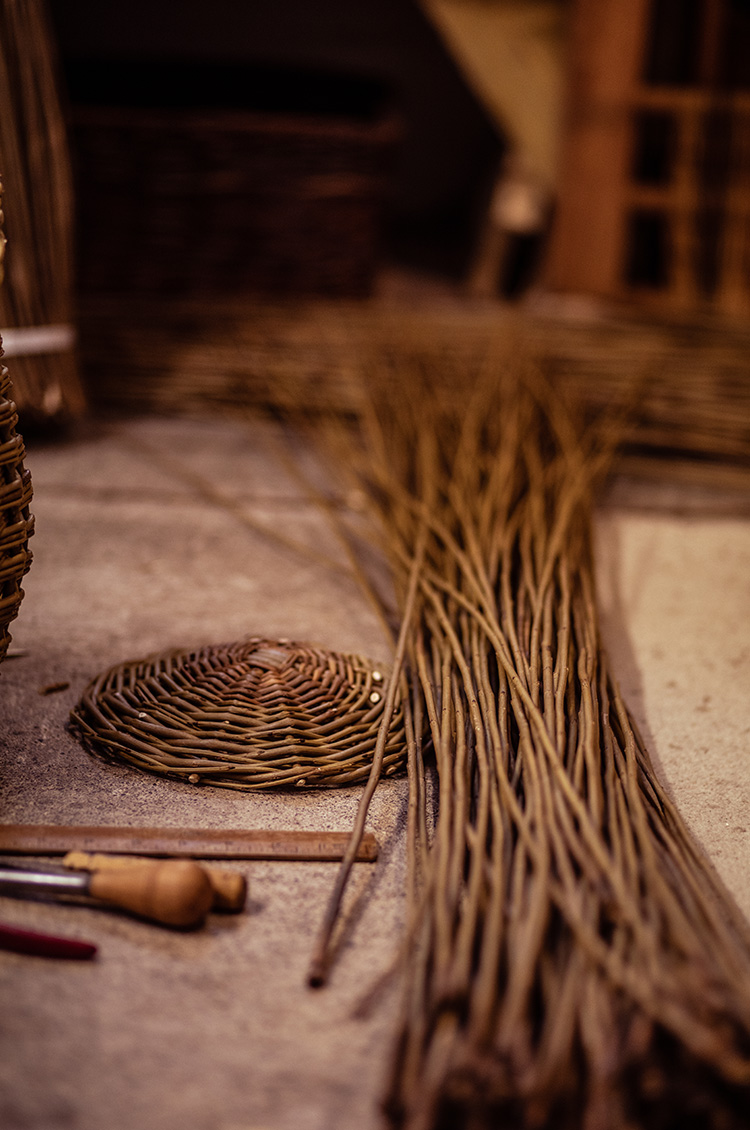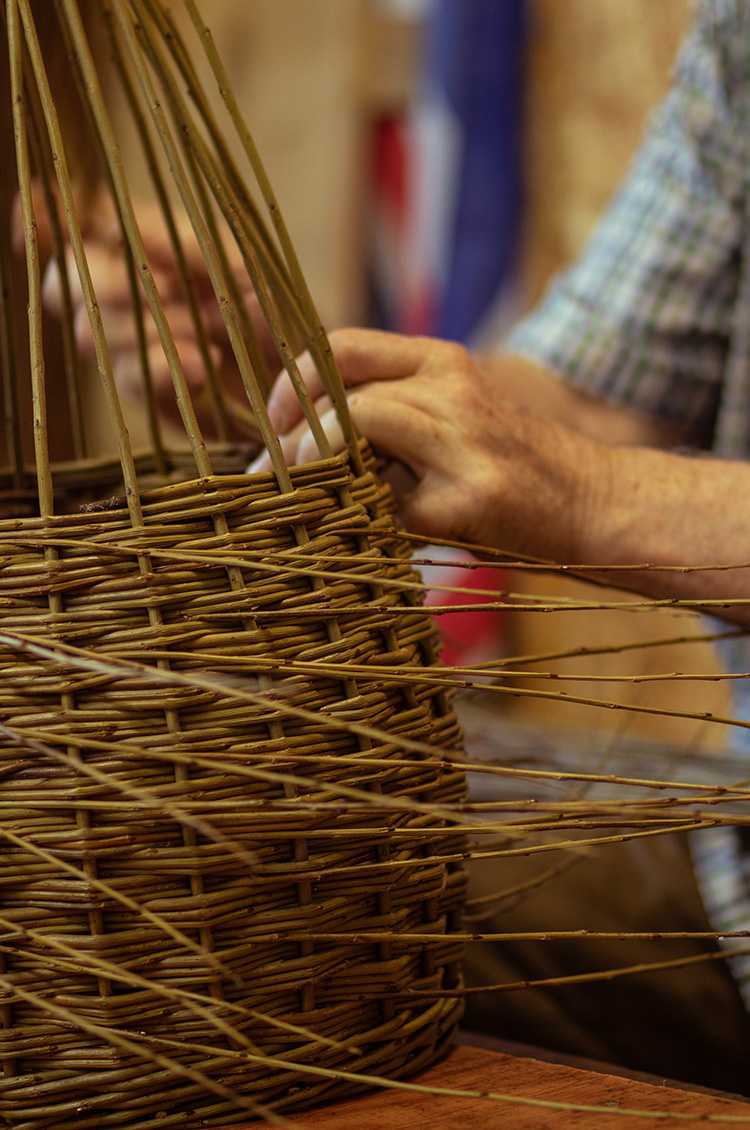 What inspires your designs, particularly the willow log and kindling baskets you developed for our Autumn collection? Are there any specific influences or cultural references that played a role in shaping these pieces?
The oval log basket is made using an English underfoot base, this is a strong and robust method of making a base, where your feet hold the sticks in place whilst you weave the other with your hands - it is not as common as it once was as most modern basket makers choose an alternative method.
What do you hope people will experience or feel when they use one of your baskets?
Each basket will have its own personality and differences as no two are the same. From the sorting, re-soaking, mellowing, to the final part of making the basket is all done by hand.

Proud to be plastic free - we are all becoming more aware of the environmental impact of single-use plastics. It's said that 70% of all plastics ever created are still in the environment today, and unfortunately they are not going away any time soon. It can take decades for plastic to degrade, and in the meantime, our oceans, forests and land are becoming increasingly polluted. Generally willow baskets will survive for 70+ years the same as our allotted lifespan!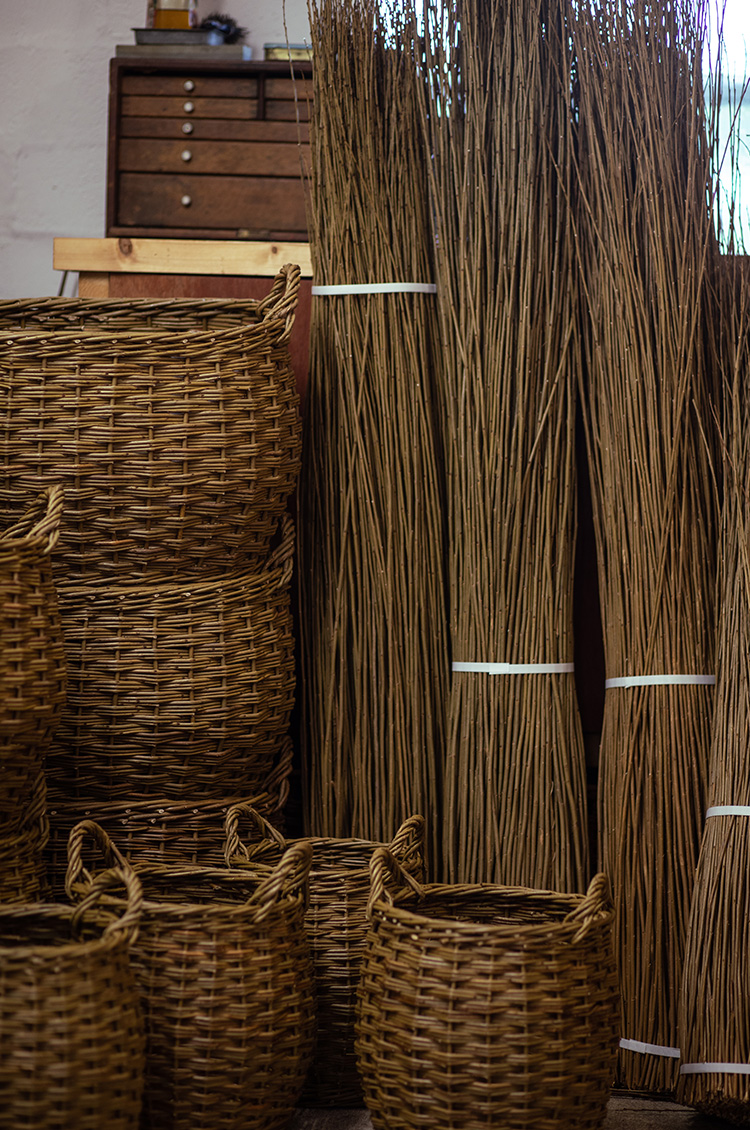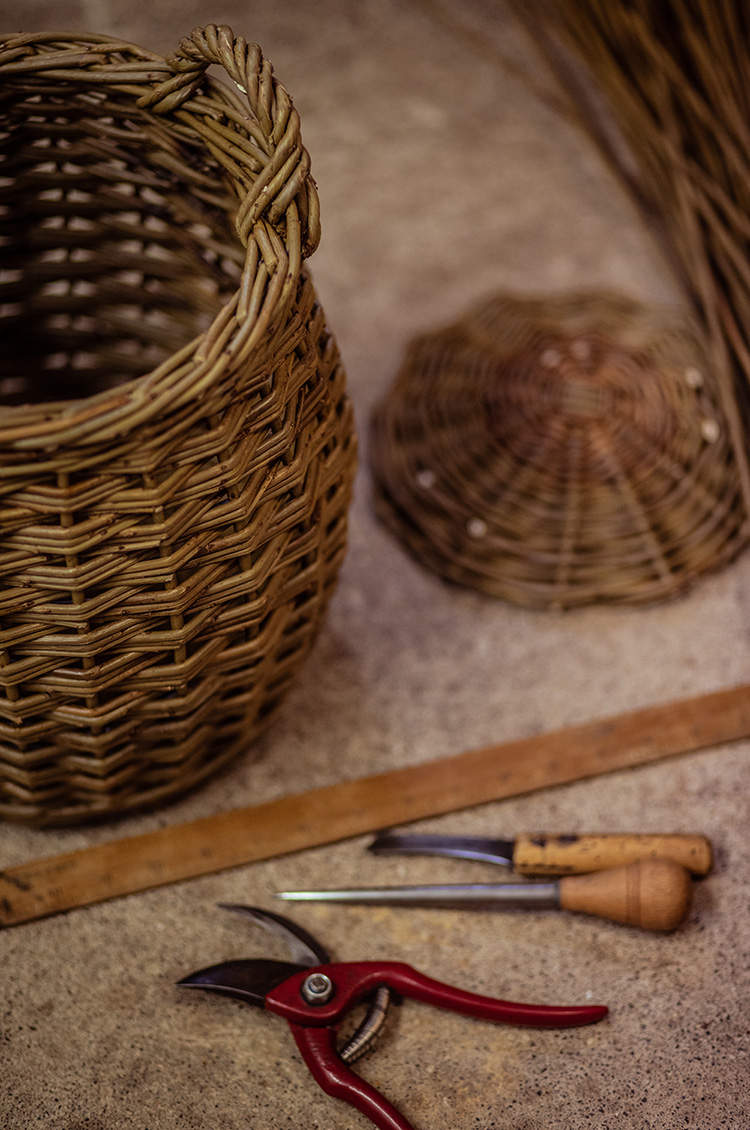 Are there any new projects or directions you're excited to explore in your basket-making craft in the future? 

I look forward to the New Year as I will have gathered and sourced a fresh supply of materials, which like an artists blank canvas, I can create something new or try a different combination of colour and or material.

I will continue to develop new and interesting baskets whilst maintaining the English traditional basket making techniques with a modern contemporary twist.
And finally, what are you most looking forward to about the incoming autumn/winter season?
Generally, these are the busiest months for selling my work and I try to ensure I have enough stock to meet the demand.

I prefer to use local Somerset willow for my baskets but occasionally I will use locally foraged wild willow, hazel, dogwoods. The winter is a time for harvesting, so I have already earmarked a few potential sources of new material. Whilst I'm always happy in my workshop weaving away, I do look forward to gathering and harvesting amongst the woodlands and hedgerows on cold winter days. I get my inspiration from the rustic autumn colours and can't resist collecting conkers, pine cones, coppiced hazel and anything else that catches my eye.
I am grateful to Rowen and Wren for their support in promoting English basket making and keeping our heritage craft alive.

Geoff's beautiful handwoven willow baskets are available to shop here.