A Winter Greek Salad with Rosalba Radicchio
18 Jan 2022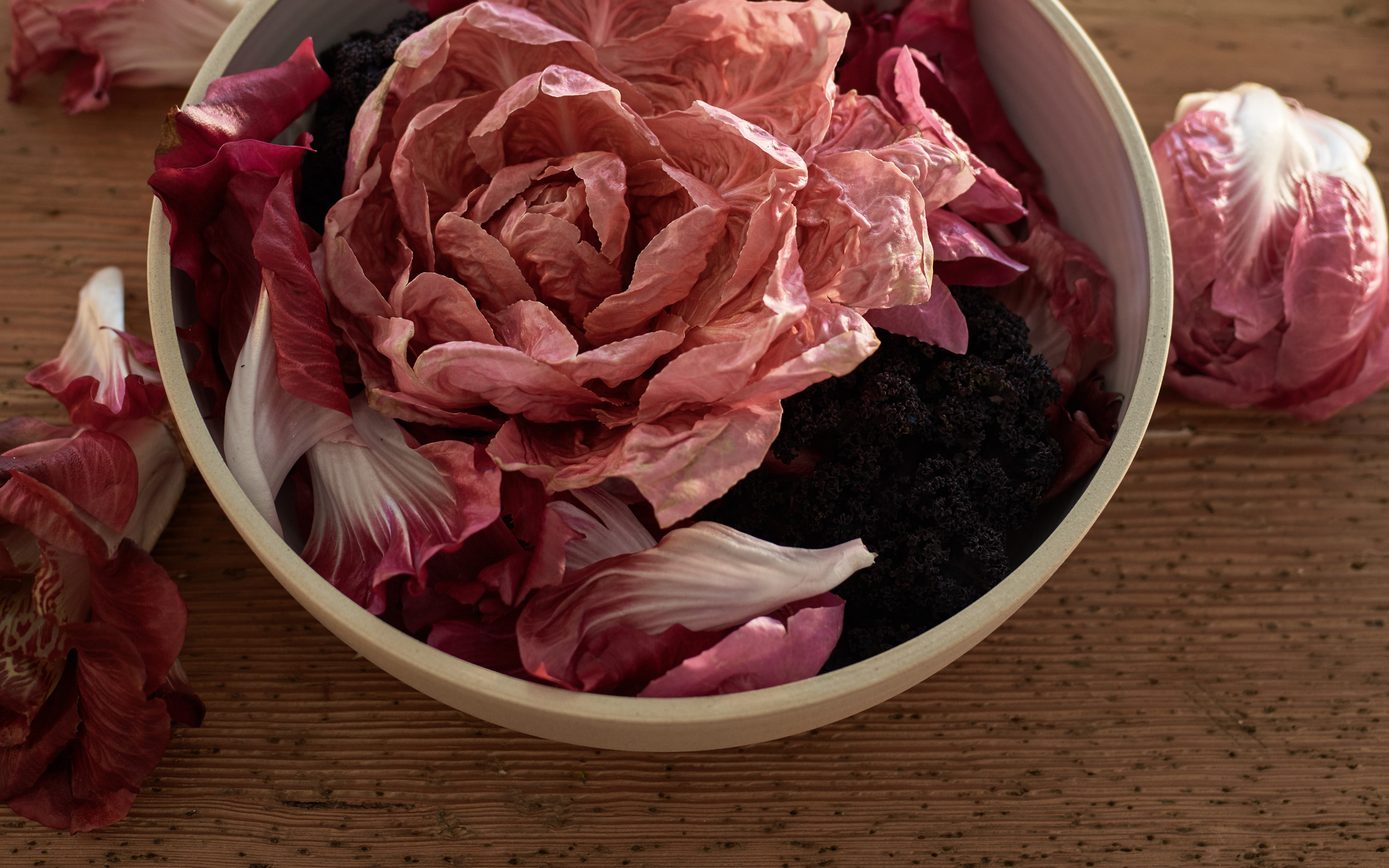 Native to northern Italy, the pretty blush pink rosalba variation of the quintessentially bitter tasting radicchio is, to us, as much as a palette joy as it is one for your palate. Whispers of sage green and blush-tinted white lurk amongst its many layers, but the overall 'millennial pink' tones of its sweet, floral leaves are what defines it most of all. How we delight in spotting it at farmer's markets throughout the winter months and dressing it alongside the more classic crimson-coloured variety; it comes as no surprise then that we elected it as our vegetable of choice to hero in our winter campaign.
In season throughout winter and into early spring, if left to mature in the soil and it will have bite. Relocate it someplace dark to mature and its texture will relax in a silken butter lettuce manner. Rosalba Radicchio can be enjoyed in a happy host of ways – grilled, sauteed or consumed raw; baked into pasta dishes, steamed as a side or even welcome in carefully balanced puddings. It makes fine company with creamy gorgonzola and crumbly feta, with walnuts and almonds, and with grapefruit and pear, but the below winter salad is how we devoured it on our photoshoot lunchbreak. Found via food writer Francis Lam's The Splendid Table, do dig in as we did…
Winter Roasted Greek Salad
From The Pantry
1 fennel bulb, cut into eight wedges
1 red onion, quartered
100ml olive oil
A pinch of salt
2 radicchios
4 celery stalks
1 lemon, juiced
50g pitted Kalamata olives, halved
1 teaspoon dried oregano
100g feta
Method
1. Preheat your oven to 200°C.
2. Toss the fennel and onion in a bowl with 30ml of the olive oil and a pinch of salt before tipping them into a roasting tin and letting them cook for 20 minutes.
3. Meanwhile, break up the radicchio and slice the celery finely (a mandoline is a godsend here). If you want the celery to curl prettily, slice it lengthways and then soak them in icy water.
4. Toss together the celery, radicchio and oven-roasted vegetables with the lemon juice, olives and remaining oil before placing them into your serving dish.
5. Garnish with oregano and feta (use almond feta for a dairy-free alternative) and serve with a good hunk of bread.