A Valentine's Supper for Sharing
03 Feb 2022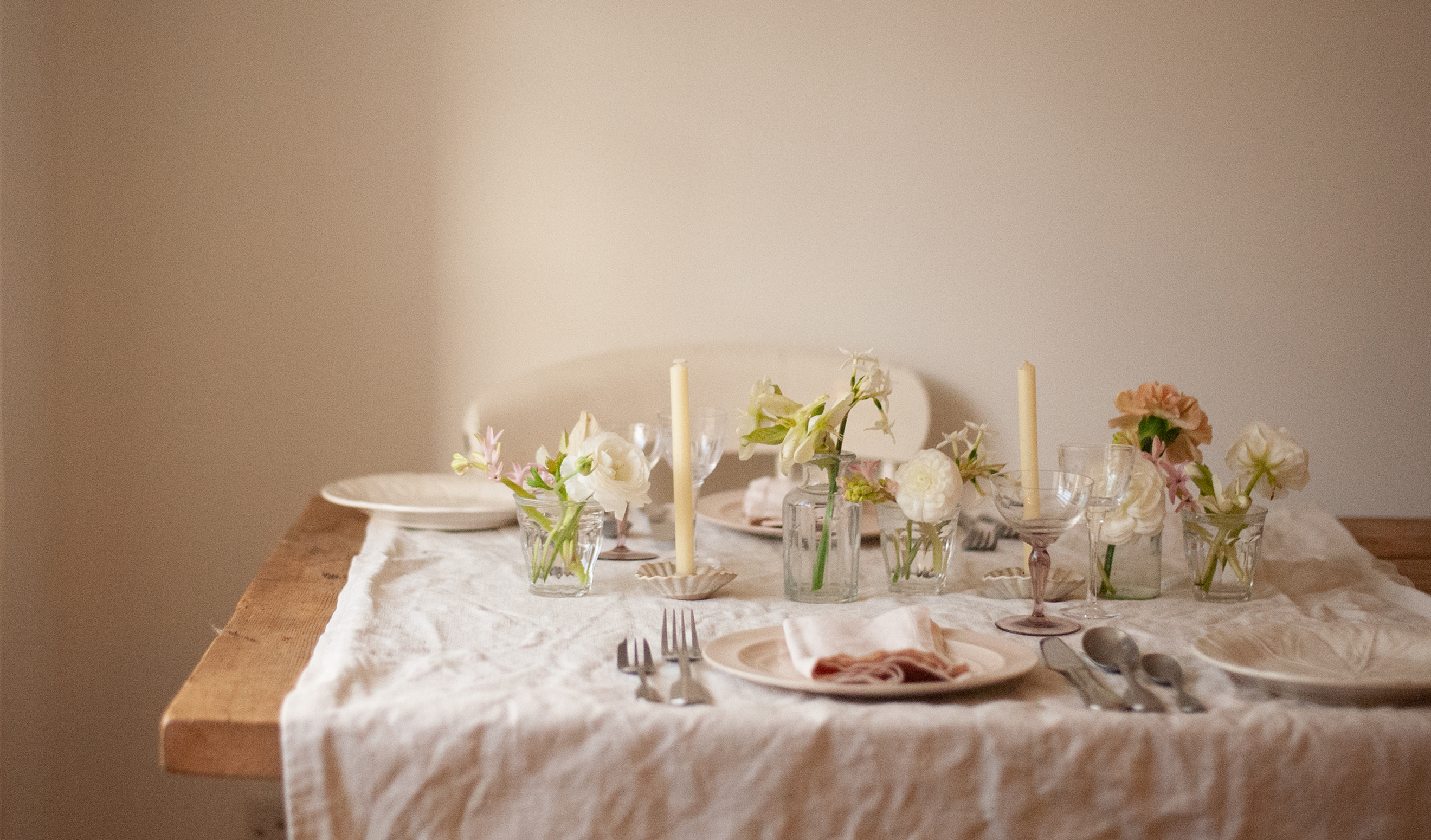 Valentine's, a day for sharing be it with your beloved or your very best companion. What better what to toast to love and kindness than with a three-course supper nicely topped off with a moreish cocktail?
As ever, it's friend and favourite food writer of ours Flora Shedden who's cooked up our monthly recipe. If only we could magic her into our kitchen to rustle it up in real time...
Happy Valentine's one and all!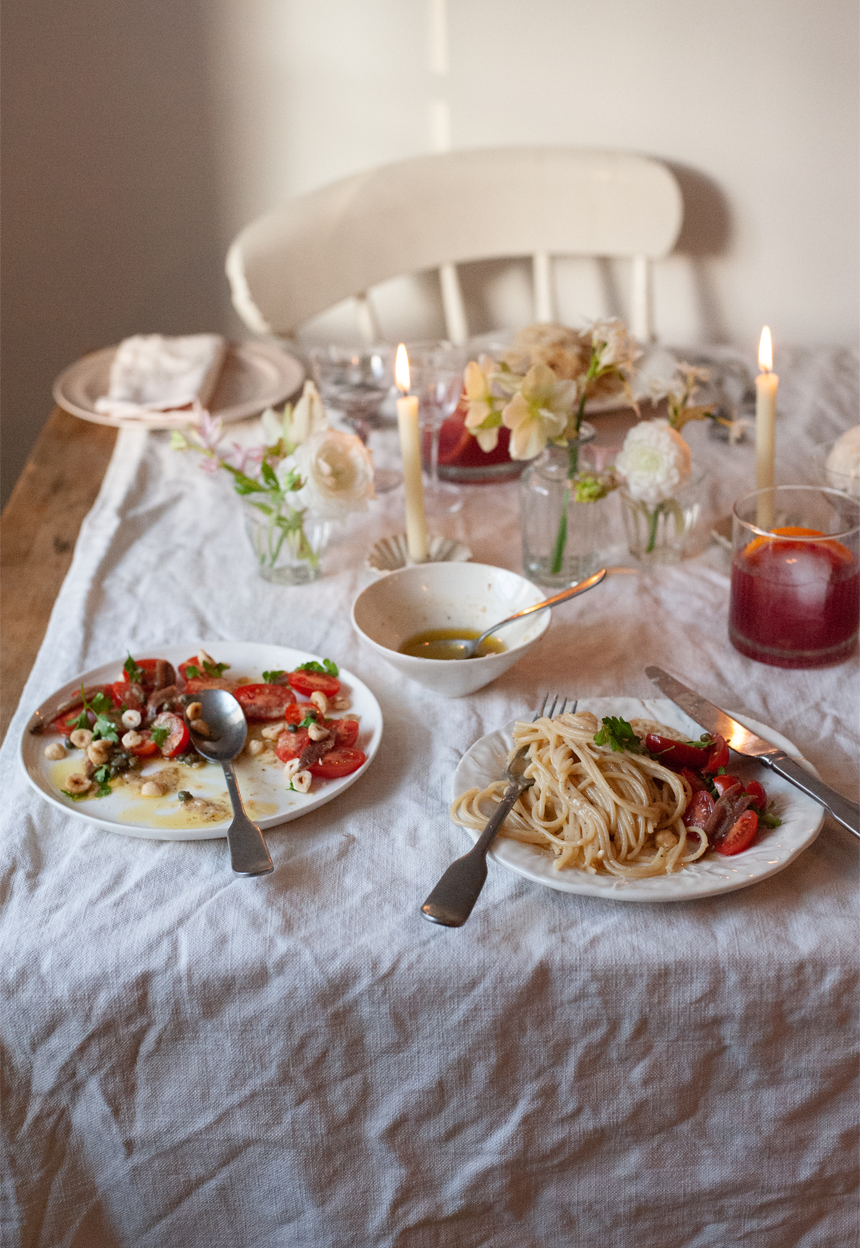 Pomegranate and Blood Orange Negroni
"This is a slightly lighter alternative to a standard negroni as I'm swapping the citrus and pomegranate juice for the classically used campari. The result is a refreshing drink that isn't too bitter, but still has the headiness of a negroni," – Flora.

Makes 2

Ingredients

100ml gin
100ml vermouth
50ml pomegranate juice 
50ml freshly squeezed blood orange juice

Method
1. Mix together your ingredients in a tall jug with some ice briefly.
2. Strain into old fashioned glasses, filled with ice or ideally with one large ice cube.
3. Peel a slice of blood orange and rub it around the edge of the glasses.
4. Cut a full slice and add to the glass alongside the peel, and then, bottoms up!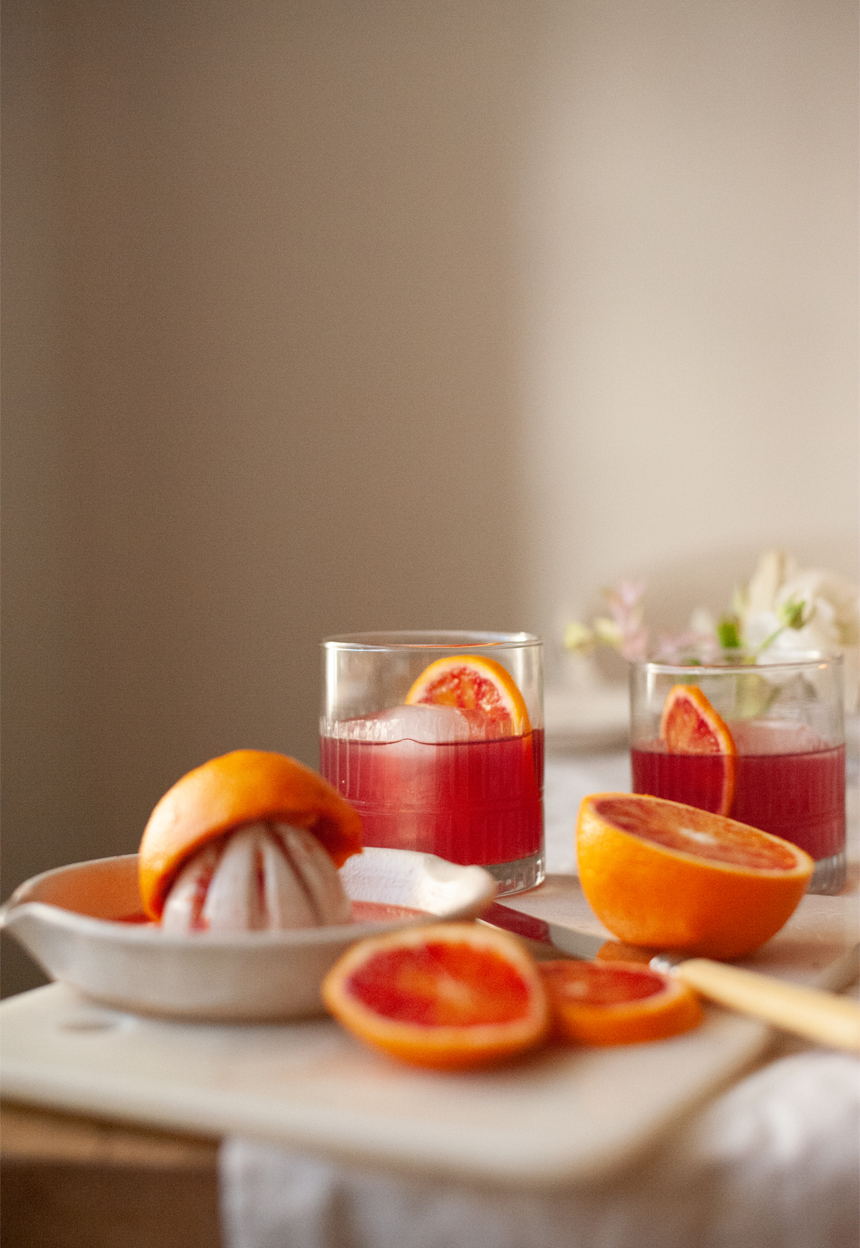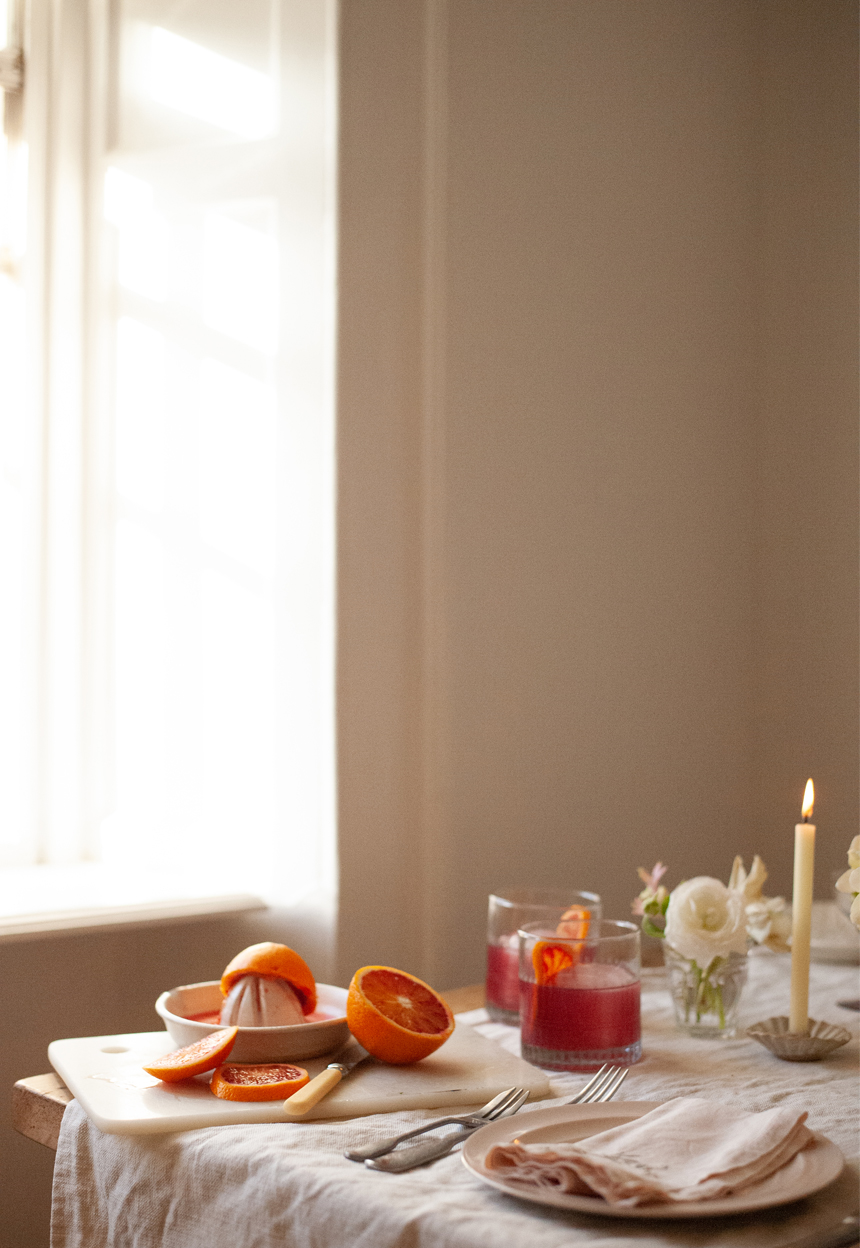 Cacio e Pepe

Serves 2

Ingredients

150g spaghetti or linguine
75g unsalted butter
75g parmesan (as high a quality as you can afford – it is really important to use the real deal here)
1 tbsp cracked black pepper

Method

1. Place your pasta on to boil for 10 minutes or until al dente (this will vary on the style of pasta you're using). Make sure you season your water well with salt too.
2. When the water is boiling and the pasta has been added, scoop a ladleful of the pasta water into a large frying pan with the butter and pepper.
3. Place over a medium heat and allow to boil and begin to emulsify.
4. Finely grate your parmesan.
5. Once the pasta has cooked add a further ladleful of water to the butter pan. Reserve a little extra in a separate bowl in case your sauce needs loosening later, but otherwise drain the rest away.
6. Add the pasta to the emulsified butter sauce.
7. Stir well and then remove from the heat.
8. Sprinkle the parmesan over the top of the pasta and all to sit for 3-4 minutes until the cheese has melted slightly.
9. When the time's up, stir through the pasta adding any of the reserved water to make it more saucy should you wish until you have a glossy peppery sauce coating your pasta.
10. Serve immediately adding more cheese and a little more pepper on top to garnish.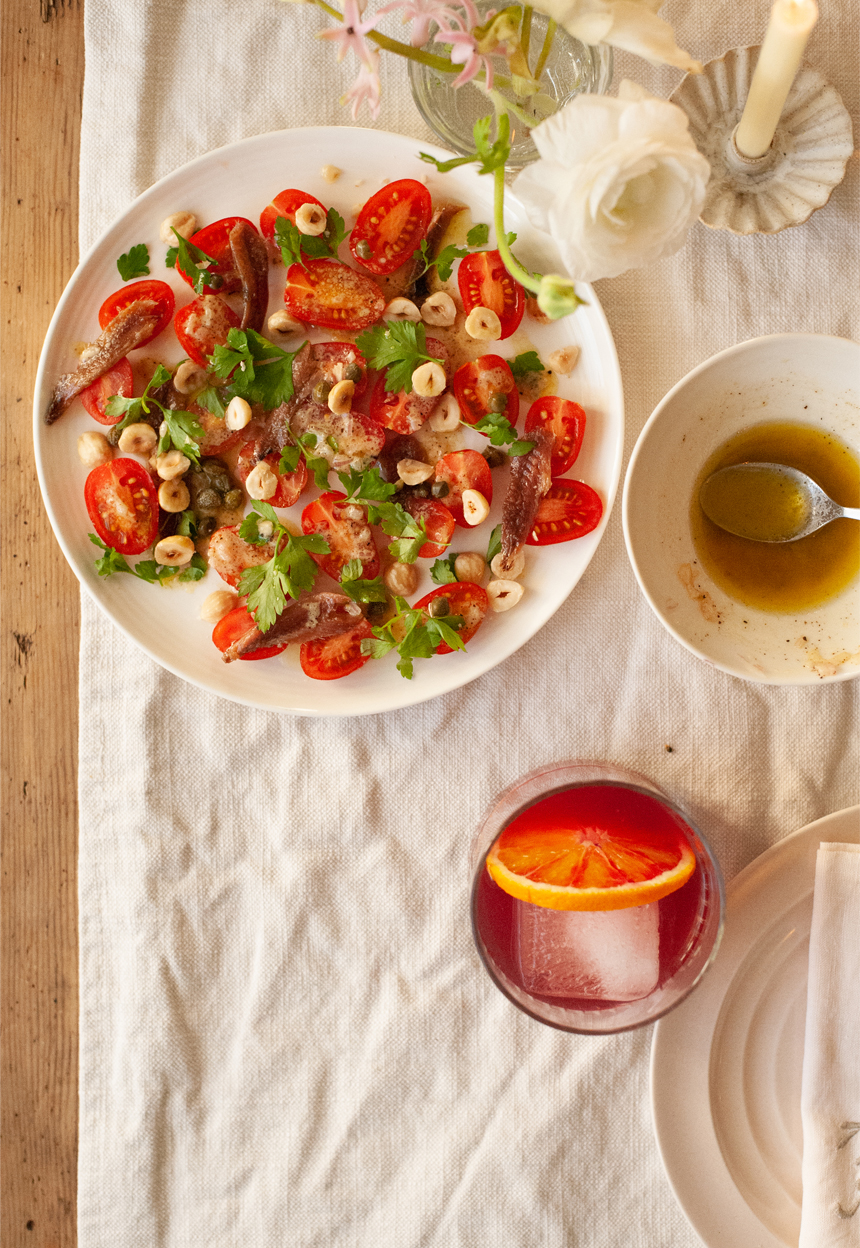 Tomato & Anchovy Salad
Serves 2
Ingredients
20g hazelnuts
150g cherry tomatoes
4-5 anchovy filets
1/4 banana shallot
1 tbsp white wine vinegar
1/2 tsp dijon mustard
1/2 tsp honey
2 tbsp extra virgin olive oil
1/2 tsp capers parsley to garnish
Method

1. Heat a small frying pan over a medium heat and toast your hazelnuts for a few minutes until golden and fragrant. Set aside to cool.
2. Chop your tomatoes in half and arrange on your serving plate – I like a large shallow dish for this so all the tomatoes can get well coated in the dressing.
3. Break the anchovies in half and arrange over the top of the tomatoes.
4. Finley dice or mince the shallot and add it to a small bowl with the vinegar, mustard and honey. Whisk together.
5. Season lightly then add the oil and capers and mix well. Spoon over the tomatoes and garnish with the parsley leaves.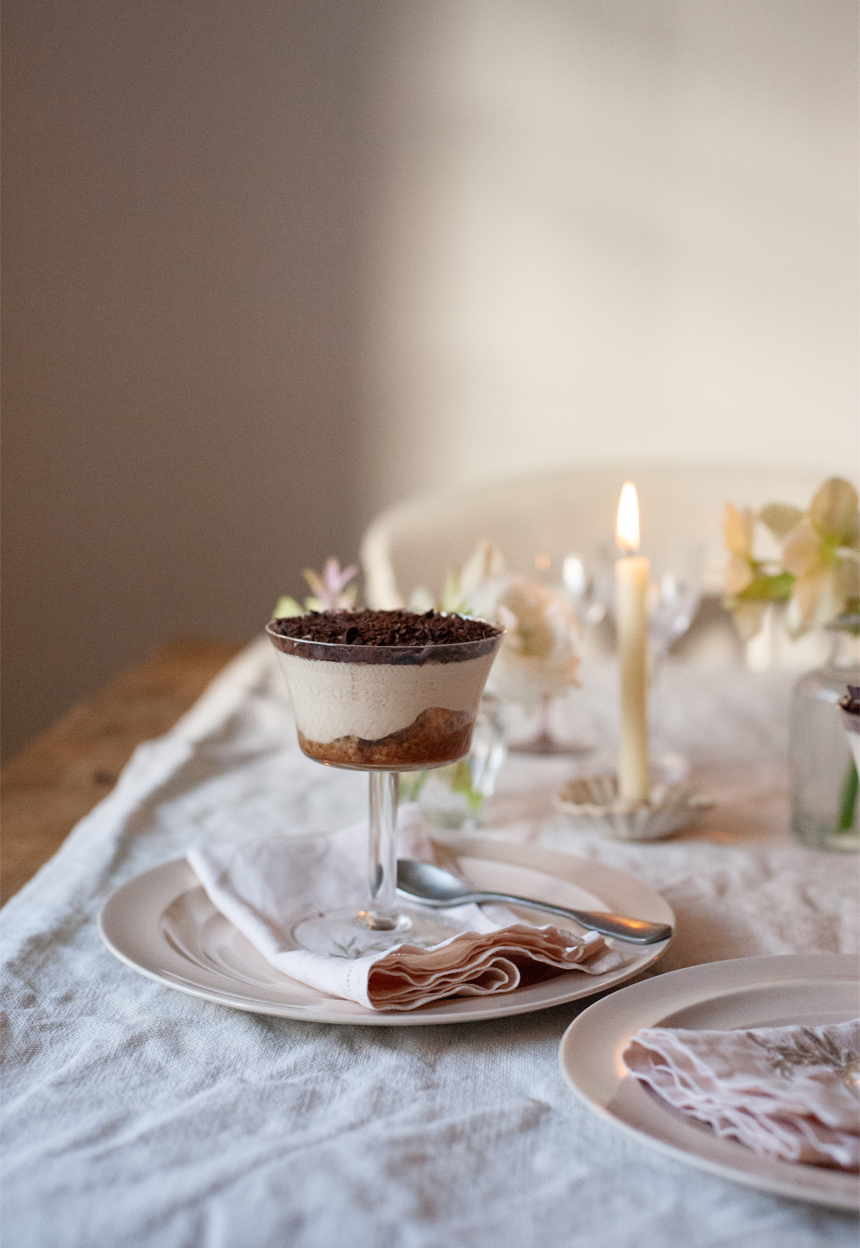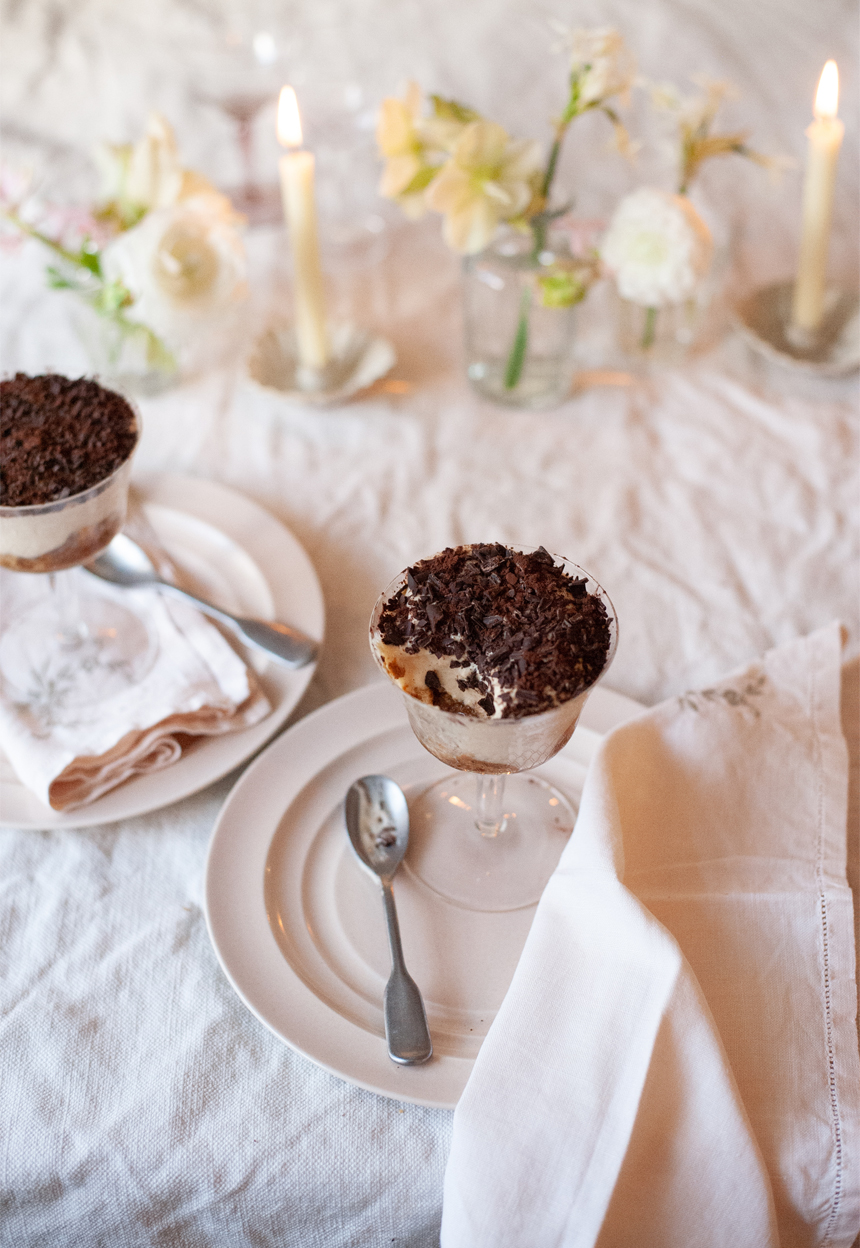 Tiramisu
"Tiramisu is so delicious that I always make more than I need so I can enjoy it for a few days after - it's arguably better the following few days too!" – Flora 
Makes 6

Ingredients

75ml espresso or strong black coffee
75ml coffee liqueur or Marsala wine
6-10 sponge fingers
2 eggs
50g caster sugar
250g mascarpone
Dark chocolate and cocoa to garnish
Method
1. Mix together the espresso and coffee liqueur and set aside to cool.
2. Break the sponge fingers into two or three depending on the size of your glasses or ramekins, placing them snugly into the bottom of six glasses (you may only fit one sponge finger per glass).
3. In a freestanding mixer bowl, add the eggs and sugar and whisk on a high speed until thick and pale (roughly five minutes).
4. In a second bowl add 50ml of the cooled coffee mix and all of the mascarpone. 5. Beat together until smooth and the mascarpone has loosened.
6. Divide the rest of the coffee mix between the glasses and allow the sponge fingers to soak up the coffee.
7. Fold in one third of the egg mixture into the mascarpone. Then add the remaining two thirds making sure not to knock too much air out of the mixture before dividing between the glasses.
8. Finely grate or chop some chocolate and sprinkle over each pudding. Dust with a little cocoa and place in the fridge (covered) for at least 3 hours.
P.S. They'll happily keep in the fridge for 3-4 days.


For further Valentine's inspiration, shop our gifting edit here.