Meet The Maker: Zoe Glencross
23 Mar 2023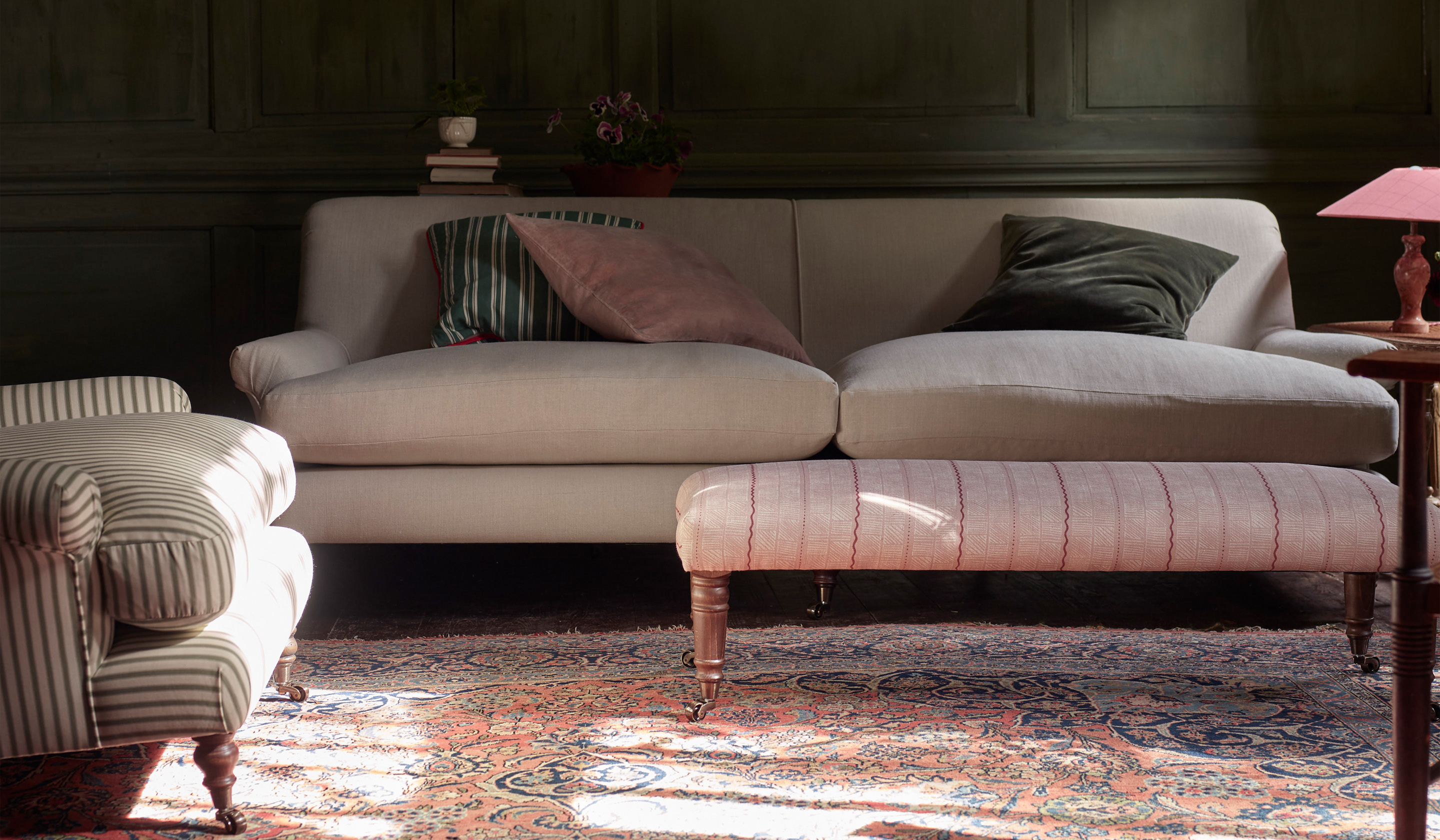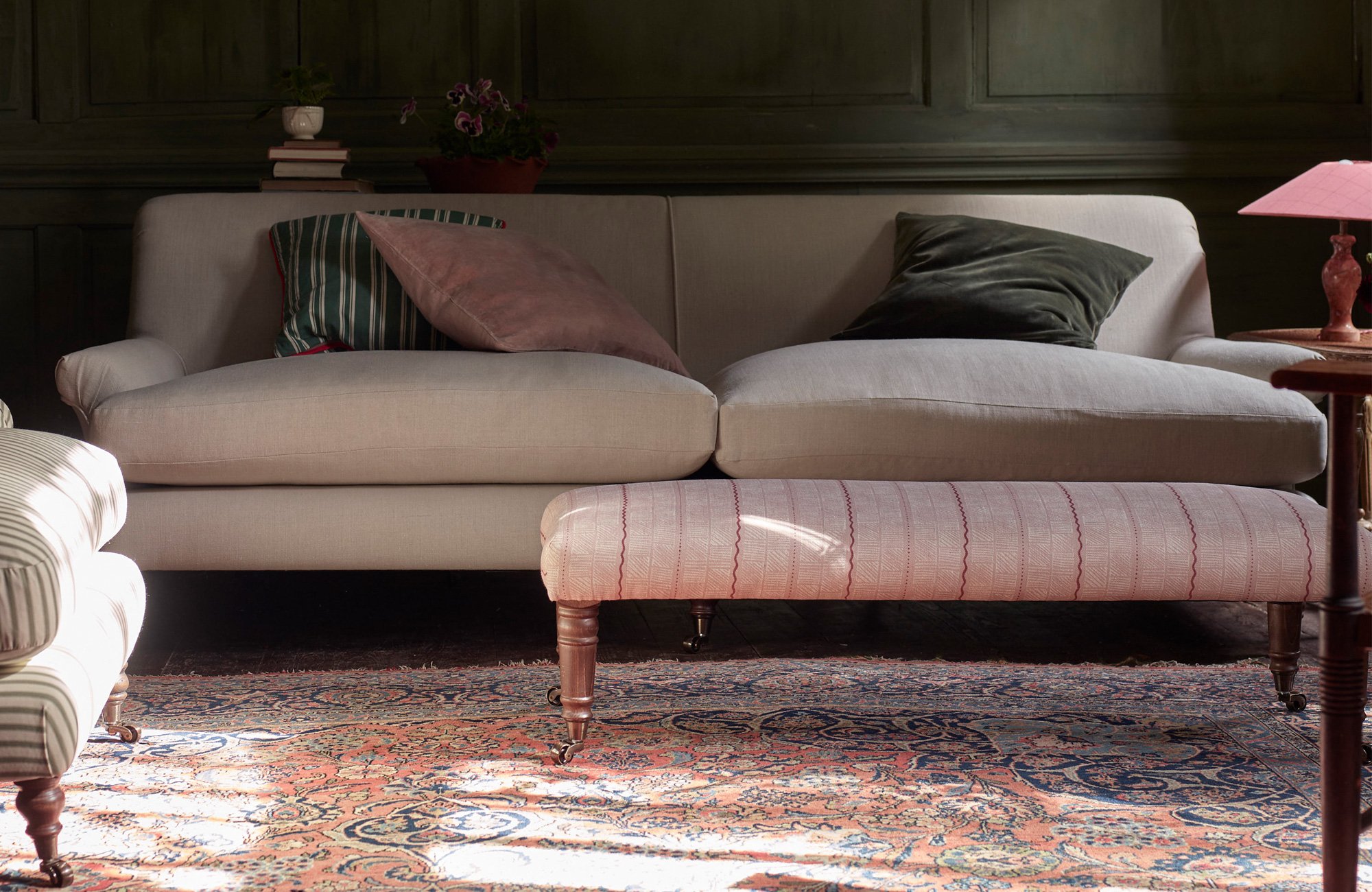 The textiles we choose for our homes say a lot about us – a chance to imprint some personality with colour and pattern. But so often, we can find ourselves overwhelmed with choice which is where we need an expert and British textile designer, Zoe Glencross, is an expert indeed. The creator of the latest fabric we've welcomed to our upholstery family – a glorious abstract stripe in a rose-tinted hue – we talk to Zoe about what inspires her, what sets her apart and, of course, how to choose fabrics for your home.
Edmund Footstool, Large, Abstract Stripe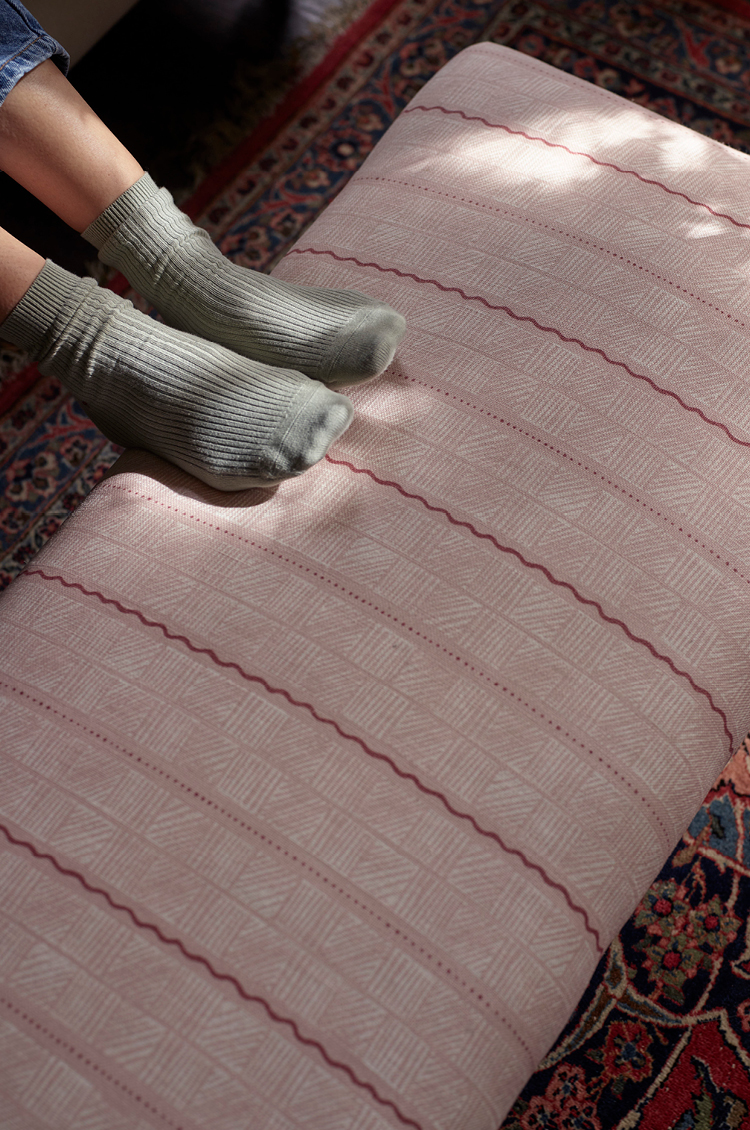 Can you tell us a little about your background and what inspired you to start your own business?
My background was in retail buying and sales (and I actually have a law degree) – so totally different to anything creative. I came to fabric design later in life in my late 30s. I'd always loved paint and fabric and was the 'go-to' person for paint and fabric samples for my friends. I'd loved interiors for many years and done a number of our own home renovations as well as some independent interior design projects outside of my main work.

After moving to our converted barn in Cheshire I took the opportunity to go on a fabric printing course where I instantly fell in love with the craft and wanted to learn more. I set up lino carved printing and screen printing at the kitchen table and took more lessons from a screen printing teacher in Manchester. This soon developed into selling hand printed items and framed pieces.

I created my first Meadowlands Collection, inspired by my rural surroundings, and launched it in 2015 online. We later began supplying UK trade and went on to win fabric design accolades at the Homes & Gardens Magazine Fabric Design Awards in 2015 and 2018. We now have 5 collections with our New Aventuras Collection launching this spring and I've set up a garden design studio where I create my new designs. I feel very privileged to have found something I love and I'm still learning all the time.
Tell us a little about your style and the main source of inspiration behind your designs?
My main source of inspiration is the wildlife that surrounds me at home and on my travels, mainly through Europe. I always take lots of photographs, from leaves to architecture to shadows. I'm drawn to pattern and form in the most unlikely places.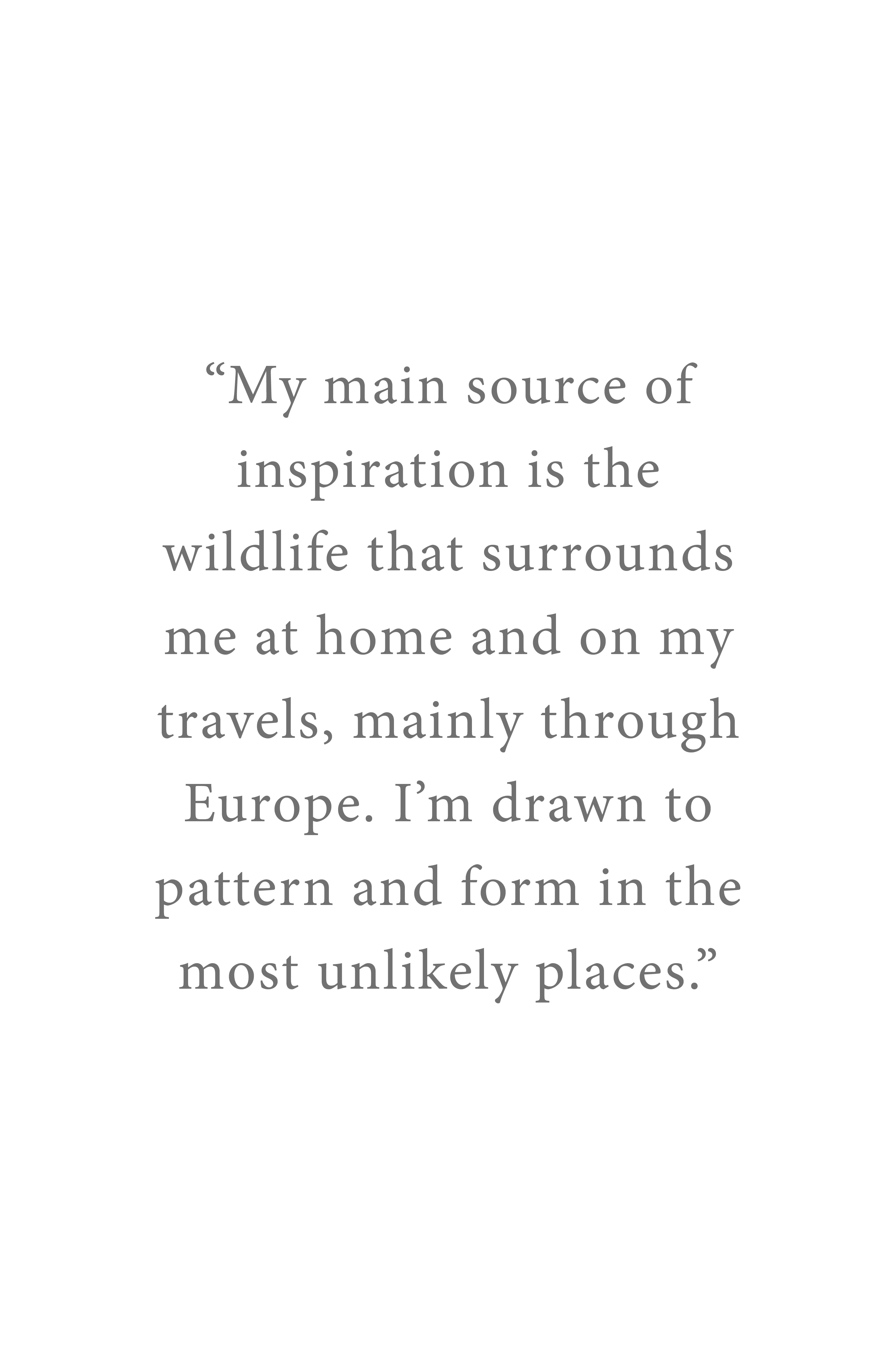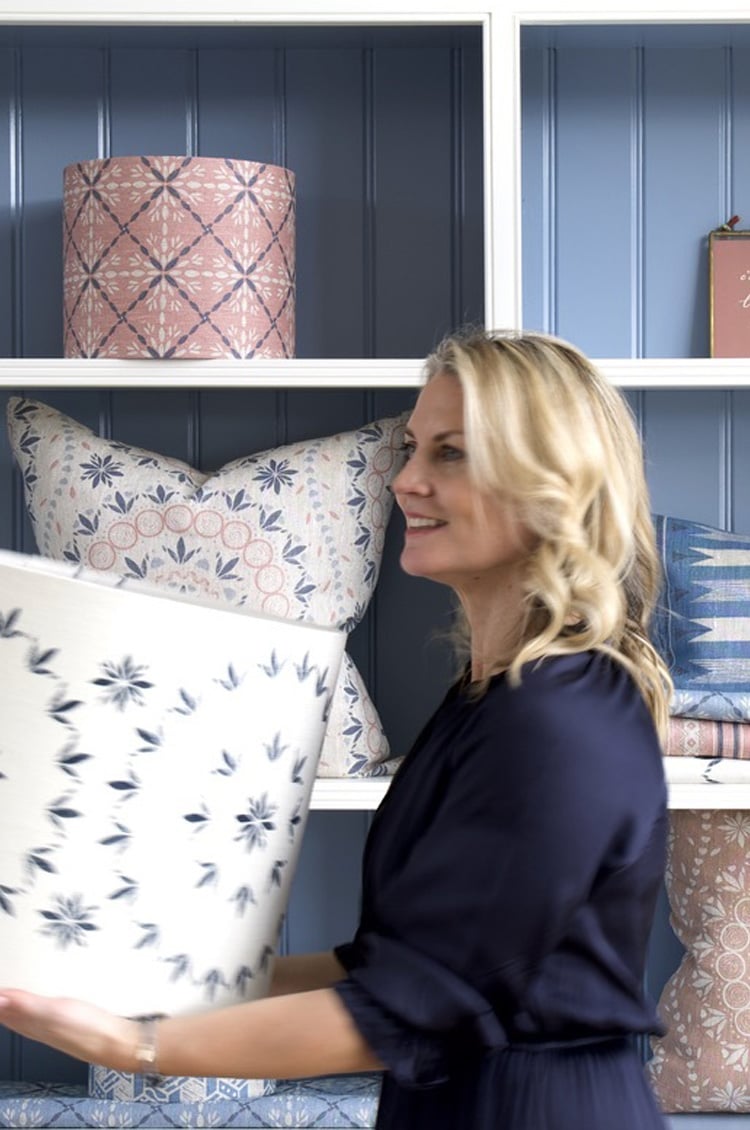 What, would you say, sets you apart from other textile designers? Can you talk us through your process?
As I wasn't classically trained, I tend to amalgamate techniques – I suppose I'm less governed by traditional creative techniques. A design will usually begin as a hand sketch, then become a lino carved print and later might become a screen print with a different scale or execution. I like to visualise how a design will be used in the home and how it could be combined with other partnering prints within a room rather than designing standalone patterns.
Can you tell us about the beautiful Abstract Stripe fabric you've designed for our Edmund Footstool? 
This design started life as a lino carved print that I wanted to feel like an alternative, ornate stripe. It had to be a little playful but still sit within Rowen & Wren's understated style. It's lovely to collaborate and working with Rowen & Wren was an honour.
What would be your one piece of advice to people when choosing fabrics for their homes?

Think about how you use the room. Buying fabric for curtains or furniture is a commitment so you've got to love it. If it's a bedroom you might like to choose calming colours which create some kind of tranquillity or dark tones to create an atmosphere.

If you're choosing fabric for a sitting room and you're new to pattern, use a more intricate pattern for a centrepiece like a footstool or accent chair. This will add some interest to the room without dominating the mood and perhaps opt for using patterned fabrics as simple blinds at the windows instead of curtains.

Using pattern in scatter cushions is also a great way to create a cohesive scheme, selecting fabrics that complement each other in colour tone. Cushions add personality to a room and can easily be changed so they're a great quick fix!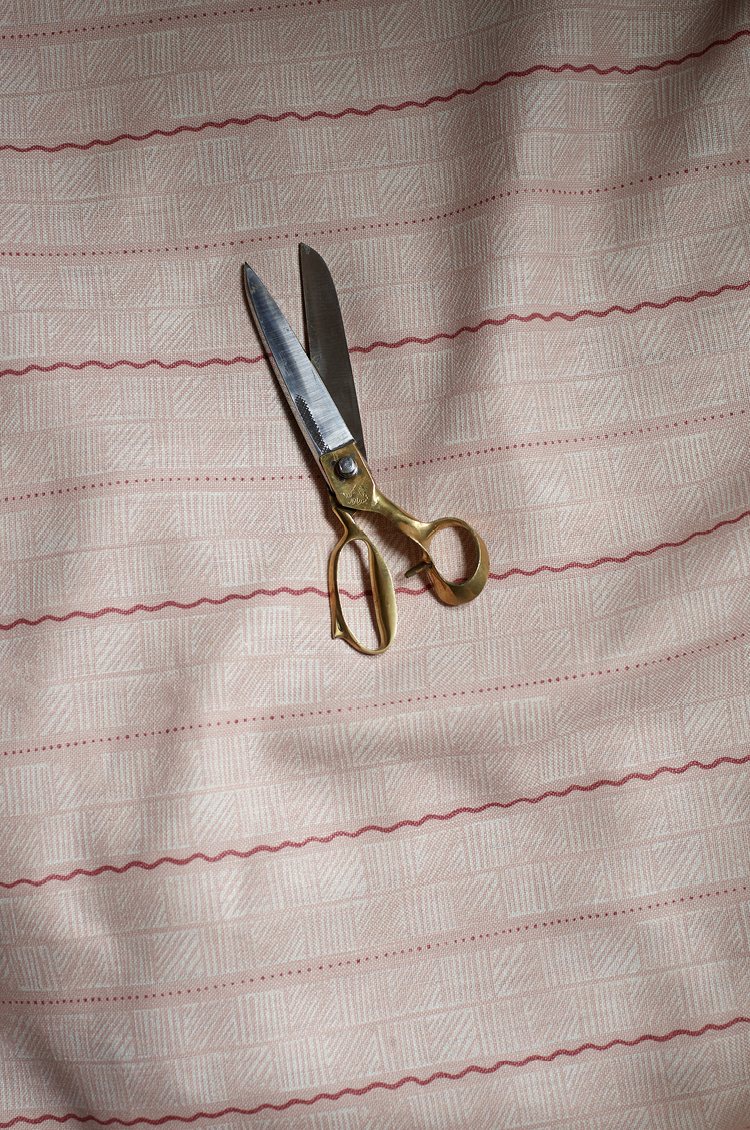 Zoe's beautiful Abstract Stripe fabric can be used on many of the pieces in our British Upholstery Collection. To order your free fabric swatch of please click here