Meet The Maker: Jo Marland
08 Oct 2021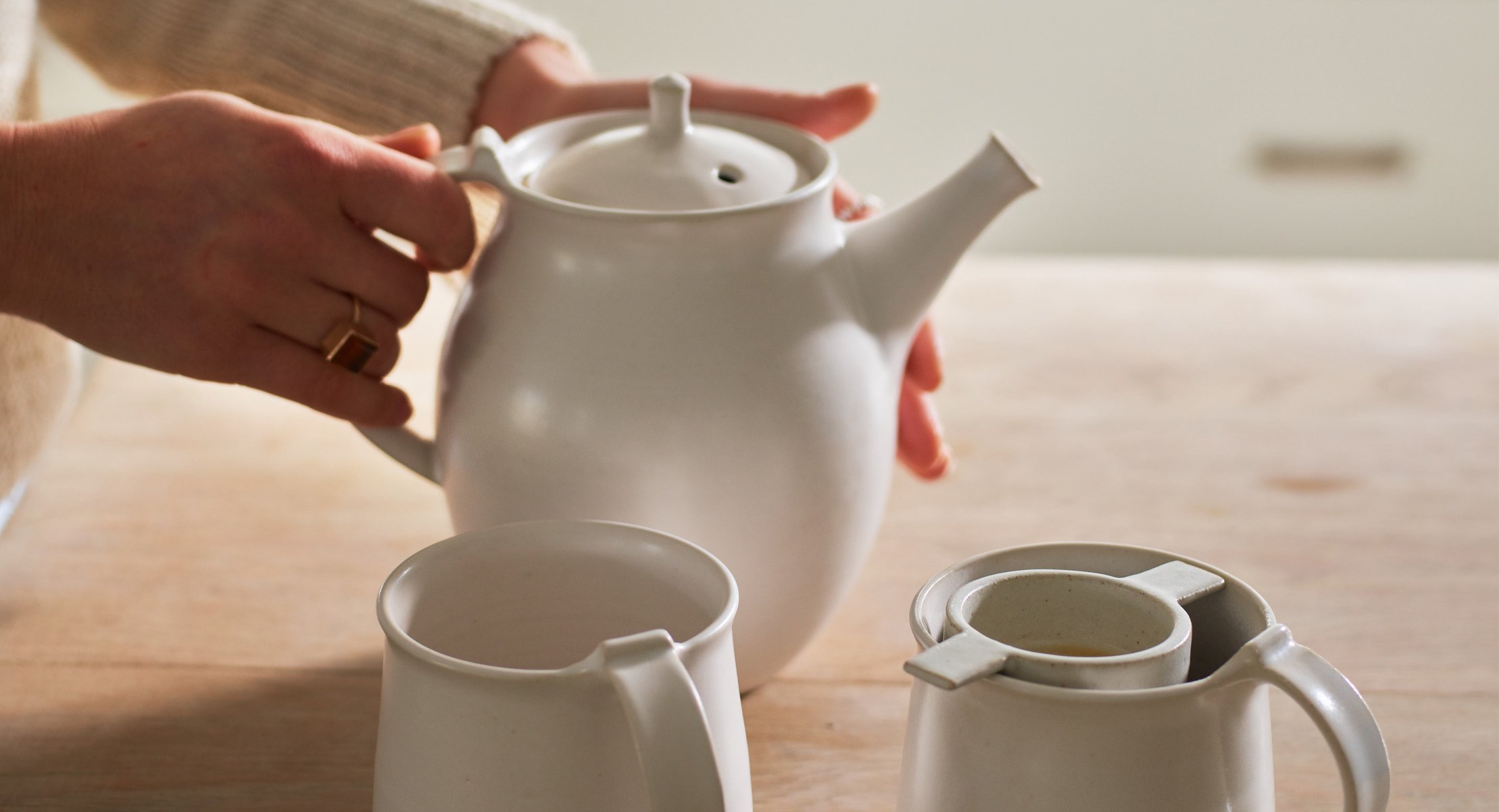 Known to solve just about everything, there is little more comforting than a good cup of tea. It is with this in mind that we have been in search of the loveliest teapot for some time now. Meet Jo Marland – London-based maker of just that (and much more). A History of Art graduate, who would describe herself to have a 'mild' background in sculpture, though the elegantly crafted ceramics she creates prove that it is anything but mild.
"It's a slow process – understanding the material, learning to be a production thrower, the appreciation of form," she tells us. "I guess I'd call myself a potter rather than a ceramicist."
Now with her very own studio in East London, we find out what it takes to make the perfect pot.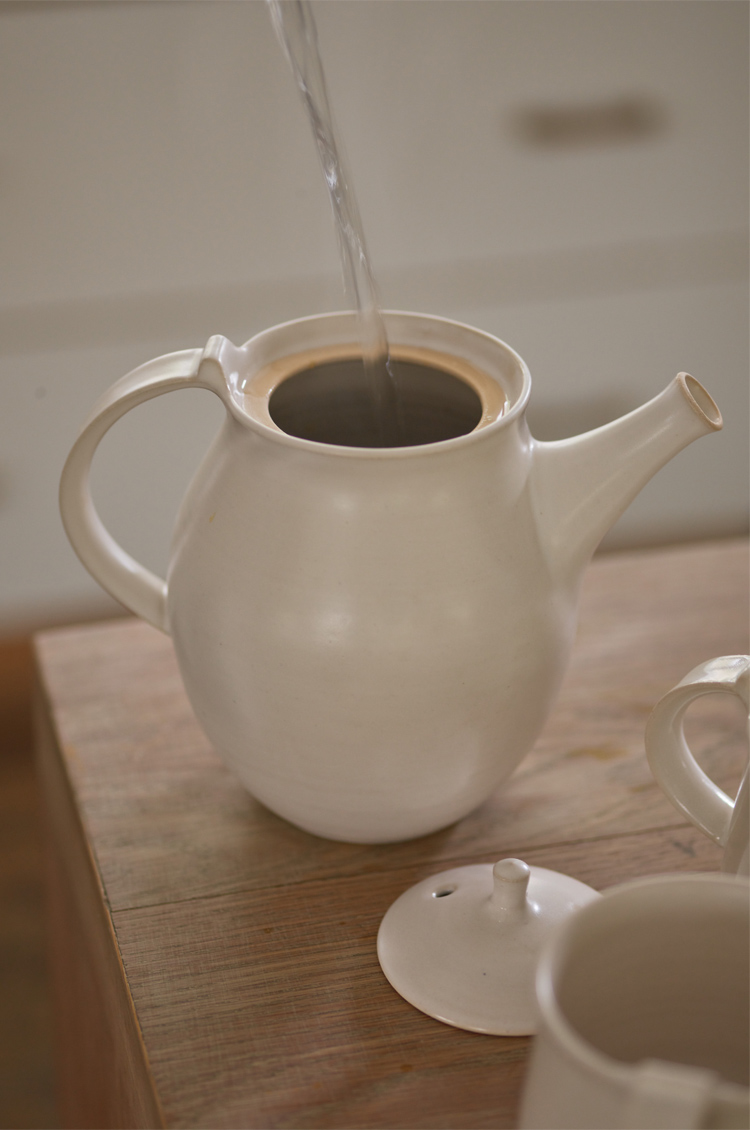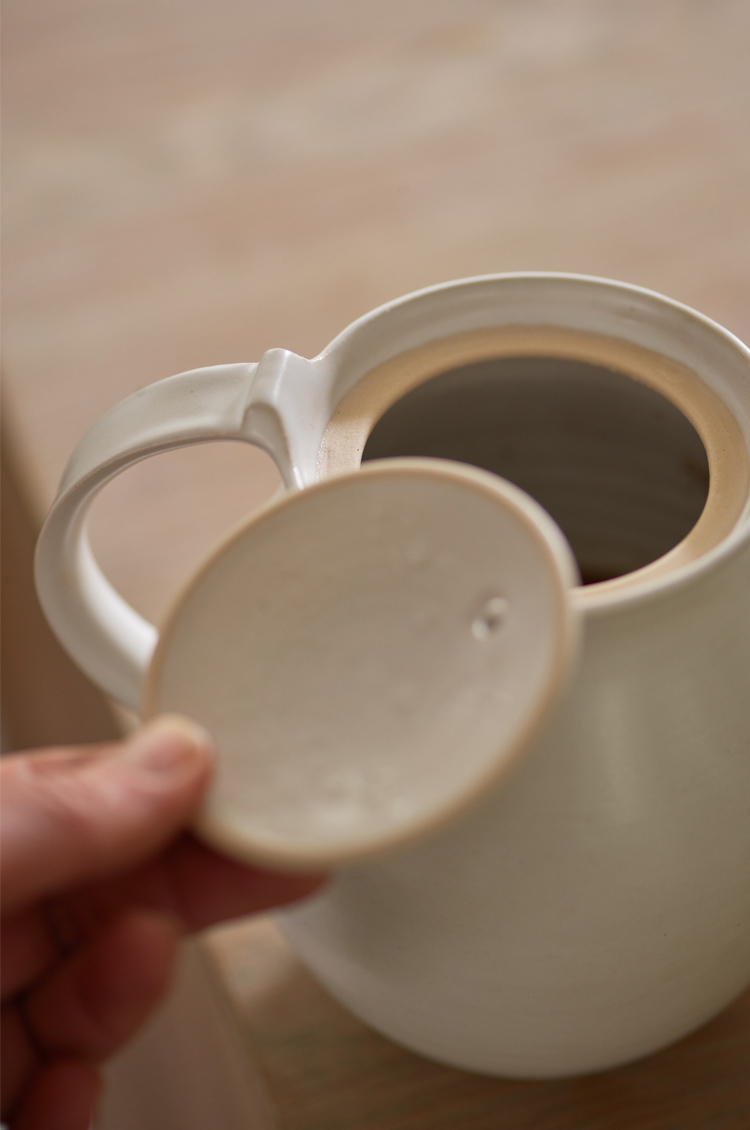 Tell us a bit about how our Ceramic Heritage Teapot is made?
"It's a lengthy 28-stage process. It was originally designed to be a one-off, so I don't think I would have ever made it so complicated if I'd known I'd be making so many one day (she laughs).
"It starts with measuring and wedging the clay. I use a technique called spiral wedging – you sort of knead the clay into a conch shape to spread the moisture evenly and then it's ready to go onto the wheel for throwing. This is where the body of the pot begins, it's quite fast and requires working with water before I use cutting and loop tools to almost carve it like wood by hand, taking some weight from the bottom and refining the shape.
"The teapot itself requires more handcrafting than some of the other pieces I make – not just the body but the handle and spout too. The handle, for example, is pulled from a long piece of clay and shaped entirely by hand before I attach it to the rim, which can be pretty tricky but it's a bit of a signature detail to my pieces, as you'll see from the mugs too. And it's all about timing – much of a potter's life is about waiting for the clay to be at the right temperature to go into the kiln. For example, the spout will dry faster than the body so it's a real balancing act to piece it all together at the right time to avoid any cracks."
What material do you use and why?
"I use lightly grogged (textured) stoneware and most of it comes from Stoke-On-Trent (aka 'The Potteries' – known the world over as the capital of ceramics for its centuries-old production of pottery). It has these wonderful uninterrupted neutral tones which make the perfect base for picking up the luminosity of the white glaze. "The glaze itself is made from my own mixture of materials that I grind into a fine powder. I use silica, quartz, potash feldspar and flint."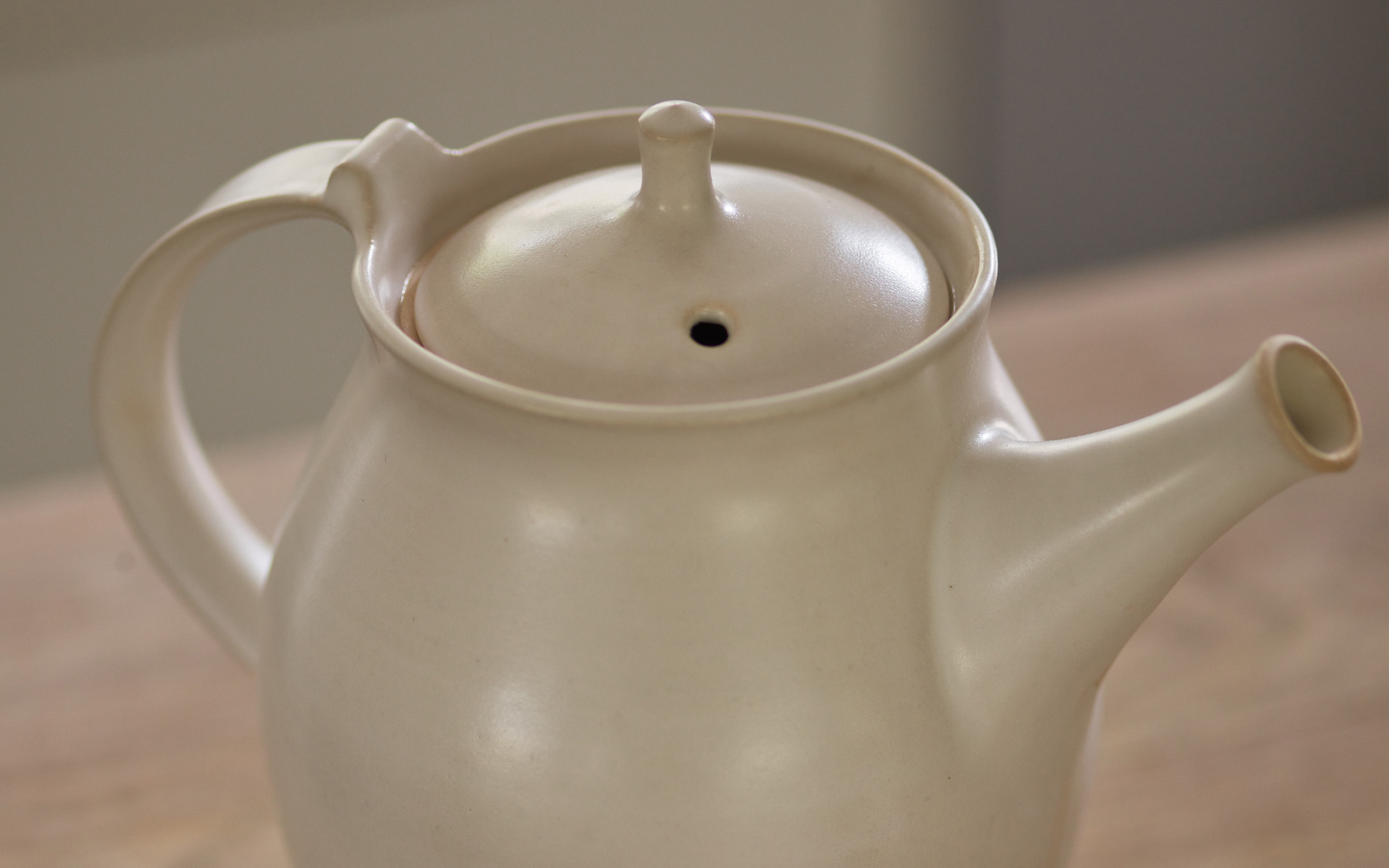 What is your favourite part of making our teapot?
"It's probably the design stage, to be honest. For most things I really love throwing, but designing the teapot was really special, perfecting the very specific scroll and lid details you wanted to add."
The teapot isn't the only piece you make for us, tell us a little about the other pieces.
"I'd say the
cake plates
were the most interesting as they're made entirely on the wheel which was a different experience for me. My background is in cutting and carving and I love creating things with shape like the
mugs
and the
teapot
but this piece required a different sort of manipulation of the clay. It was a great process for me to go through and a lot of fun."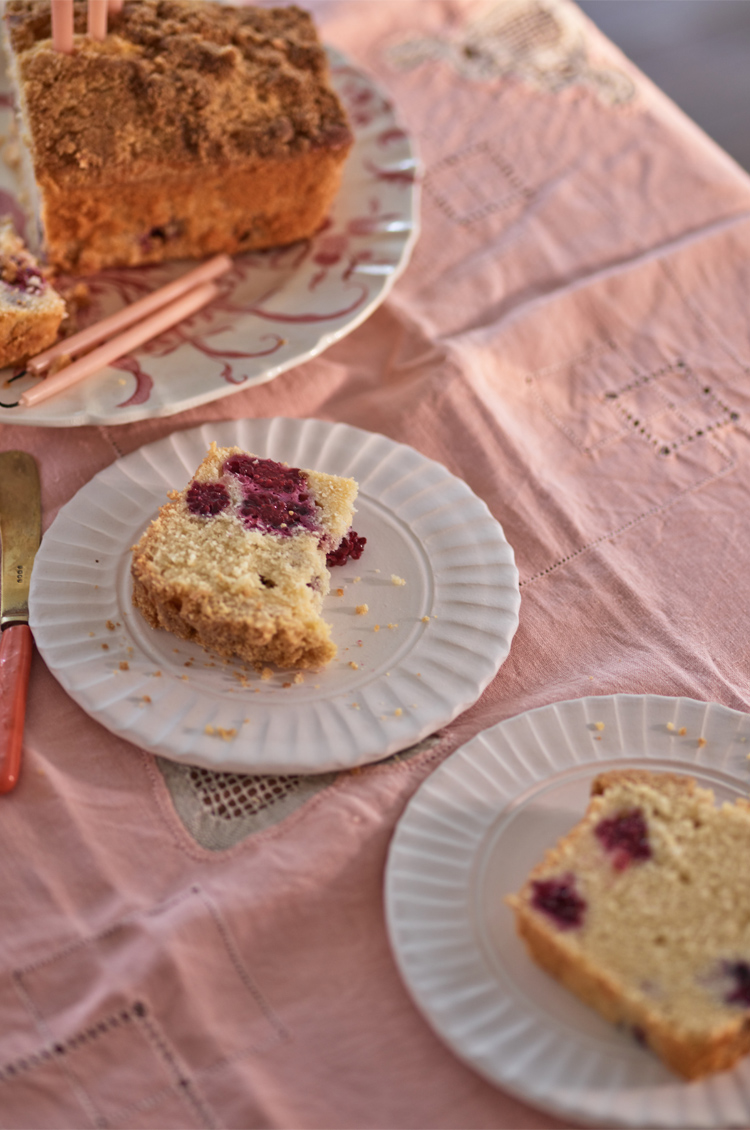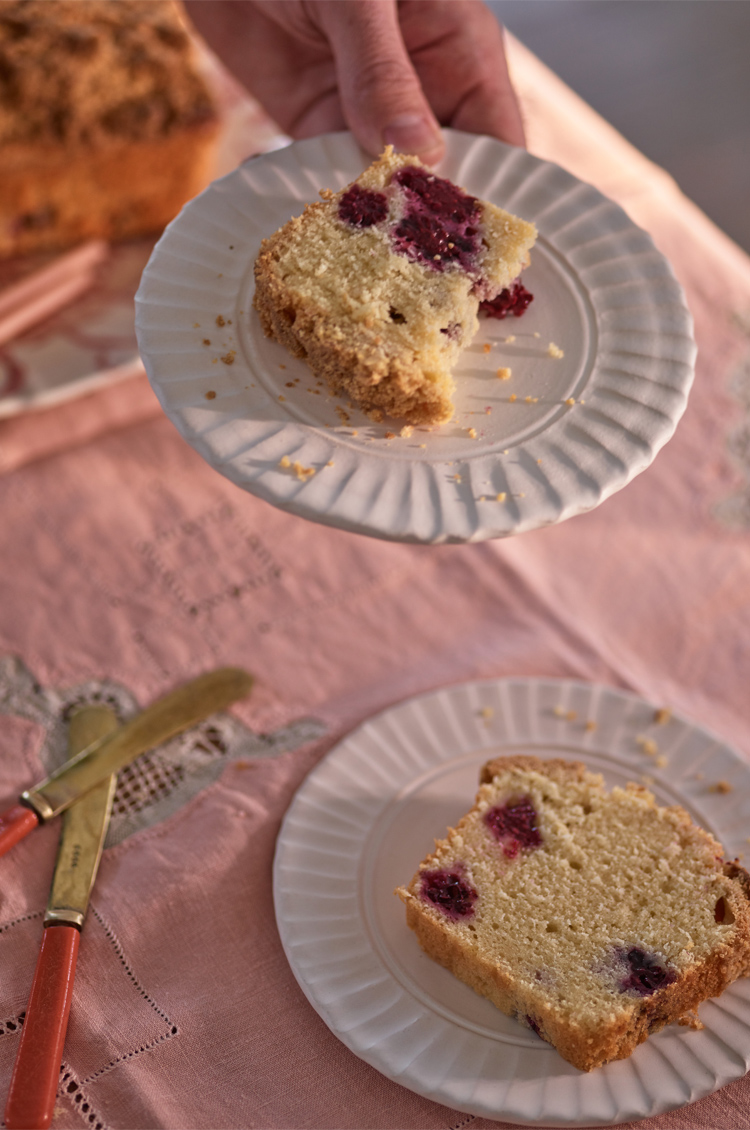 What are your main sources of inspiration?
"I spend much of my life [note, this was said just before the arrival of her first baby!] in the British Museum looking at the historic pots – they're amazing but it's also slightly depressing looking at work from centuries ago that's just so much better than anything you see now. Something to aspire to!"
Last but not least, what do you love most about your job?
"It's nice to do something you feel at home with. Owning my own studio and making what I want is what I always dreamed of – it's not bad, is it?" You can shop Jo's collection
here
.